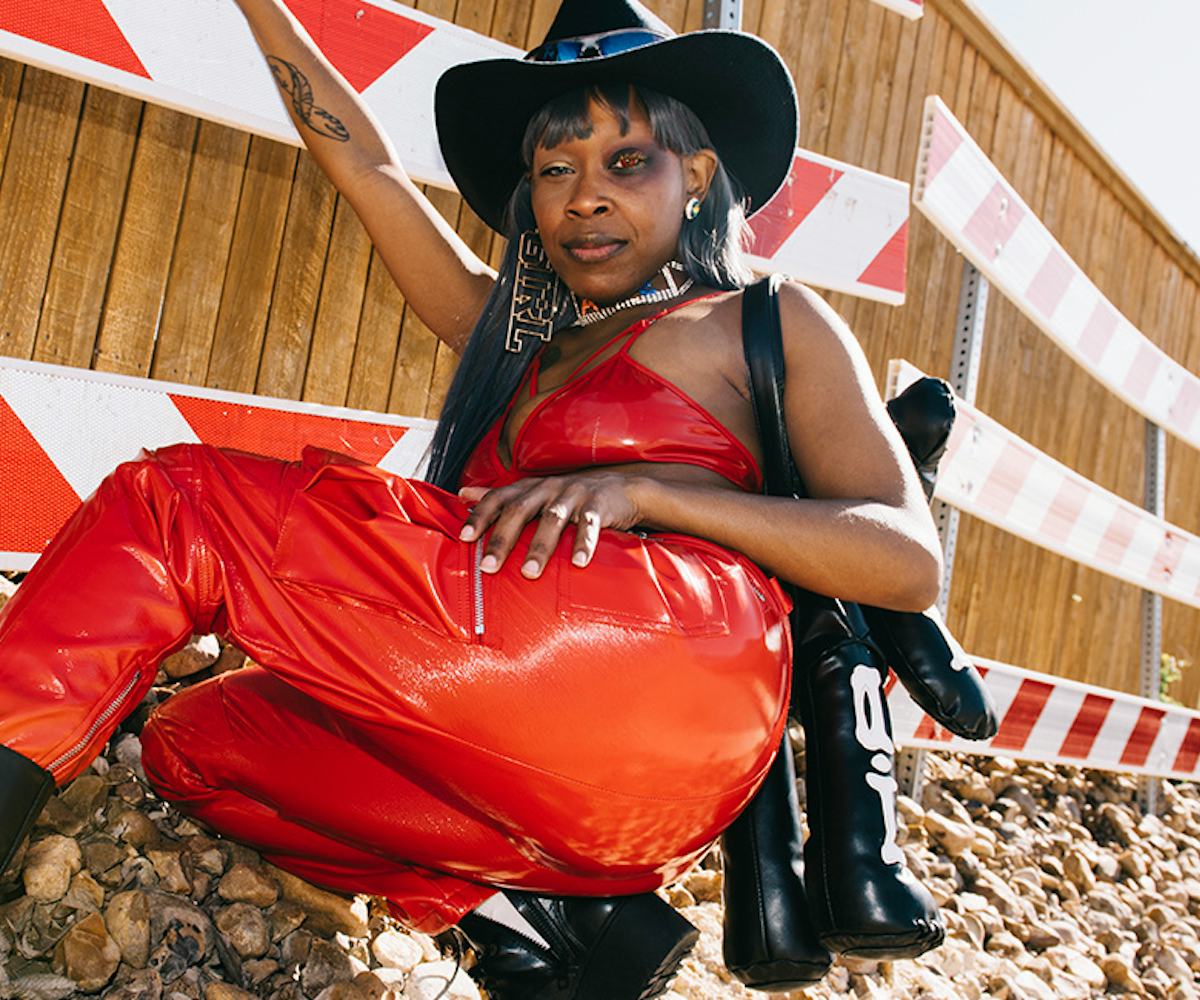 Photo by Lindsey Byrnes
BbyMutha Doesn't Have Time To Flex
"Some of us are flexers, some of us are finnesers"
When I met BbyMutha at SXSW, she was improvising. She had booked a hotel for herself and her crew at the Omni in Houston, instead of Austin. As it goes with a huge event like SXSW, by the time she realized her mistake the hotels were all booked up and they had to settle for a last-minute alternative: an Airbnb in deep suburbia. But, her inconvenient lodging arrangements didn't stop her from turning up or showing out—and neither has anything else.
One could argue that BbyMutha's entire career, from her descriptive name (she's a mom to two sets of twins) to her growing list of collaborators, has unfolded by happenstance. She wouldn't necessarily argue with that. "I just be chilling," was her frequent first response to my questions. But you make your own luck, and BbyMutha's has come thanks to her innate creativity and ability to innovate as a rapper—without those skills, she never would have ended up tagging along with Earl Sweatshirt for a U.S. tour or heading to Europe this summer for her own. She's authentic—completely herself. Which is why you'll never see her making fake connections, compromising her own identity for the sake of palatability, or chasing a pie-in-the-sky record deal that leaves her financial freedom hanging in the balance. If she was in Mean Girls, BbyMutha would basically never try to make fetch happen. Or, as she says herself: BbyMutha chooses finessing over flexing any day.
BbyMutha has found herself amongst a peer group that dolls themselves up in Fashion Nova fits, saving most of their glam budget for high-quality lace wigs and designer handbags. You can catch the Chattanooga, Tennessee native in a getup from Hot Topic and you can bet that her colorful tresses are synthetic. And that's how BbyMutha has always been. "I was bullied in high school for a lot of this shit. Colorful wigs? I used to be in the club with 30 different colors in my head," she boasted. Gothic bustiers and cat-eye contact lenses were and still are staples of her look. Part of the finesse she mentioned earlier is building a unique persona and fan base using those alternative vibes. She landed on this descriptor when talking about her swag: "I've always been cute, but weird." BbyMutha's unique style choices are not only a nod to her own imagination, though. They are a big fuck you to the expected behavior of rappers.
In 2019, rappers are all but required to sell fans on a fantasy of extravagant wealth. Flexing comes with the territory. But that's not the game BbyMutha is here to play—mainly because she doesn't have the time or the luxury to do so. I asked the mom-of-four how she bridges the gap between her role as a public figure and the head of her household. She quickly informed that there is no gap. "I just wake up and do this shit," she said, before admitting that she still shares a room with her children, has no privacy, and her house is "raggedy as fuck."
No one who listens to BbyMutha should be surprised by this level of honesty. Lyrically, she uses vibrant, interesting language to describe extremely common circumstances and experiences. Her bars often hit listeners viscerally, like a hyper-accurate meme or tweet might. In this way, she gives an entirely new meaning to the term "mood music."
Things really changed for BbyMutha in 2017, when the video for her single "Rules" went viral and helped mushroom her fan base, thanks to its paradigm-shifting concept. A cautionary tale about exercising discernment in business, friendships, and sexual relationships, the video is full of queer youth being taught these lessons by teacher figure BbyMutha (who identifies as bisexual). It was this early alignment with the LGBTQ community that had her SXSW set packed to the brim with Black girls and gay white men alike chanting along to the hook, "You can't give yo' pussy to a nigga who not used to getting pussy, 'cause that pussy gon' be everybody business." This is classic BbyMutha: rhymes that flow easily off the tongue, and pack a powerful message at the same time. Her latest single "D.I.Y" questions the price of success with this refrain: "If rich 'gon make me sell out like a bitch, then I don't want it. If lit 'gon drive me crazy, fuck it baby. I don't want it."
Still, as good as she is with words, BbyMutha struggled to find the right ones to describe the extreme pressure she feels as she gets ready to embark on her upcoming string of shows, where so much is at stake. She got emotional when I asked her if she was prepared to be so far away from her children for the first time. And that's not her only source of anxiety. She also feels the burden of how many people she's taking care of now. "Some people won't let you forget it," she said with a twinge of sadness. She wants to move her family out of that "raggedy" house, and while she stated up-front that "there's nothing wrong with [living] around a bunch of Black people," she wants her children to live somewhere safe, and now she has the opportunity to do it.
So when BbyMutha tells me, "Everybody is not trying to social climb," I know she means it. She has little time and way bigger fish to fry. Flexing isn't an option. "I want to rap, but I got four kids. So imma just do both of them shits... It does get hard, but we figure that shit the fuck out and keep it going," she proclaimed with a fierce tenacity and the resilience of a natural born finesser. It's one thing to make a living off of real talk. It's another to be a real one. BbyMutha does both.
Video credits:
Produced by: Alexandra Hsie
Camera: Dani Okon + Charlotte Prager
Edited by: Madeline Stedman