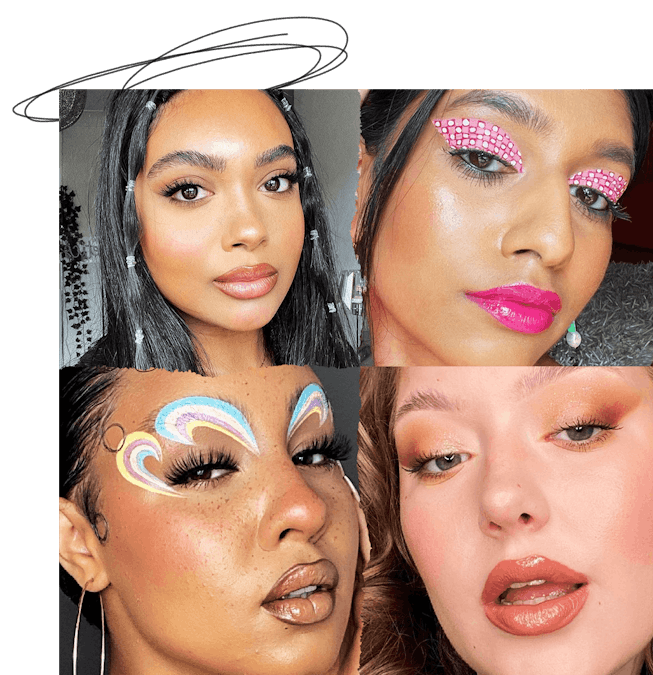 6 Lash & Brow Trends To Try For That Major Eye Mood Moment
If you're looking to make your eyes really stand out this summer—and let's face it, who isn't?—one of the easiest ways to do so is by emphasizing your lashes and brows. Luckily, e.l.f. Cosmetics has you covered with their lash and brow range, which, in addition to two high-voltage mascaras, also includes products that support the health of your precious eyelash and eyebrow hairs so that they grow long and strong. Now, with that being said, if you're looking to nail the hottest, trendiest lash and brow looks that every beauty creator is repping this season—look no further. Keep scrolling to learn how to achieve each trendy look using none other than products from your friends at e.l.f. Cosmetics.
Bottom-Heavy Lashes
You heard it here first: Bold bottom lashes are officially having a moment. To score the trend, try using e.l.f.'s Big Mood Mascara, as the formula is ultra-elongating, separating, and smudge-proof to boot. The hourglass-shaped wand also seamlessly separates and defines each lash, leaving them long, yet never spidery-looking. On top of that, the creamy formula is enriched with jojoba wax, which nourishes lashes without ever feeling heavy.
Fluttery Lashes
This trend is all about full and slightly fluffy lashes that feel super-flirty. The brand's Lash It Loud Mascara is best for achieving this look because it provides effortless next-level volume and intense pigment—sans any clumps or flakes. The wand also features a sleek, flexible silicone brush with both horizontal and vertical bristles that makes it incredibly easy to coat and separate every single lash for an über-fluttery effect.
Fat Lashes
If you're a fan of ultra-full, volume-packed lashes that scream glamour, then this is without a doubt the trend for you. It can be achieved by using several generous coats of Big Mood Mascara, followed by a light layer of Lash It Loud for extra definition and to lock everything in place. Pro tip: To get naturally longer, fuller lashes, use e.l.f.'s Enhancing Lash & Brow Serum, which is packed with nourishing ingredients like vitamins, antioxidants, and amino acids—all of which boost the health of your lash hairs.
Soap Brows
Soap brows will likely always be in style, and that's simply because the sculpted look is so flattering on everyone. Plus, it works whether your brows are super bushy, or on the more natural side. All you need to achieve soap brows at home is e.l.f.'s new Bite Size Brow Kit, which comes with everything you need to shape, fill in, and define your arches. The nifty quad comes with two tinted powders and two waxes, one of which is clear and super useful when it comes to achieving the laminated-like effect. Additionally, there are six shade combos to choose from, so whether your arches are blonde, auburn, or true black—you'll be able to score the soap brow trend with this foolproof kit.
Soft, See-Through Brows
Look, big, bushy brows will always be on-trend—but lately, more and more beauty creators have been opting for a natural look that's focused on sculpted definition rather than extreme fullness. For this look, you can use the clear wax from the Bite Size Brow Kit to brush your arches up and in place—or the brand's Clear Brow & Lash Mascara is also a solid option that'll give you near identical results. Additionally, give your natural brow hairs a boost with the Enhancing Lash & Brow Serum, as this can help to fill in any sparse areas so they don't appear patchy.
Two-Toned Brows
If dramatic brows are your jam, definitely consider giving the new two-toned, ombré-style trend a shot. It's a fun and super-playful way to step out of your comfort zone and experiment with a totally new look this summer—especially considering changing the color of your brows is about as bold as it gets. Before bleaching or dyeing your arches, be sure to use the Enhancing Lash & Brow Serum to ensure your hairs are healthy and strong. Then use the Clear Brow & Lash Mascara to add definition and ensure they stay in place all day.
Photos Courtesy of: Allana Davison; Cherise Renee; Niharika Chandrasekar; Aalia; Marvel Maull; Oyin Olagbaju