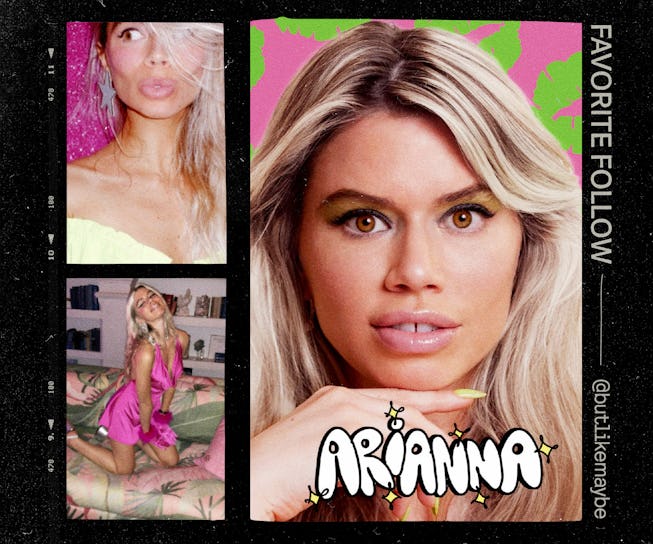 Meet Arianna Margulis, The Anxious Yet Optimistic Artist Behind @Butlikemaybe
The artist talks, art, relationships, beauty, and the space in between.
Welcome to Favorite Follow, a series highlighting NYLON's favorite creators and the stories behind some of their most memorable content.
There's something about Arianna Margulis' (aka @Butlikemaybe) art that is like an instant shot of serotonin — even when it's addressing topics that aren't so fun. Her line-drawn cartoons with big eyes and wide smiles, punctuated by sparkle graffiti letters and hot pink accents, make talking about heartbreak, anxiety, or just the normal frustrations of being a person feel fun and joyfully relatable.
Having started her career in New York working in fashion, often her work will lovingly poke fun at the industry. "I was already making cartoons at the time and some of them about my work, my boss, and my friends. So, because most of my friends were in beauty and fashion, or PR and marketing, there was already this sense of how they related," explains Margulis. "Then, I started merging the two because that's how I was looking to grow."
Crossing over into beauty was similarly natural. Her collaboration with Neen cosmetics came about after meeting Jeanine Lobell (makeup artist and the founder of Stila before starting Neen) on a photo shoot when she was doing the makeup on set. "We just gabbed the entire time hitting it off and I did not want to stop talking to her," says Margulis. "When she later told me Neen was launching and asked if I would be interested in being doing one of the looks, it was an immediate, 'hell yes'." Her makeup look tutorial card features three shades of eye shadow appropriately named, "But" (matte gray), "Like" (matte black), and "Maybe" (electric lime green).
Here, Margulis talks with NYLON about the beginning of But Like Maybe, her collaboration with Neen makeup, and creating art that's "anxious yet optimistic".
On the beginnings of But Like Maybe:
"I was dating a guy and we went away to meet his family and then came back from the long weekend. He asked me to go on a walk in Central Park and I thought he was going to tell me he loved me. Turns out, he sat me down on a park bench and told me that I was amazing... but. We all know what happens after the but. He told me that I was interrupting his meditation schedule. I found it so hilarious and also so sad. I wanted to cry and laugh all at the same time. I went home and I started making fun of myself via cartoon, and that was really one of the most therapeutic processes, turning my broken heart into art. That's kind of how it all started. When even strangers started messaging me, telling me "I'm going through this, too," that's when I thought maybe I can do something with this and maybe this can really help people."
On her cartoon alter ego:
"She's like a person to me. She's like my alter ego. People will be like, "she looks like you". She's basically like three lines — how does she look like me? She's two eyes and the mouth, but okay. I've always wanted a simplistic style. Because she's just a few lines, she can be everyone, you know? There's no age, no race, there are no defining details to her, which I kind of love. It makes her more universal."
On how But Like Maybe has evolved:
"It's funny because it started off incredibly personal. It was like my diary. I was like Taylor Swift, but getting out my breakups and anxieties via cartoon. But now it has sort of transformed. I've tried to explore all different aspects that affect me and my friends. Whether it's dating, a job, your anxieties, your friends, your hangover, or pop culture. It's turned into this little world that's about more than just my breakup. It's cool because not only has it helped me navigate life, it has also helped bring me closer to different people all over the world."
On setting boundaries between life and art:
"Because I'm currently single and dating, it's always at the top of my mind. I think, if I just went on three dates with this guy and I draw this cartoon, is he gonna think it's about him? Part of me doesn't care. And then part of me doesn't want a person worrying, 'Oh my God, is this about me?'
I think I've learned the hard way not to weaponize my art. I don't want to say it's a problem, but it's tricky for me, you know? I've done that before and it hasn't turned out for the best and it's hurt someone's feelings. So I've also learned that's not always the right thing to do — even if it might be good for my art and my feelings. Even when I'm being a little bit evil, I try to bring some levity to it. I think there's a way of being funny without being too malicious and I try to keep that in mind as part of my ethos. It's anxious yet optimistic."
On her Neen Collaboration:
"I was on a photo shoot and Jeanine was actually doing the makeup. We just gabbed the entire time hitting it off and I did not want to stop talking to her. When she later told me Neen was launching and asked if I would be interested in being doing one of the looks, it was an immediate, 'hell yes'.
For my look, I picked a gray and a black for this smokey eye vibe. And then, there's this great neon green. I love a pop of the unexpected in my beauty routine. It will be very simple, and then every now and then I'll do a crazy green eyeliner, or blue eyeshadow, or sparkles and revert back to my 12-year-old self. It's a form of artwork, so it's fun for me to explore in that way, because I'm so helpless when it comes to foundation or contoured. The Neen Going Rouge Blush in Shake is one of my absolute to-die-for dye for favorites. They also have the Side Eyeliner in Minty — it is so cute. I'm just reverting back to the 2000s look all the time."
On why the beauty industry lends itself to her art:
"As a person in this TikTok and Instagram world, we're constantly shown fashion trends, and beauty trends or beauty hacks. It's all such an ingrained part of pop culture. Not only do we know where to go to see where a celebrity hangs out, we know what she's wearing, where she's going for her facials, what she's getting done to her hair. And we're all trying to replicate it or keep up with it. So, it's fun to poke fun at us — myself included — trying to achieve that. I think those are some of the funniest videos and the most relatable content because that's what we're all doing, right? I feel like it's such an easy part of life to make relatable and make fun of because we're all eating, breathing, and shopping it."
Follow Arianna on Instagram and shop the collab on weareneen.com.