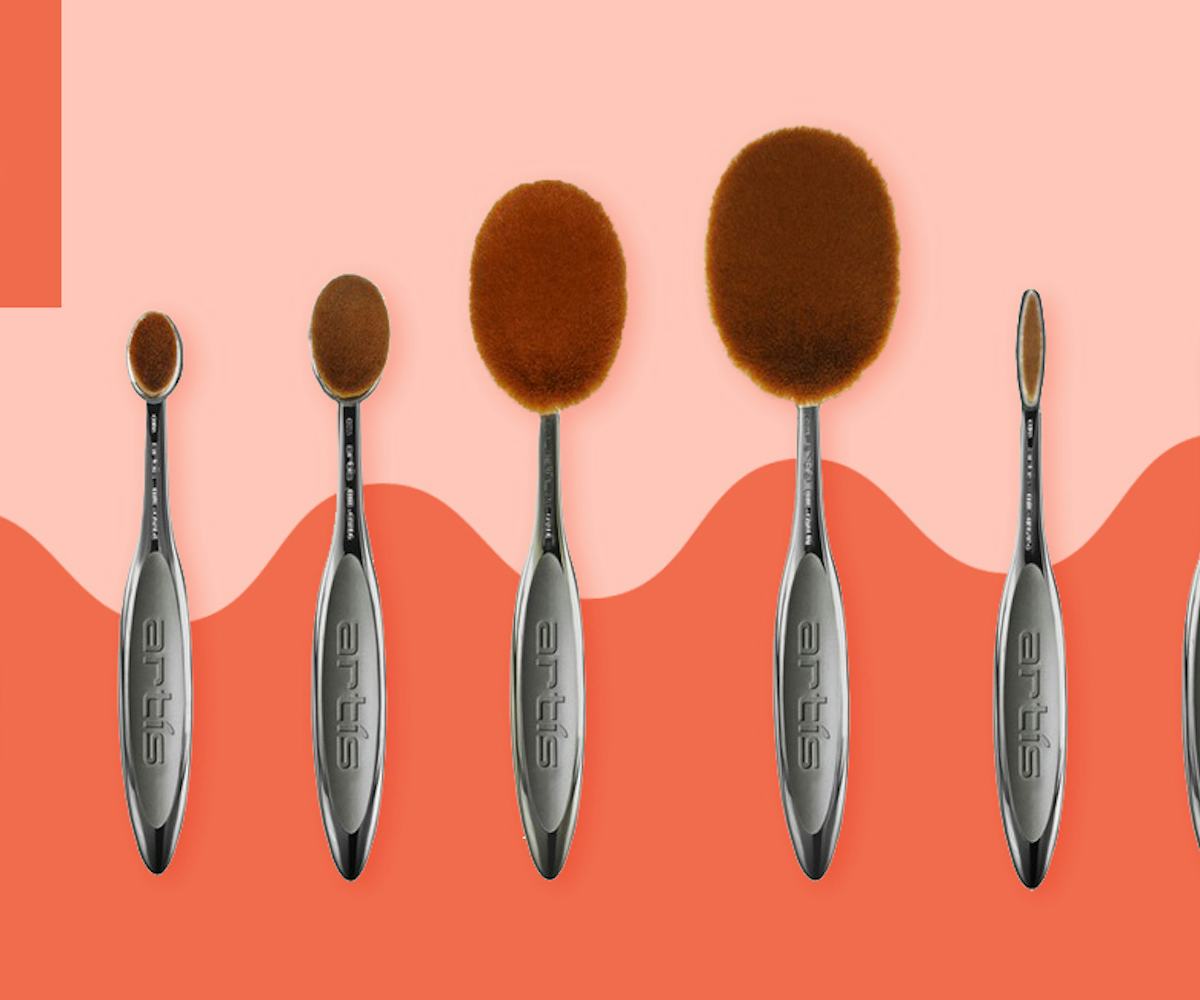 Oval Face Brushes Look Intimidating, But They're Actually Incredible
I fell in love with these old-fashioned looking cosmetic applicators the first time I used them
Friends don't let friends miss out on all the cool, under-the-radar things they know about, like where to buy ultra-fashionable clothes at decidedly non-runway prices or which little-known beauty brand is low-key making the best highlighter around. And because we consider our readers to be like friends, we decided to gather together all our best tips in a new series: Don't Sleep on This. Check in every week to see what things we can't wait to share with you.
I wasn't always into makeup. Skin care is more my jam—I adore control! Or the illusion of it, at least!—but in the past several years, my love of beauty began to encapsulate the rise-and-shine application of color as much as my evening toners. But, as the saying goes, with great power comes great responsibility. And this means I've started applying my expensive cosmetics with the tools they deserve.
I'd dabbled a bit in the world of makeup brushes before, but it wasn't until a few months ago that I discovered what my stash was really missing. In the free bin at work—where I acquire 90 percent of all my skin care and makeup (fashion media is glam, you guys!)—there lay an unassuming black makeup brush, still in its crisp acrylic box. It was a Brushcraft Oval 7, a name which, in a weird way, sounds like a rare model of some little-known sports car, and which has inspired in me rampant devotion—such is life and love in late capitalism. 
The way this brush blends foundation is a dream! To achieve the smoothest, most even application of foundation imaginable, I first dispense some product onto the back of my hand (I've been wearing Urban Decay Naked Skin). With a finger, I swipe a bit beneath my eye and along the lower region of my cheekbones; then I blend with short, swift strokes of the brush down my cheek and along my temples. Another swipe-and-blend down my nose, a dot on my chin, and whatever's remaining on my brush on my forehead (I have bangs, bless) and neck, and I look almost like a makeup artist's best hope. 
All this is to say that, although I realize the unfamiliar shape of oval face brushes might be intimidating, there's really no need to feel anxious; I'm no makeup professional (I can't do a cat eye to save my life!), and oval face brushes are just as easy as blending with your fingers. Nor do you have to stick with Brushcraft, which isn't the easiest to find. I own two oval face brushes from Artis, the luxury parent company of Brushcraft, and they are so soft and gentle, it's like rubbing the coziest faux fur on your cheek. To apply concealer, I use MAC's Oval 3. I much prefer it to a pointed concealer brush, which I find sometimes irritates my delicate under-eye area with its sharp bristles. I also love using oval brushes to blend highlighter; the firmer Brushcraft is excellent for cream-based highlighters, while the softer, fluffier Artis is ideal for powders. 
If you're on a budget—and who isn't these days—you don't have to spring for the Artis to get a similar effect. Drugstore brand Real Techniques has a solid collection of oval brushes that will serve you well. Pur Minerals also has an oval foundation brush and an oval concealer brush, both of which are as silky—but a bit firmer—than the Artis.
So, even if you're a relative newbie to the world of makeup tools like I am, there's no need to be apprehensive about picking up an oval brush. It just might become your favorite object on your vanity.