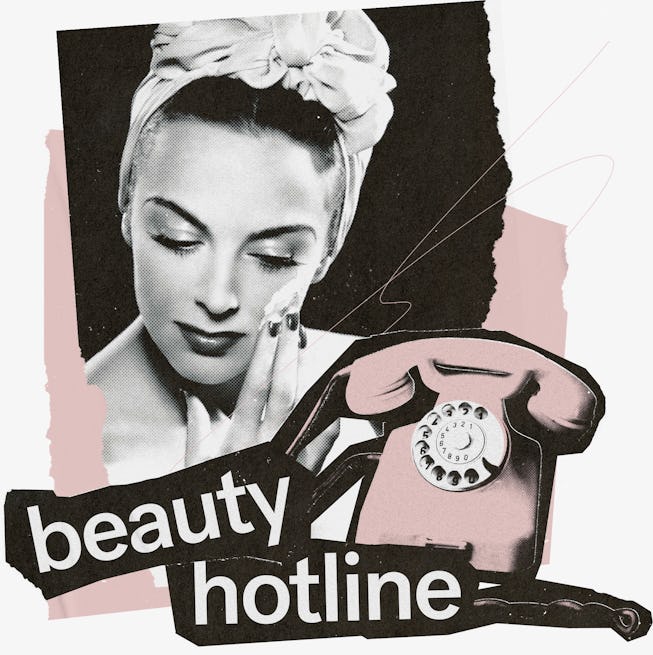 Beauty Hotline: "How Do I Look Less Tired If I'm Not Ready For Botox?"
Yes, you can get real results at home.
We may receive a portion of sales if you purchase a product through a link in this article.
Welcome to Beauty Hotline, a series where NYLON's beauty team investigates our most frequently asked skin care, hair, makeup, and wellness questions with the help of our favorite experts.
"I'm in my late twenties and it feels like everyone I know is getting Botox or some sort of injectable to look younger — or to 'preserve' what they have. I've started noticing fine lines creep up around my eye area and forehead, and my skin doesn't bounce back after late nights like it used to. But the thought of getting an injection to prevent wrinkles freaks me out — not to mention, financially, it's just not in the cards for me right now. I look at the product options out there and it's all so overwhelming. How am I supposed to know what to use to keep my skin looking its best? I don't want to look frozen — just like a better-rested version of myself!"
We're living in a confusing time when young celebrities seem to emerge from their teens with totally new faces and every selfie on Instagram is filtered to be completely devoid of pores. We've never had higher expectations for our skin — and by extension, our skin care routines.
Things get even more out of hand when getting your BEST SKIN EVER™ seems more like a competition than a positive goal. That's due to two main factors. One, there's an overwhelming amount of options on the market. And two, we're now aware of an often unspoken secret — that the results we're trying to emulate are likely a result of cosmetic intervention (cough, Botox) as much as they are skin care. Before falling into the trap of thinking that good skin requires injectables and needles, early and often, know that there are plenty of other things you can do first to help your skin look 10/10.
To figure out how to optimize skin without injectables, I went directly to some of the top skin care experts in the industry. Sadly, they all confirmed there is no silver bullet solution, but adding some small, basic steps can really make a noticeable difference.
"If you don't have good skin on the surface, [nothing a dermatologist injects]—whether that's Botox or filler— is necessarily going to make you happy."
For starters, you might be washing your face wrong. "When I train facialists, we really spend a long time on cleansing," says celebrity facialist Joanna Vargas, who's responsible for the glowing complexions of Vanessa Hudgens and Mindy Kaling, and specializes in prepping celebrities for the red carpet. People may think it's a throwaway step, but, "if you're not doing a proper cleanse — especially at night — you're robbing yourself," Vargas explains. Sleeping with a dirty face means missing out on the rest and repair that your skin and body naturally experience at night. Think of it this way: with a barrier of daytime grime on your skin, no serum you put on top can perform efficiently, anyway. That means a makeup wipe or a splash of water isn't going to cut it.
If you wear any stubborn makeup (i.e. waterproof mascara, liquid lipstick), take it off with remover or an oil cleanser. Then, Vargas suggests taking a full two to three minutes to wash with a gentle cleanser that's suitable to your skin type and rinsing with tepid water (hot water can dry out your skin). She advises using small circular motions, moving upward on your neck and face, working the cleanser all the way to your hairline and ears. This will not only allow the cleanser to do its job, but it will also act as a mini facial massage, stimulating fresh blood flow and lymphatic drainage. When you pat dry your face (on a clean towel, please!) your skin should feel refreshed, not tight or dry. If this sounds like a lot, that's because it should take a little effort to remove the pollution, makeup, and sunscreen fully off your face. Which brings us to…
Just. Wear. Sunscreen. Every skin care expert (ever!) says the number one thing you can do for better skin long term is wearing sunscreen daily. That said, I know a lot of you out there are holdouts. Dermatologist Ranella Hirsch explains that although internal changes, gravity, and genetics all have an impact on your skin, "the biggest single factor of what skin deals with as you age is the cumulative damage of the sun." (And FYI, it is estimated that melanoma will affect 1 in 27 men and 1 in 40 women in their lifetime.) Sun damage over time = wrinkles, hyperpigmentation, redness, broken capillaries, and poor skin texture. So before you look for the next exciting serum, remember SPF. Shay Mitchell and Rosie Huntington-Whiteley's go-to facialist, Shani Darden confirms: "It's really just a waste of time to spend the money on facials and serums if you're not going to use sunscreen." Using a retinol and no sunscreen, "doesn't even make sense," she adds, especially because retinol can make you more sensitive to sun damage.
The best sunscreen for you is the one you actually use, so picking one you like to wear —and to reapply — is important. For most people, that means avoiding anything too gloopy or sticky, that pills under makeup, or leaves an ashy white cast. My personal favorite is La Roche Posay UV Correct Daily Sunscreen SPF 70 which is oil free and blends out like a moisturizer even when you apply the appropriate two-fingers lengths. Black Girl Sunscreen and Supergoop Unseen Sunscreen are the gold standard for white cast-free SPFs. If you want your sunscreen to pull double duty, you can get one that acts like a primer (Sun Bum Glow Sunscreen has a luminous finish, Innisfree Matte Priming UV Shield will help control oil) or is tinted. An option like EltaMD Daily Tinted Broad-Spectrum Sunscreen can pretty much be your tinted moisturizer base.
"The biggest single factor of what skin deals with as you age is the cumulative damage of the sun."
Then, there's the product FOMO problem (you know, the one that always keeps your Sephora shopping cart full). Experts recognize this is a real factor we deal with today that wasn't present years ago. "Consistency trumps the hot ingredient every time," says Hirsch. There are no shortcuts to optimum results, and eight weeks is standard before seeing any difference from skin care. Instead of using viral products that promise baby-soft skin in one use, or promise to erase your blackheads in one go (spoiler alert: they don't work), focus on one issue you want to work on at a time and pick a serum or treatment specific to that issue. Attacking everything at once will only cost you — in wasted product or an angry skin barrier (which can take the form of acne, irritation, redness, and even rashes, explains Darden).
For example, vitamin C serums are work horses, especially in your daytime routine. They help to brighten and improve skin texture, while preventing further hyperpigmentation (along with your sunscreen). BeautyStat Universal C Skin Refiner is a beauty editor-favorite. If you're looking to smooth texture, try products with AHAs, BHAs, and kojic acid. If your skin is especially dry or sensitive, niacinamide or hyaluronic acid can soothe and help improve overall hydration. Lastly, retinoids increase cell turnover and boost collagen production to improve skin tone and address fine lines and wrinkles — just make sure to incorporate them slowly. Then, always follow up with moisturizer on top of your serum. You need one regardless if you have dry, oily, or combination skin, says dermatologist Karan Lal: "It keeps your skin hydrated evenly and helps replenish your skin barrier."
Now, If you want to get tech-y, there are a few at-home gadgets that can give your routine a little boost. But once again, consistency is key if you want to see results, so you might want to do some soul searching first, and assess whether you think you will realistically use a device regularly before dropping some serious dollars. Microcurrent devices, like NuFace and Ziip, can deliver some subtle lifting and toning with consistent use (NuFace recommends five times a week for the first two months of use and two to three times a week after that). And while I will say, whenever I use my NuFace I immediately feel like my cheekbones look more cut, I have personally had trouble keeping up a schedule.
Then there's LED light therapy, which can help boost collagen production, improve skin density, and clear acne (plus, the masks look very cool and spooky). "I really like LED light for anyone, no matter whether you have acne or dry skin or anything in between," says Vargas, "It's completely non-invasive and there are only benefits." She recommends the Current Body LED Light Therapy Mask. Darden is similarly a fan, having her own version, the Shani Darden by Déess Pro LED Light Mask which covers the face and neck. Yet again, it is all about regular use — we're talking five times a week for at least six weeks to notice improvements. I have the Dr. Dennis Gross DRx SpecraLite FaceWare Pro and use it every day, easily, and I feel it has overall given me less problematic skin. The mask's treatments are timed to three minutes, so I use it first thing in the morning while I make my bed. Devices require commitment — but they work.
"Consistency trumps the hot ingredient every time."
At the end of the day, a consistent skin care routine is more important than preventative injections — and every derm tells me you shouldn't feel like you're "behind" if you didn't start Botox at age 25. "I've never been a fan of solving problems that don't exist," says Hirsch. "It's like, getting a tummy tuck before you have kids. Maybe your stomach won't change [after you have kids]. Or maybe you won't be bothered by it." Until you know what area to address, you don't know what will make you look better. The skin care issues you do develop (dryness, hyperpigmentation, etc) might even be more directly addressed by skin care or other derm treatments. "If you don't have good skin on the surface, [nothing I inject] — whether that's Botox or filler — is necessarily going to make you happy," explains dermatologist Karan Lal. "Paralyzing your muscles only draws more attention to the skin."
Much like positive self-image, your skin only benefits from not paying attention to what other people are doing and saying and instead focusing on what works for you. Taking care of your skin is a lifelong project, so don't worry about doing anything before you're ready. Act like you're going to keep this skin for the rest of your life. (You are.)