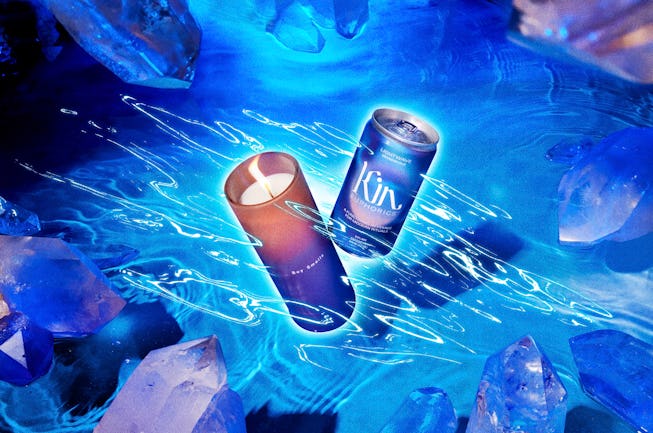 Courtesy of Boy Smells x Kin Euphorics
Boy Smells & Kin Euphorics Want To Turn You On With This Candle
The brands have partnered to launch brain-triggering candles to get you in the mood.
We may receive a portion of sales if you purchase a product through a link in this article.
Since launching in 2017 and having Bella Hadid join as a co-founder in 2021, Kin Euphorics has been shaking up the alcohol-free beverage market. With adaptogens to help you manage stress, nootropics to support brain cognition, and spirit-centering botanics to elevate the taste, the drinks can leave you feeling calm and relaxed, even euphoric. Now, the brand is partnering with candle, fine fragrance, and intimates brand Boy Smells to bring mood elevation to your new favorite candle with patented scent technology. Combining Boy Smells' brain-triggering scent technology prayer candles with the mood-tuning from Kin Euphorics' adaptogens and nootropics, three candles are being released today.
The three Cosmic Collisions include the Restart candle, stimulating your senses with citrus rind, mint, and fresh ginger, and the Drop Out candle, for slowing down and connecting to your center with camomile, lavender, and sage. It also includes a Turn On candle, to "light your heart's fire" with seed of carrot, citrus, and vetiver. Each individual candle is $52 to purchase individually, or you can opt for the "Cosmic Collision" for $79 which includes a 4-pack of corresponding Kin Euphorics adaptogenic beverages, and the Full Spectrum for $199.
While anyone who has burnt a scented candle at home knows that they have the power to immediately set up a vibe, the innovative patented scent technology in this collection was scientifically designed to illuminate neural pathways to enhance different moods. There were even studies conducted on the molecular accords' effect on the brain, body arousal, and mood mapping. "The brain-triggered technology uses data fielded from both conscious and unconscious responses to different scent notes and their effect on the brain," says BoySmells co-founder Matthew Herman. "The result is, we can qualify that these scents will help put your head in the right place for different desired states throughout your day."
Herman says that emotional health is an important issue to him personally, having always viewed creating scents as a way to tie together different memories and associations. "Being able to create scent in the reverse, knowing the emotion then building the fragrance around it, was a wonderful and exciting process," he says. Boy Smells had already established itself as a leader in combining scent with memory, with some of its best-selling candles being LES and Italian Kush. Herman was also already a fan of Kin Euphorics, drinking them daily. "We did not so much pair the flavor to the scent as much as we tried the effect of the drink to the effect of the candle," he added.
While Herman doesn't think that people underestimate the role of scent and emotions, he does believe there could be more awareness around making intentional decisions about how we scent our homes and ourselves. "I have always loved a spicey rose fragrance – I now know rose gives a sense of comfort and protection and spices give confidence," he says. " That makes a lot of sense to me and I can embrace that scent combination to make me feel more like myself. Everyone should have access to that." The collab is available today on the Boy Smells and Kin Euphorics websites.