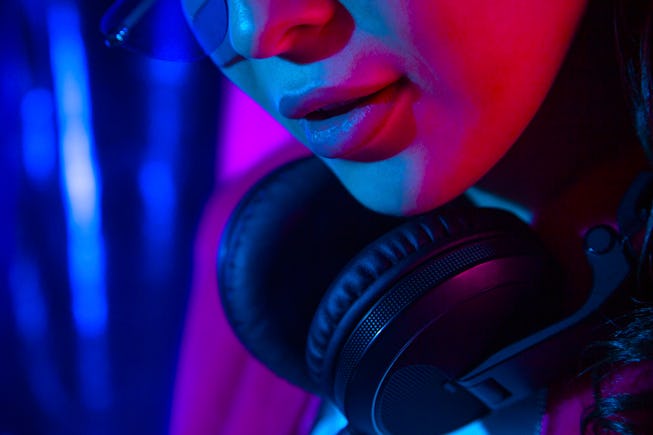 Courtesy of e.l.f. Cosmetics
Calling All Makeup & Music Lovers: Don't Miss This Year's e.l.f. Beautyscape Competition
Show off your best looks for a chance to win $10,000.
That's right, the annual e.l.f. Cosmetics Beautyscape competition is back and better than ever this year. So for any and all makeup masters, beauty dreamers, and music lovers, don't miss out on your chance to win $10,000, co-create next summer's big beauty collection with an emerging musician, and more. These are the final days to enter, so read on for details about this unmissable opportunity. Now's the time to get creating!
For the fifth iteration of Beautyscape, e.l.f. Cosmetics is shaking things up with a remix: Music is the muse. And collaboration, creativity, and e.l.f.-expression are the tools. But before we dig deeper into the contest itself, let's discuss how to enter so you can start brainstorming ideas ASAP. All you have to do is create a makeup look inspired by the moods you get from your favorite music, post a photo of it to your Instagram feed, and tag @elfcosmetics and #BeautyscapeRemixContest in the caption by this Friday, September 18, 2020. (Make sure you also follow @elfcosmetics if you don't already.) You can post as many times as you want and use whatever you've been feeling lately to spark your ideas — just translate what you hear and feel onto your canvas (your beautiful face), and make sure to use those tags.
If you're selected as one of three finalists, you'll get the chance to take your skills to the next level. That means learning from a variety of industry pros, getting access to custom workshops, and collaborating with artists from Universal Music Group and Brands to design your own e.l.f. beauty collection. Who are these melodic mentors? Stay tuned — their names will be revealed soon!
It's the ultimate project for emerging beauty creatives. As we mentioned, the winner will receive a $10,000 cash prize and have their collection sold at a top retailer. They'll also have a chance to give back by taking part in a mentorship program for young girls with Girls Inc.
There's no doubt Beautyscape 2020 is going to be a once-in-a-lifetime opportunity if last year's competition serves as any indication. Teams of influencers worked together to design collections inspired by the tropical vibes, sultry heat, and sparkling sands of the Bahamas. You might recognize the winning capsule: e.l.f.'s Retro Paradise collection. Could you be behind next summer's big makeup launch?
Fire up those playlists, crack open your palettes, and start creating! Remember to post your photo by 12 p.m. PT/3 p.m. ET on September 18, 2020 to enter, and see here for Official Rules and details.
This post is sponsored by e.l.f. Cosmetics.