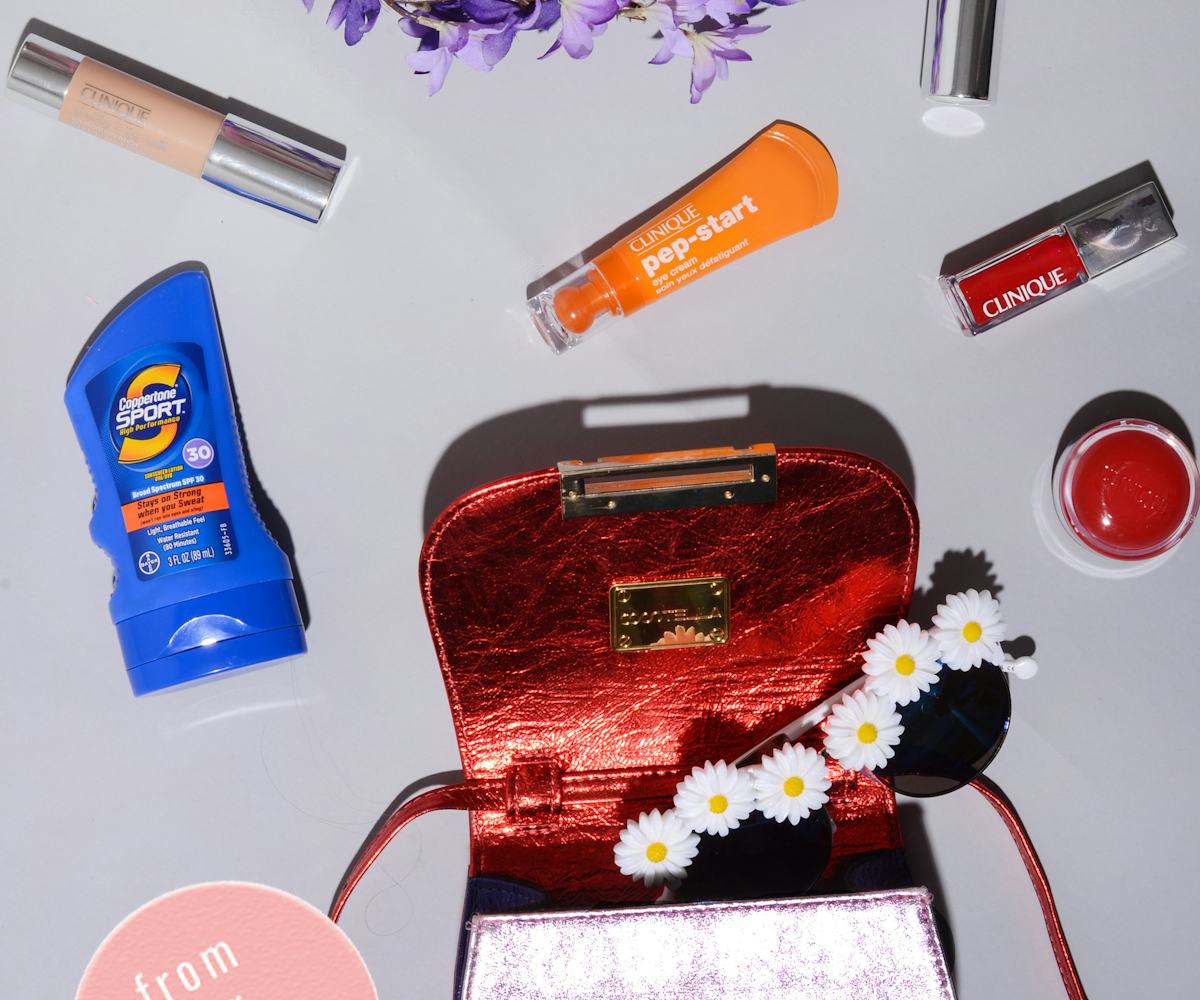 Photographed by Ricky Michiels.
What You Need To Pack In Your Coachella Bag
Once you've read a festival packing list, you've basically read them all. Unless, of course, that packing list is specific to what you should pack when you're going to be spending most of the time cavorting around a music festival. Planning who to see and when is half the battle. You want to be prepared for whatever comes your way, and at Coachella, that could be a myriad of things. The key to packing your bag for the day is simple: keep it light, keep it efficient. Your phone can snap photos just fine, but it can't touch-up your face or apply sunscreen to it. You want to make sure you're packing products that will keep you fresh faced and on point, and won't require a long trip to the bathroom to get it right. The following eight items will help you achieve just that. Remember: pack smarter, not like a hoarder. 
Not only are these Clinique colors blissfully bright, they're compact enough to fit everywhere, and application is a cinch.
Clinique, Clinique Pop™ Lacquer Lip Colour + Primer in 'Go-Go Pop,' $18, available at Clinique.
Sleepless nights are erased with this eye cream. The peptides help wake up the skin around yours eye to brighten your entire face. No one will ever know how late you were up.
Clinique, Pep-Start Eye Cream, $26.50, available exclusively at Sephora.
What's better than a tinted lip gloss that adds shine but doesn't leave your mouth feeling wet? A tinted lip gloss that has a sugar scrub attached. These Sweet Pots™ are it.
Clinique, Clinique Sweet Pots™ Sugar Scrub & Lip Balm in 'Red Velvet,' $19.50, available at Clinique.
Yeah, yeah sunscreen is necessary. You think you don't need to be reminded of that fact, but you do. Seriously. Don't forget this.
Coppertone, Coppertone Sport Sunscreen Lotion SPF 30, priced per store, available at Walgreens. 
The beauty of these foundation sticks is how effortlessly they go on and blend in. Plus, the stick form means there's no risk of spillage inside your bag while you're jumping up and down to your favorite artist.Clinique, Chubby in the Nude™ Foundation Stick in 'Capacious Chamois,' $24, available at Clinique.
What, don't you carry two foundations? You know, for contouring?
Clinique, Chubby in the Nude™ Foundation Stick in 'Intense Ivory,' $24, available at Clinique.
The lighter your bag, the happier you'll be. This bag fits everything you need—aka everything listed here. It's also shiny and perfect bait for street style photographers. As for these sunnies? Flower crowns are better worn as sunglasses. Plain and simple.
Gasoline Glamour, Swan River Daisy Sunglasses, $38, available at NYLONshop; Costella, Lulu in "Red Metallic," $188, available at NYLONshop.