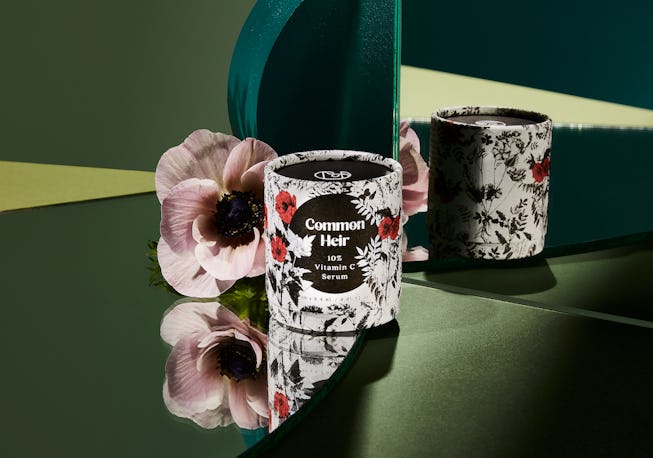 This Encapsulated Vitamin C Serum Completely Changed My Skincare Routine
Everything you need in one tiny capsule.
Common Heir is ready to reimagine the world of serums. Making its official brand debut with the launch of a vitamin C serum, the company intends to create its own version of high-end beauty products, without the overuse and reliance on plastics.
For its launch, Common Heir is introducing the world of beauty to a biodegradable, vegan capsule of vitamin C. Unlike traditional vitamin C serums, this version comes without the harsh smell often associated with the ingredient, and the package and shipping are entirely plastic-free and silicone-free.
For those particularly excited about this product, Cary Lin, cofounder of the company told NYLON that this is only the beginning for the brand. "Our mission is to make your rituals beautiful and sustainable, without compromising all the joy that taking a moment for yourself can really spark," she said.
WHAT IT IS:
The Common Heir vitamin C serum is a 10 percent serum, contained inside a breakable capsule. Made for use daily in the morning or evening, the serum works to brighten skin, improve dullness, and reduce signs of aging.
As Angela Ubias, co-founder of Common Heir explained to NYLON, "When we landed on the 10 percent vitamin C Serum as a hero product, I knew it had to be something I would genuinely reach for every, single day and enjoy using... This is just the beginning of our mission to redefine classic beauty with modern approaches to innovation, delivery, packaging, thoughtful and intentional ingredient sourcing — perfectly plastic-free."
WHO IT'S FOR:
Vitamin C is a bit of a wonder ingredient in skincare products. As for Common Heir's beauty take on it, this serum is best suited for those concerned about sustainability in their beauty routine, and those that prefer being told exactly how much product to use.
If you're new to vitamin C, or this is your first time using Common Heir, you may want to conduct a patch test on the neck. This process is a great way of monitoring whether a new product is the right one for you, and it's something to do with every new skincare product you're introducing to the body.
FINAL VERDICT:
Up until this product, I had only briefly dabbled in vitamin C use. As someone who's prone to over-dispensing product, I was never quite sure if I was using too much, or not enough. Thankfully, Common Heir takes all the guesswork out of that process.
The first time I used the Common Heir vitamin C serum, I was amazed by how much product could fit in what seemed like a tiny capsule. Admittedly, my first time opening the capsule proved to be a bit of a learning experience, but with time, I was able to more easily open the product.
After a few days of use, I did notice that my skin looked less dull, and I looked forward to the nightly practice of twisting open the serum.
Vitamin C is one of those skincare ingredients that can seem daunting to beginners, but Common Heir made the incorporation process easier. Its encapsulated serum contains the daily recommended amount, and inside each box is two months worth of product, which allows you to truly try it out for an extended period of time. Whether you're a seasoned serum user, or a beginner, this variation allows you to take a sustainable step forward in your skin care routine.