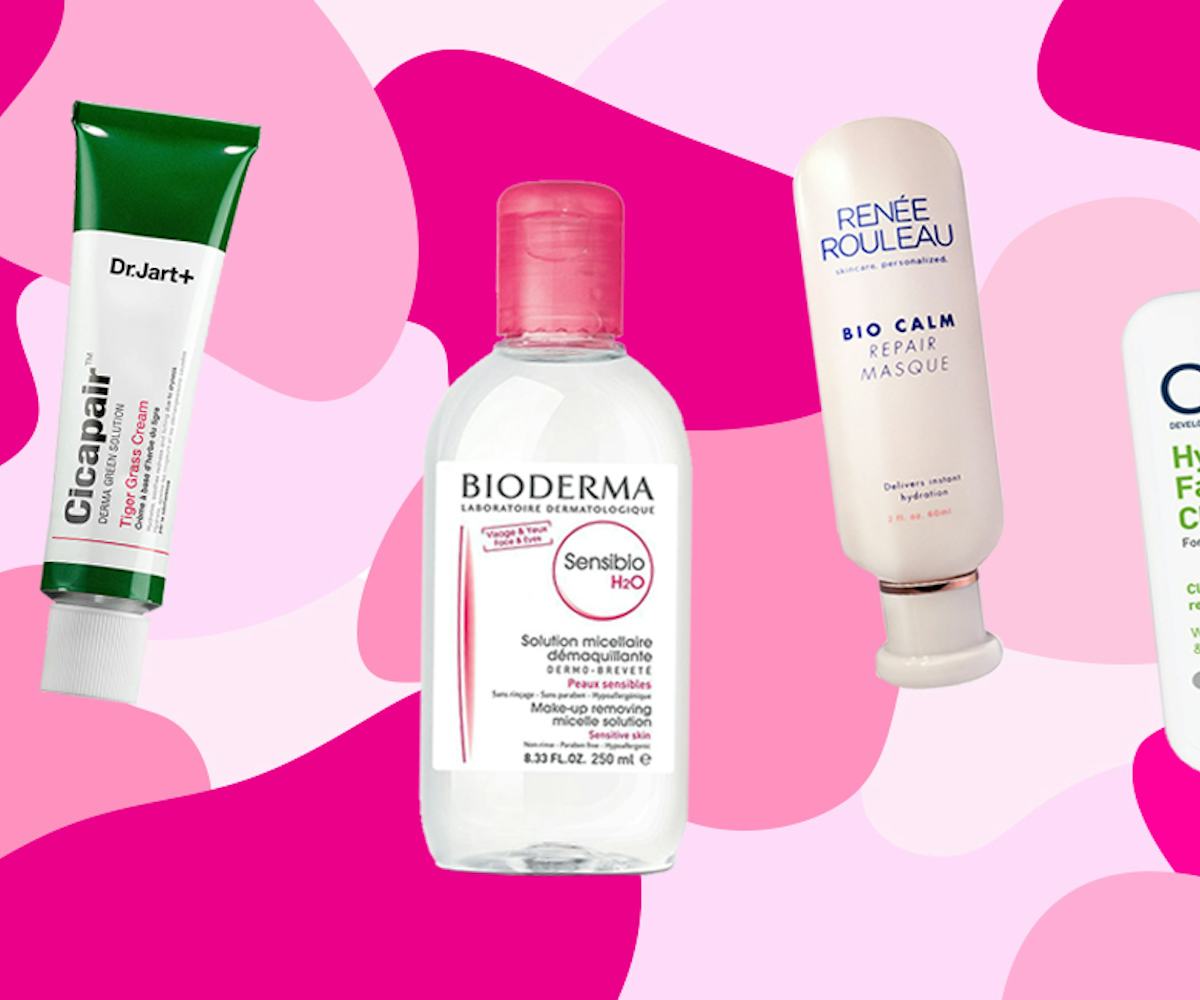 Your Complete Guide To Caring For Sensitive Skin
It doesn't have to be a pain
It is extremely frustrating to have sensitive skin—especially when you work at a magazine that covers all things beauty. One of the most fun things about this job is the sheer number of products NYLON staffers get to try, and when you have to avoid what feels like a trillion ingredients, it can definitely feel a bit like going into the best restaurant in the world when you're allergic to half the items on the menu.
But these sensitivities have also made me somewhat of an expert (some might say obsessive) on all things skin care, and I now understand how to read and interpret the ingredients list on the back of the bottle, so that if I'm breaking out from a product, I can figure out why. And I want to assist you in doing that too.
Read on for help diagnosing your sensitivities, to learn which popular ingredients can cause issues, and to see some of my favorite products that have proven to be safe and effective in treating my excessively reactive skin.
But first: What is sensitive skin, and what causes it?
Simply put, it's skin that has some sort of reaction—whether it's redness, increased dryness, stinging, or acneic breakouts—from particular ingredients.
That said, sensitivity isn't a necessarily permanent condition. Having dry, dehydrated skin—meaning your skin is lacking in oil and water, respectively—can cause sensitivity in the hardiest of skins, but can be remedied with the proper moisturizing.
"The underlying cause of all these factors can be contributed to having a delicate moisture barrier that gets easily compromised," says Austin, Texas-based esthetician Renee Rouleau. Your outermost layer of skin protects you against pollution, bacteria, and the other nasty particles we encounter in our day-to-day. However, when your skin is dry—which is to say, when that exterior moisture barrier isn't working properly to protect your inner layers of skin—"it creates small, invisible cracks in the skin. Through these cracks, moisture can easily escape and irritants can enter more easily."
This is one reason why you might discover your skin is redder and more sensitive in the winter. The cold, wind, and super-dry air can all severely dehydrate your skin, leaving it more vulnerable to bacteria, pollution, and other irritants.
How do you know you have sensitive skin?
This varies from person to person, but reddened skin, dryness, itchiness, flakiness, and breakouts that seem to occur after using specific products only are some of the signs.
What are some common ingredients that cause reactivity and sensitivity?
Fragrance is generally considered by dermatologists and estheticians to be the leading cause of skin sensitivity. This applies to both synthetic fragrance compounds, such as linalool and citronellol, as well as "natural" fragrances such as lavender, mint, and rose oils. It's worth keeping in mind, too, that "fragrance" or "parfum" can mean any number of different undisclosed ingredients, so you don't necessarily even know what it is when it appears on a label.
Then there's alcohol. But be aware: Not all skin-care alcohols are created equal. If you're experiencing excessive dryness or irritation, stay away from alcohol denat, SD alcohol, or isopropyl alcohol in a product. Because of the extreme drying effects of these compounds (think about putting rubbing alcohol on your face!), they should be avoided regardless of whether or not you typically experience sensitivity.
Many of us know that foaming agents can be terrible for your hair, but sodium lauryl sulfate can be even worse for your skin. This ingredient raises the pH of your product and therefore your skin, causing dryness and irritation.
Isopropyl myristate and isopropyl isostearate are thickening agents that can be comedogenic—meaning they can clog pores in some people. If you're experiencing a breakout after introducing a new product, they could be the culprit.
That "tingly" feeling you get from using menthol, camphor, peppermint, and other "cooling" ingredients? In some people, that's a sign of your skin getting actively irritated and inflamed. Use sparingly or not at all if you find they cause redness after use.
What to do if you're having a reaction
1. First and foremost, determine as best you can what is causing the reaction and eliminate it from your routine.
2. Temporarily cease using products containing harsh ingredients, such as alpha-hydroxy acids and retinol. Slowly integrate them back into your regimen as your skin returns to normal.
3. According to Rouleau, look for serums and moisturizers that include the below ingredients, which "mimic the skin's natural lipids so they do a great job at barrier repair":
Borage oil
Bois de rose oil
Carrot oil
Evening primrose oil
Cranberry oil
Niacinamide
Ceramides
Caprylic/Capric Triglyceride
Linoleic/Linolenic acids (this is not an exfoliating acid)
Phospholipids
Squalane
Tocopheryl Linoleate (vitamin E)
Tocopheryl Linoleate/Oleate (vitamin E)
Tocopherol (vitamin E)
Tocopheryl Acetate (vitamin E)
Phytosterols
Shea butter
Sunflower oil
Soybean oil
Safflower oil
Jojoba oil
Sweet almond oil
Canola oil
Sesame seed oil
4. Ditch any products with a high pH, which can dramatically change the natural pH of your skin and cause irritation. Products that make your skin feel tight and uncomfortable likely have a high pH, but if you're unsure, I recommend emailing the customer service reps for the company that makes your products and bug them until they tell you the pH of the product in question. I've done this many times and was glad I did!
Now, here are a few of my favorite products
Cleansers
Cerave Hydrating Cleanser: I interviewed three people for this article—Soko Glam founder Charlotte Cho, dermatologist Dr. Heather Woolery-Lloyd, and Rouleau—and they all agreed that ceramides are one of the best ways to keep dehydrated, reddened skin at bay. This gentle cleanser is an excellent second step in my nightly routine, as it cleanses thoroughly but doesn't dry out my skin.
Bioderma Sensibio Micellar Water: Many of French cult-fave brand Bioderma's products contain fragrance, but this gentle micellar water is blissfully free of it and cleans and preps my skin for makeup in the morning without drying it out.
Essences/tonersSoonJung pH 5.5 Relief Toner: A gentle, calming toner that neutralizes your skin's pH in case it's been disrupted by cleanser or water. I drop a little into the palm of my hand and use my fingers to apply.
Renee Rouleau Moisture Infusion Toner: This is the toner that taught me that the alcohol-laden nightmare liquids of our youth are not the only toners. True to its "serum-infused" moniker, it's slightly thicker and milkier than most other toners I've tried.
SerumsDermalogica UltraCalming Serum Concentrate: I love this serum as it's rich in one of my favorite ingredients, oat kernel extract. If you're ultra-sensitive, though, it might be best to patch test first, as it contains a small amount of the fragrance compounds limonene and linalool. 
Dr. Jart+ Cicapair™ Tiger Grass Re.Pair Serum: The shining star ingredient of this serum, centella asiatica, "has strong antioxidant properties which we know can help to reduce inflammation and redness," according to Dr. Woolery-Lloyd. I've been using it regularly and noticed a subtle reduction in redness on my cheeks. 
ExfoliantsPaula's Choice Skin Perfecting 2% BHA Liquid Salicylic Acid: I use this gentle beta-hydroxy acid exfoliant about twice a week to help decongest my pores. And because salicylic acid is related to (and a component of) aspirin, it has anti-inflammatory properties which can help reduce redness. If you're nervous about starting out with chemical exfoliants, I can't recommend this straightforward option enough.
First Aid Beauty Facial Radiance Pads: These pads contain AHA exfoliants glycolic and lactic acids, which are better for treating skin's texture than BHAs. That said, they are slightly more irritating, so introduce them gradually and only use them a couple days a week if you're especially sensitive. I like to cut them in half as I find a whole pad contains more product for my face than I need. 
Moisturizers
Dr. Jart+ Ceramidin Cream: Dr. Jart has a moisturizer specifically formulated for treating sensitive skin, but I like the Ceramidin Cream better—it makes my dry skin much softer. 
Cerave Moisturizing Cream: Inexpensive, basic, and extremely well-formulated, this moisturizer, chock-full of ceramides and hyaluronic acid, is an excellent alternative to its pricier counterparts.
Skinfix Eczema Plus Extra Strength Sheer Face Ointment: They aren't kidding when they say extra strength—this stuff is basically wax. But in the dead of winter, my poor face gets rough and dry at night from the heater, and this moisturizer helps prevent that moisture from escaping while I sleep. Bonus: It has colloidal oatmeal, a highly regarded emollient for treating dry, sensitized skin. 
MasksFirst Aid Beauty Ultra Repair Instant Oatmeal Mask: Can you tell I'm a big fan of oats in my skin care? This has so much, it's sort of like smearing actual oatmeal on your face, which sounds gross but actually feels really good and smells divine.
Renee Rouleau Bio Calm Repair Masque: A gel mask that has a light cooling effect (not because of any mentholated ingredients, but because of the texture) that feels extra wonderful while in the bath.
Youth To The People Age Prevention Superfood Mask: I generally avoid masks with a clay base, as they can be pretty drying, but this one is loaded with glycerin, green tea, and aloe, which help counteract the dehydrating properties of the kaolin. Plus, it really helps clear out my pores. Just use a heavy moisturizer afterward.