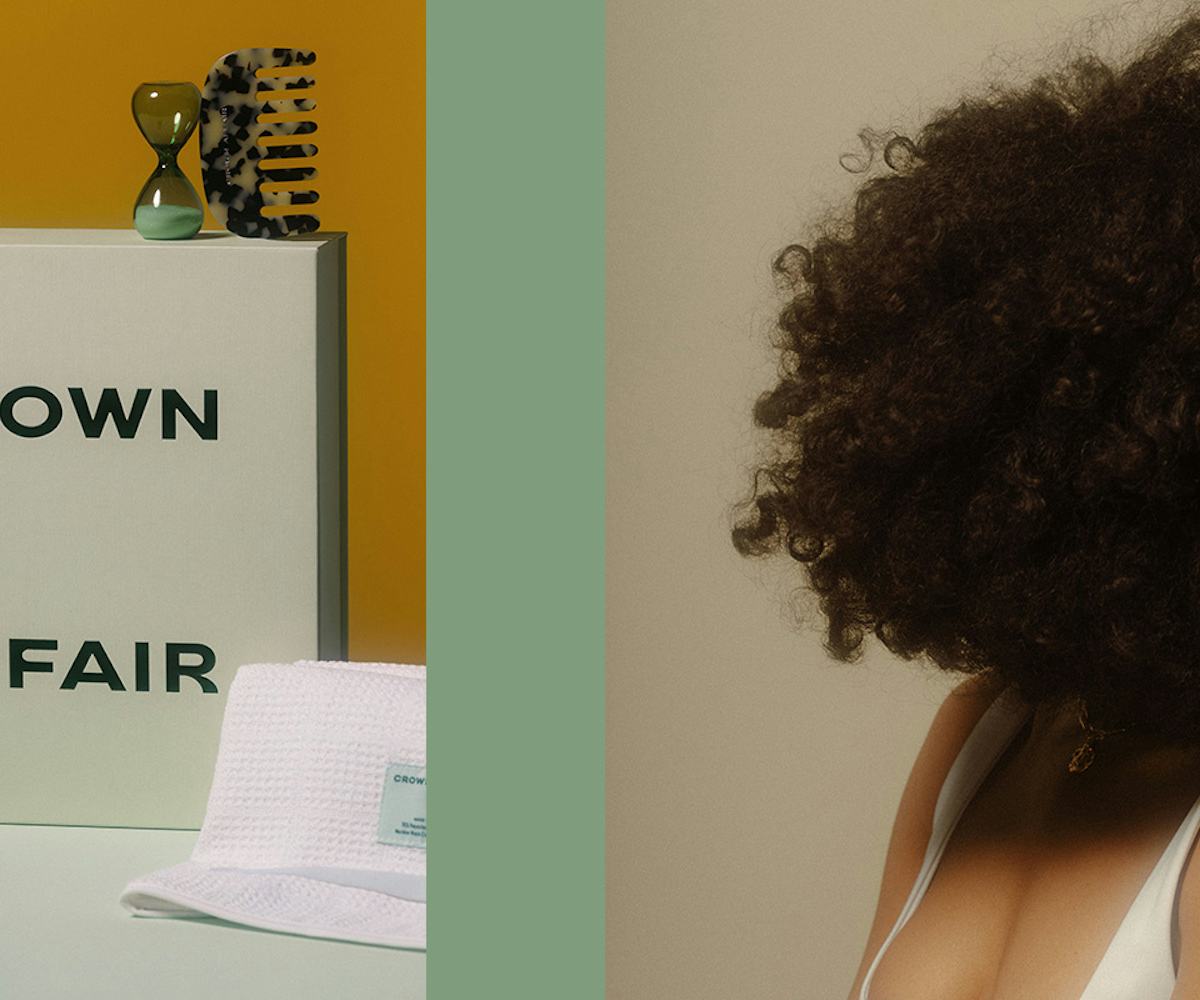 Photos courtesy of Crown Affair
Crown Affair Wants You To Spend More Time With Your Hair
Founder Dianna Cohen has worked for some of the most influential companies of the last decade, and now she's ready for her own
Dianna Cohen knows a good brand when she sees one. After being an early employee of digital beauty platform Into The Gloss, e-commerce mobile app Spring, and travel brand Away, Cohen went on to start Levitate, a brand marketing agency that works its magic behind some of the most recognizable and influential direct-to-consumer brands of the last decade, from Outdoor Voices and Flamingo to The Wing. Now, Cohen is shifting gears —with the launch of Crown Affair, a new haircare line focused on the art of ritual and routine.
The brand, out today, is setting out to redefine the relationship people have with their hair through accessible products, community, and a little guidance, too. It's a tall order to fill, considering just how nuanced hair — and the often loaded, political relationships people often have toward it — can be, but that nuance excites Cohen. "I've always loved hair, it's a fascinating part of the body. It's such a huge part of our identities, and it's something that I've been really passionate about, and love having conversations about with my friends," she tells NYLON. "I also realize I'm one woman with one story, and that's actually a huge part of this brand, is being able to bring community together, and a platform for people to share their experiences," she adds, noting that a focus group of over 50 women came together ahead of the brand's launch, representing all hair types across the texture spectrum.
The brand's initial offering is a tight edit of four post-wash products that the brand has dubbed the essentials: The Brush, The Comb, The Towel, and The Oil, all of which ring in under $100 individually, or at $220 for the full set. The Oil ($40), the brand's first and only formula-based product, was designed alongside Japanese chemists and suppliers to infuse a unique blend of traditional and modern Japanese ingredients, including tsubaki seed oil for deep hydration and meadowfoam seed oil for protection from heat, that would deeply nourish and restore the hair without making it feel greasy, making it ideal for on-the-go, everyday use.
The wide-tooth combs ($36-$38) are made of 100 percent plant-based cellulose acetate and dipped in a chic, muted tortoise, perfect for breakage-free detangling on wet or dry hair. The brush ($62), in black nylon and wood, features short boar bristles designed to better distribute the hair's natural oils evenly, which in turn protects the scalp from oxidative damage, and prevents hair from becoming dry and brittle. The towel ($45) is made with a waffle texture that absorbs moisture without causing damage, and promises to dry hair in half the time with twice the care as a traditional hair drying towel.
Considering Cohen's background working with some of the most visually-recognizable brands of the 2010s, Crown Affair's branding — from the product to the fuzzy, dreamy aesthetic crafted on its site and social media — is one primed to be on top shelves and Instagram feeds. "Take your time," reads the inside flap of the pistachio green packaging box.
"These are the first four products because, while everyone has their own routine, I think they're a really simple way to integrate care into your ritual. Haircare is a really interesting category because it's totally invisible. We could be sitting right across the table from each other and have no idea what the other person uses, so it was really intentional to launch specifically with product and tools that can become part of your visual literacy and routine to start and change that behavior." According to Cohen, more formula-based products, including in-shower care treatments, are currently in development and will be launching this year.
At the end of the day, Cohen knows she's releasing more stuff into a world and industry that could use less of it. But she's certain that there's always room for products that serve a sincere purpose, and meet a need not yet addressed, especially in a category where three corporate conglomerates account for 60 percent of the market.
"I don't want to put anything into the world that I'm not proud of or doesn't need to be there," she says. "Whether people buy products or not, I think there's still so much we can offer from a community and conversation perspective. And then if people do want to purchase something from Crown Affair and be a customer, I want them to feel like they can have this forever, and that the product is adding value to their routine. I truthfully wouldn't have done this if I felt there wasn't a story to tell or something to change in this category."