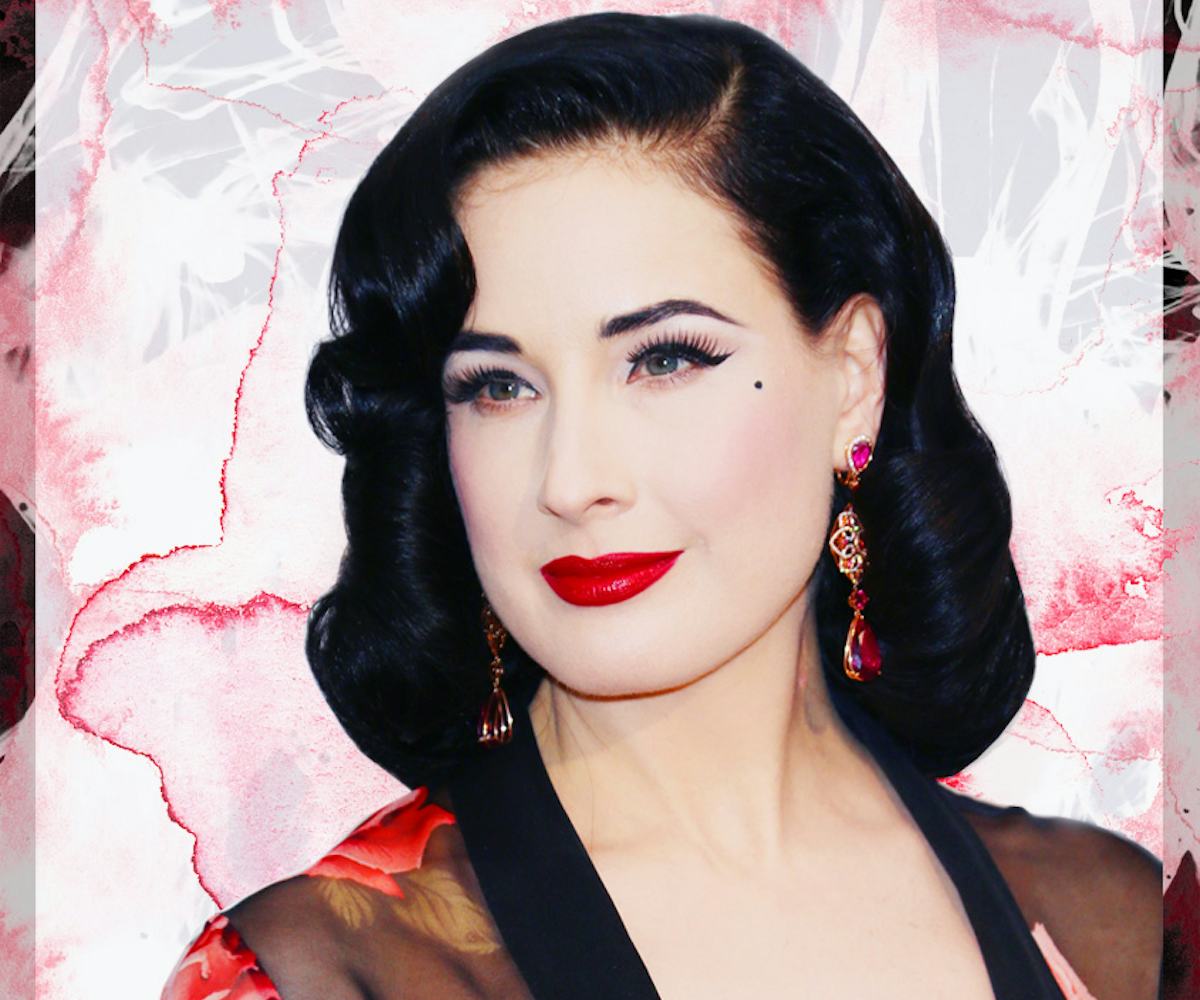 dita von teese's quick tips for total beauty confidence
we're listening to every word
Dita Von Teese—burlesque goddess, former Mrs. Marilyn Manson, and all-around cool chick—is a bombshell on and off the stage (even without the oversized birdcage and feather fans). But you might be surprised to know that the red-lipped, cat-eyed dancer is almost always self-styled, even when it comes to her shows or red-carpet events. Though she always looks like absolute perfection, she is decidedly DIY, dyeing her own hair that subtle shade of blue-black, using hot rollers to get her throwback old Hollywood waves, and even giving herself red half-moon manis way before they came back in style.
The self proclaimed makeup addict spent her salad days working at Shiseido and Ultima II makeup counters, so of course she has some prime advice on looking and feeling your best. When NYLON met up with Dita at the W New York Downtown—where she performed to celebrate the opening of W Beijing and the Chinese New Year—we couldn't wait to pump her for beauty advice. Here are her tips for total beauty confidence.
An inner glamour girl is in all of us.
"It occurred to me early on that [glamour] is something you make, it's not something you're born with. It's not about what nature gives you, it's what you make of it."
Create a signature look.
"I've been wearing my hair and makeup the same way for the better part of 20 years. I'm a blonde girl from a farming town in Michigan. I loved old movies and what the '30s, '40s, and 5'0s-era glamour was all about, which is about creation. I felt like I was a very average looking girl with my natural hair and very natural makeup. I became obsessed with creating glamour and becoming the person I always wanted to be."
Makeup doesn't have to be time-consuming.
While it can take Dita an hour and a half to get ready for a huge event, most days she's out the door in under five minutes. "On a normal day, I just do a quick sweep of powder and red lipstick—done. I think the key is to do one thing that's important to you that day. Do you like your hair a certain way? Do you like your red lips? Your skin? Your mascara? Find that thing that's important to you and highlight it. And if you really don't have any time, just add sunglasses. You can look fabulous with just a pair of sunglasses and red lips."
Feel sexy, and you'll be sexy.
"The key to being sexy in your own skin is acceptance, really. I can look at someone like Angelina Jolie and think what beautiful full lips. But I admire her lips rather than envying them. It's OK to appreciate other people's beauty, but find idols you can relate to—like I look for women who have fine features like mine." The lesson: If you're comparing yourself to something that's unachievable, you're just going to feel bad about yourself, and there's nothing less sexy than that.
What's in her beauty arsenal:
Fave fragrances: Quelques Fleurs and Lancome Magic Noire–because she says women should smell like women, not little girls. 
Powder: M.A.C. Mineralize Skinfiinish for the look of flawless skin. 
Lipstick: Dita tried on her first red lipstick when she was 13 and she found her soulmate. She now has an entire drawer of red lipsticks in her vanity! Some of her top red matte lipsticks are: Dior Rouge Dolce Vita, Diorific Roulette Red, YSL Rouge Pur Couture Glossy Stain in Rose Tempura 13, and Tarte LipSurgence Lip Luster in Fever. 
Liner: Blacktrack Fluidline from M.A.C. or Gerlain Liquid Eyeliner. "The trick to getting the cat eye is practicing it over and over, and it soon becomes second nature."