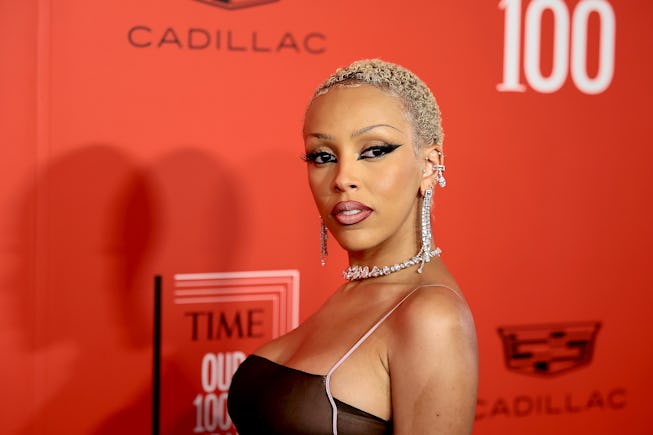 Dimitrios Kambouris/Getty Images Entertainment/Getty Images
Doja Cat Just Got A Spooky New Tattoo
The new ink covers her entire back.
After transforming into Karl Lagerfeld's cat Choupette for the Met Gala on Monday, the artist has transformed herself once again, although this time it's in the form of a large back tattoo. Posting the back tattoo on her Instagram yesterday, she revealed it's a design of a bat skeleton with wings that spread over her shoulders. The entire tattoo reaches down to her lower back area at the tip of the bat's tail.
Doja posted photos of her new tattoo from multiple different angles and included an excerpt of text explaining the meaning behind her new ink. "Bats often represent death in the sense of letting go of the old and bringing in the new. They are symbols of transition, of initiation, and the start of a new beginning" it reads. Doja originally posted the photos with the caption saying 'Don't explain yourself' is so corny", before changing the caption to a simple bat emoji.
In response to the tattoo reveal, puns like "Doja bat" have already started circulating in her comments. Others are linking the new ink to Illuminati conspiracies surrounding the artist. "The fact that she has to post the symbolic meaning so people won't accuse her of devil worship is wild," one of her fans wrote.
This isn't the first time Doja's ever explained the meaning of her tattoos online. Her previous tattoo reveal in April, depicting a mythological figure on her arm, resulted in followers calling the design "demonic". She later revealed that the tattoo was based on a piece of artwork in the 1665 edition of Fortunio Liceti's "De Monstris", posting a photo of the reference with the caption "your fear is not my problem". So, whether you like the new art or not, Doja makes thoughtful choices when it comes to her tattoos.