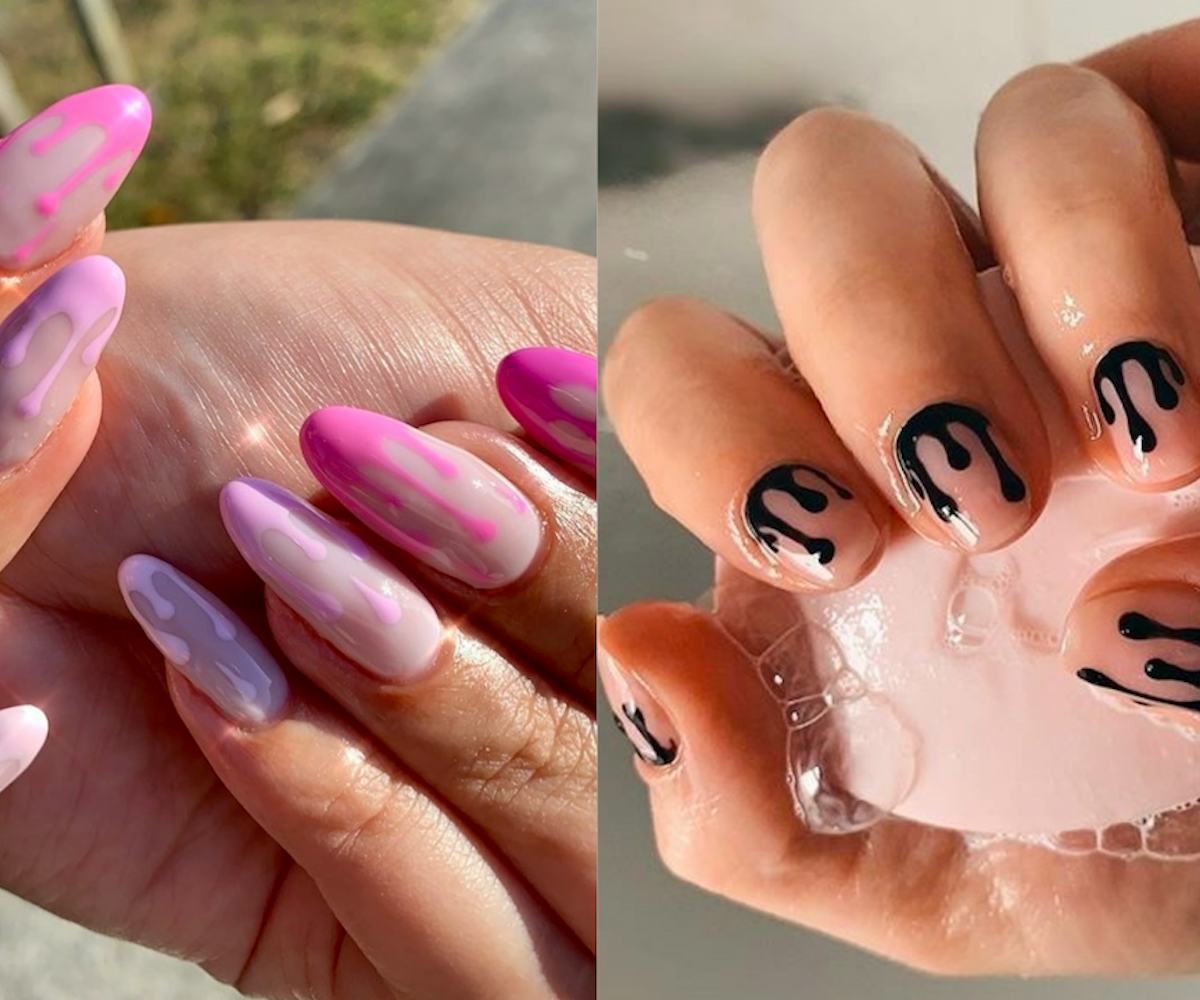 Images via @sofnailsnz and @cuti.gals
11 Drip Nail Art Ideas To Upgrade Your Next Manicure
The Kylie Jenner-approved trend works for every nail length
If you don't mind — or maybe even appreciate — a little slime, the latest trend in manicure designs was made for you. Drip nail art has officially taken over Instagram, and there's no shortage of slimy ways to spin the trend. From dripping art inspired by things that go bump in the night to pastel-colored melting nails that will have you longing for a summer spent with an ice-cream cone, this is one mani option made for year-round wear.
Take a scroll through the drip nail art hashtag on Instagram and you'll quickly discover how versatile this particular artwork can be. One nail artist went spooky for her take on the trend, while another looked to the dance floor, and even added a touch of unexpected color. Manicurist Georgie Hughes told NYLON that clients have specifically gravitated towards the trend because of its many options, adding, "It can be done In any color combo and it adds something a bit extra to your mani."
According to Hughes, customers first started asking for the look nearly two years ago, but recent photographs shared to Instagram have inspired countless others to embrace the trend. In order to complete her drip nail art, Hughes uses a dotting tool and nail art brush. For even further help, this YouTube tutorial features ten different ways to DIY your drip nails.
She suggested using regular gel polish colors for a simple take on the drip or adding glitter and foils for a version that's "all out."It takes only a few minutes per nail to complete the look, and if you're stuck on what colors to try, Hughes said that neon drips on a nude nail is a great option.
Along with its Instagram popularity, drip nails have already been spotted on the feeds of some of our fave celebs. Kylie Jenner rocked two versions of the look, while Demi Lovato, Zendaya, and Kesha each incorporated the art into their manicures.
Grab your polish and prepare to get inspired, because we've rounded up some of our favorite drip nail art manicures below.