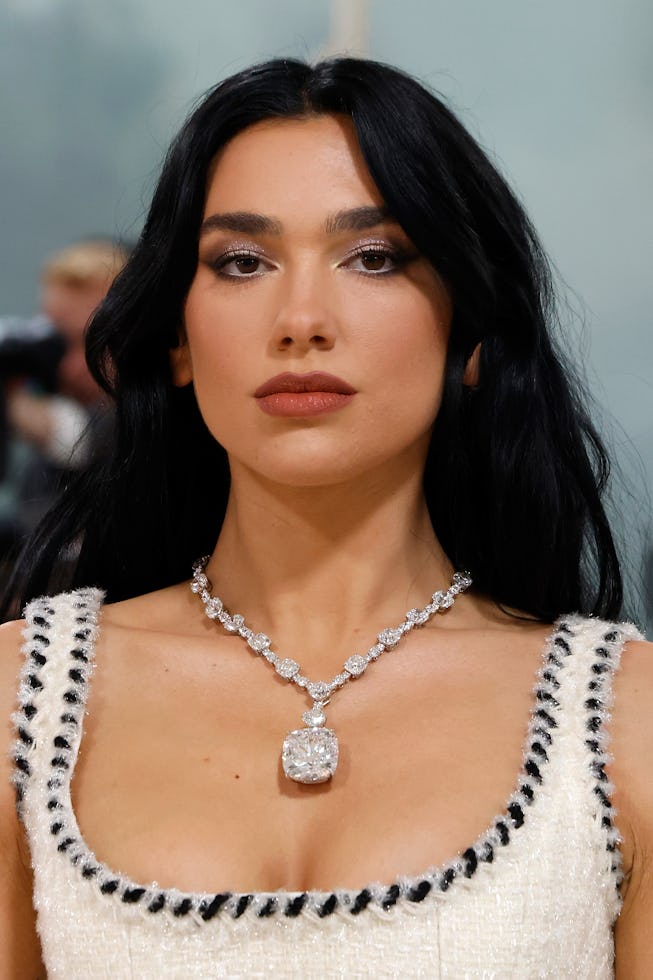 Taylor Hill/Getty Images Entertainment/Getty Images
Dua Lipa Just Jumped on the "Spider Leg" Lash Trend
Move over top lashes, bottom lashes are now the main characters.
For years, top lashes have soaked up the beauty spotlight, as we apply extra mascara and fake lashes to accentuate their length. However, lower lashes have been getting more fashion love recently. Models with long, bug-leg lashes walked down the runway at the Kiko Kostadinov show during fashion week in March, and Zendaya wore '60s-style bottom lashe clusters for this year's SAG Awards. Now, Dua Lipa has hopped on the trend, comparing her bottom lashes to a spider in her latest Instagram post.
On Tuesday, the pop star posted a close-up selfie of her ultra-long bottom lashes — which happen to be longer than her top lashes — with a smokey eye. "Bottom lashes like spider legs," she wrote as the caption. Lipa also included sitting-down fit pics, blurry greenery shots, food photos, and more ultra-close-up snaps of her bottom lashes.
In the comments, fans declared that her "smokey eye era is back," with the latest twist being the long "spider leg" bottom lashes. To achieve the look, it looks like Lipa piled up the lengthening mascara on her bottom lashes, applying a lighter coat to the top. To complete her makeup, she wore blush across her nose (hello TikTok's sunburn blush trend), brushed up her brows, and added glittery lipstick for extra glam.
If bottom lashes overtaking top lashes on the runway wasn't convincing enough for you, Zendaya and Dua's stamps of approval are sure to convince you to show your lower lashes some love. After all, top lashes have had all the attention for too long, and (arachnophobic people aside) who wouldn't want their bottom lashes to resemble the legs of a spider?