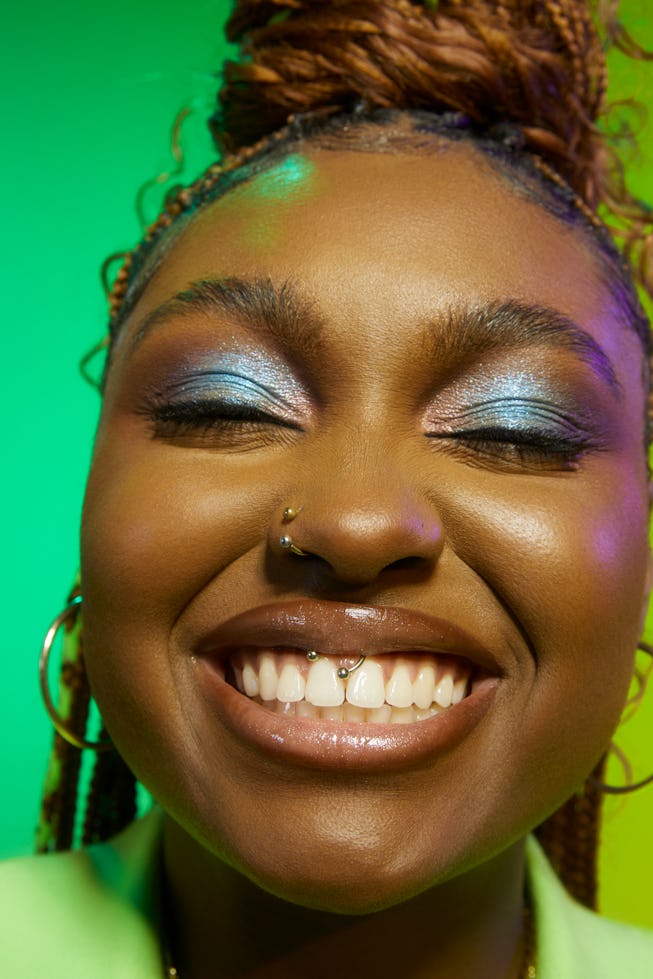 e.l.f.'s Latest Collection Is Inspired By Music & Self-Expression
Meet Electric Mood, your summer makeup must-have.
Tired of wearing the same clothes and the same makeup (or lack thereof) just to do the same thing day after day? Me too. Luckily, e.l.f. Cosmetics' new Electric Mood collection is finally available to purchase, and it delivers a much-needed burst of inspiration. And that makes perfect sense. After all, inspiration is what brought it to life in the first place.
Electric Mood is the winning collection that sprung out of Beautyscape 2020, the fifth iteration of e.l.f.'s annual competition where makeup enthusiasts get the chance to be part of the production of an actual line. For this "remixed" edition, hopefuls created a look inspired by music and posted it to Instagram as their entry. Once selected, the winners — Karol Rodriguez of New York, Michael Brooks of London, and Emily Anne Carden of Colorado — got to collaborate with three music artists from Universal Music Group for Brands, who were each designing e.l.f. products inspired by their own sound and style. (Oh, Beautyscape 2020 — The Remix also included a cash prize of $10,000 for winners and the opportunity to mentor the next generation with Girls Inc.) Maybe the coolest part? The music artists involved were none other than Swedish songstress Tove Lo, British singer-songwriter Tiana Major9, and Colombian sensation Pitizion.
It was a once-in-a-lifetime opportunity for the talented up-and-comers, and they certainly didn't squander it: These products are injecting a crucial dose of creativity (and maybe even hope?) into our veins, just when we need it the most. We're thrilled to share the final collection — Electric Mood — which is available to shop now.
First up, Tove Lo's part of the collection is centered around the mantra "gritty is pretty." The products combine the sparkle of glitter with the grit of rock. There's the Disco Glitz Brow & Eye Kit, so you can apply silver glitter wherever you need to shine. The Hydrating Balm keeps lips moisturized with jojoba oil and vegan collagen while providing a sheer wash of color. And the Glassy Skin Balm acts as a translucent veil that creates a glassy effect on all skin tones.
Vibrant color got the graphic treatment with Tiana Major9's products. Feeling Lucky Eyeshadow Palette is an 18-shade wonderland of creamy matte, shimmer, and metallic colors perfect for any artful look. Lip Duo is a made-for-each-other pair: a high-shine gloss packed with coconut oil and a matching pencil. Speaking of shine, the Illuminating Elixir is a 2-in-1 face concentrate created with hyaluronic acid and jojoba oil for a natural glow.
Finally, Electric Mood bottles Pitizion's aesthetic of "sunkissed with a bold lip," offering up a Shadow Crayon Duo (two blendable shades that won't smudge as you sweat in the sun), Sheer Stick lipstick (in a rich cherry hue), and the De La Soul Cream Face Quad (a set of cream blush, bronzer, and highlighter).
And central to each subset of the collection: There's Big Mood Mascara, which provides rockstar-level volume, lift, and length with an hourglass-shaped brush. It's all rounded out by the Electric Mood Brush & Sponge Set, which has all the brushes and sponges you need to apply every Electric Mood product perfectly.
All images: Courtesy of e.l.f. Cosmetics