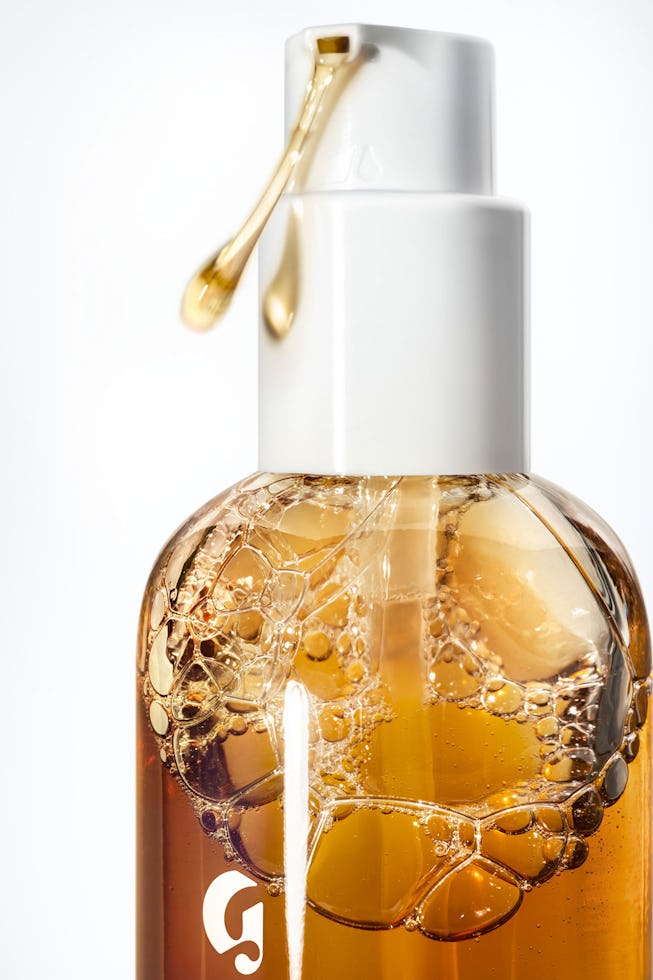 Glossier
Glossier Just Released Its First New Cleansing Product In Five Years
The Milky Jelly Cleanser now has a sister product.
Glossier's Milky Jelly Cleanser has always been an essential product in the brand's lineup. True to its name, the creamy product quickly became a must-have among Glossier fans, and for a time, it was Glossier's only cleansing product. That all changed today, April 21, with the launch of Glossier's Cleanser Concentrate.
Unlike its cleansing counterpart, the Cleanser Concentrate is intended to be massaged between the hands, which helps create a lather that can then be applied to the face. Retailing for $20, the Glossier product is packaged inside a glass bottle.
The brand touts the inclusion of the cleanser's gentle exfoliants, which include Grape Ferment, Grape Extract, Lactic Acid, Malic Acid, and Niacinamide. The four star ingredients all work together on brightening and softening skin. And with the addition of Chamomile Flower Water, Calendula Extract, and Passionfruit Extract, you should be able to cleanse without stripping your skin of moisture.
Before diving headfirst into a new skincare routine that includes the cleanser, Glossier suggests gradually working this product into your regimen. As it's intended for exfoliation, it's recommended that you begin with a once daily use. If your skin still looks dull or you feel more clarifying is needed, then you can use the product twice daily. However, it's suggested that you use only a few times a week, swapping the product out with Milky Jelly Cleanser.