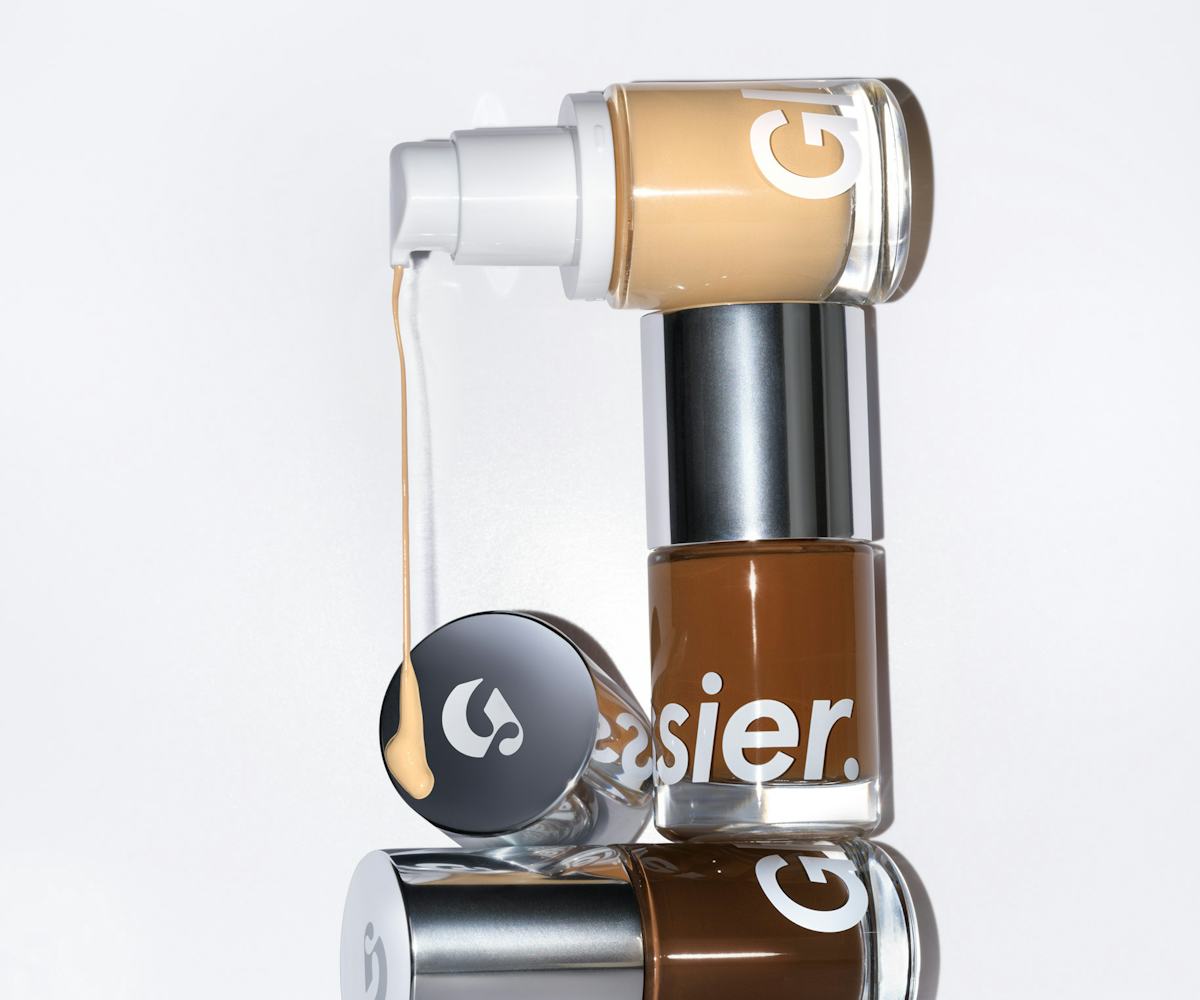 Courtesy of Glossier
No-Makeup Makeup Brand Glossier Just Launched A Foundation
We tried the debut foundation from the "skin first, makeup second" beauty brand — here are our honest thoughts.
We may receive a portion of sales if you purchase a product through a link in this article.
When Glossier originally launched in 2014 with its "skin first, makeup second" philosophy, it was revolutionary. It was a beauty and makeup brand that contained almost no actual "makeup" at its conception, launching instead with a face mist, priming moisturizer, clear lip balm, and a light skin tint in a very limited shade range. The idea was makeup that improved and showed off your skin, rather than hiding it away under layers of product.
As the brand grew, it expanded into more color-focused products, still in keeping with their natural look philosophy while acknowledging that (try as we might) everyone has not-so-perfect skin days that we're not all ready to embrace with open arms and sheer coverage. In 2016, the Stretch Balm Concealer was born to address those blemishes, miscellaneous spots, and dark circles that a liquid-y tint couldn't cover. But it has taken until now for Glossier to come out with a real, capital "F" foundation.
On Tuesday, Glossier launches the Stretch Fluid Foundation, a light-to-medium coverage foundation with a "natural-to-you" finish, per the brand. The formula is based on the properties of the beloved concealer, meaning it's intended to be flexible and move with your face, without creasing, cracking, or caking. So what does a foundation from a no-makeup makeup line look and feel like? Read on for my honest thoughts.
Fast Facts:
Brand: Glossier
Product: Stretch Fluid Foundation
Price: $34
Shade range: 32 shades
Key ingredients: Plant-derived squalane and glycerin, wild rose berry, plankton, and amino acid-coated pigments
Specs? Dermatologist-tested, fragrance-free, non-comedogenic, vegan, and cruelty-free
Where can you buy? glossier.com
The Stretch Collection:
First Impressions:
From the first use, I liked the glass component with a pump dispenser — much easier for me to wield and then apply than the brand's more watery skin tint. You can really control how much comes out of the bottle, so it's easy to start light without wasting product. The gel-cream texture wasn't goopy or sticky, and it glided easily across my face. As I applied it, I could see the foundation sheering out for a light-coverage first layer; I could make a little bit of foundation cover a lot of surface area before going back for more product and adding more coverage where I wanted it.
However, I did give up pretty quickly on the Stretch Face Brush. I felt like I could only use it on the widest parts in my face, moving it around in long Gua Sha-like strokes on account of its shape. It didn't feel natural to use, and I could only blend the foundation in lines. In my opinion, the Stretch Fluid Foundation looked better when I could buff it out in small circles with a handled, flat-top foundation brush.
Without foundation and concealer
Wearing Glossier Stretch Fluid Foundation in Light 5 and Stretch Balm Concealer in Light 2
My Skin:
My skin is generally behaves in the sense that I'm not often caught off guard by breakouts or bad skin reactions. But I am often bothered by all the greatest hits of hyperpigmentation: a little melasma over here, some red and dark spots left over from picking past pimples over there. So, I love any base that makes signs of uneven skin tone disappear, without needing to pack on so much product. While I'm not afraid of wearing foundation or a lot of makeup, I like it to be easy to apply and (more importantly) look effortless.
Final Verdict:
This foundation earned a spot in my makeup faves by becoming a great utility player in both my day and night routines. I've found the Stretch Fluid Foundation to be a dress-it-up or dress-it-down foundation. It doesn't look too flat and makeup-y if it's pretty much the only makeup you're wearing, but it also works well as the base for a full face of makeup. Not only does it play well with other products, but the natural near-matte finish is also a good balance to other makeup textures, like a shiny highlighter, sparkly eyeshadow, or glossy lipstick.
The finish of the foundation was definitely as described — comfortable and skin-like in a not-too- matte-not-too-dewy way. However, especially with an extra hit of the dewy concealer on my tired under-eyes and the redness around my nose, I felt like I was a little too wet feeling when I first put it on. I now like to set it with a little translucent powder, rather than waiting for it to dry down, but that probably wouldn't be necessary had I more patience.
As cute as she is, I don't realistically see myself using the brush very often. While the size, shape, and swivel cover make it great for throwing in a go-bag, I'm almost always doing my makeup at home with access to brushes that I feel more comfortable using, and I don't have to work as hard to avoid streaks.
Another takeaway? Using the Stretch Collection in its entirety reminded me how much I liked the OG Stretch Concealer and made me wonder why I ever stopped using it in the first place. It really is a handy go-to concealer that makes covering up imperfections as easy as tapping your finger. Because it's got a semi-sheer property (and just enough pigment), it diffuses into the rest of your face or makeup seamlessly, making mostly goof-proof to use. All the better that the concealer is also now available in 32 shades, so (almost) everyone can enjoy.