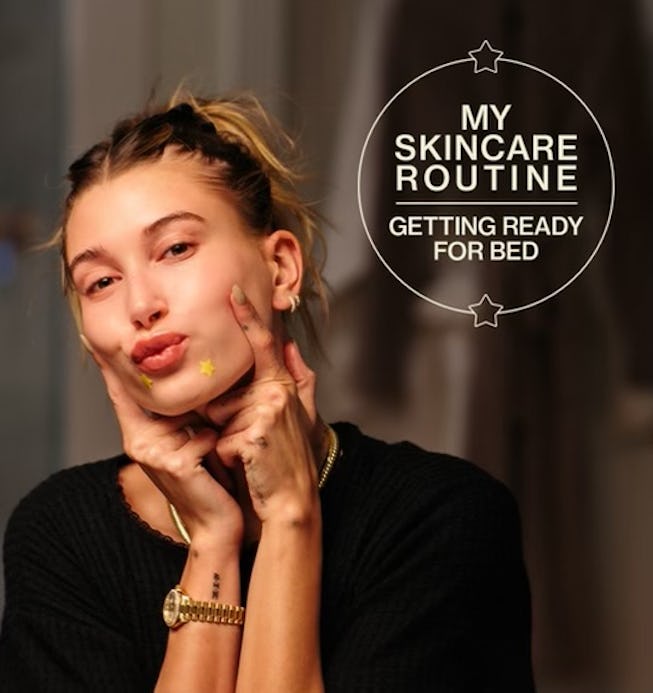 Hailey Bieber Uses Doughnuts As A Moisturizing Measurement
She's back with a brand new YouTube video.
Hailey Bieber, YouTube's newest beauty expert, is back with a brand new video. Produced by OBB Pictures, the latest clip has Bieber walking viewers through her nightly skincare routine, complete with a helpful moisturizer lesson that relates to doughnuts.
Going live from her sink at 9:45 p.m., Bieber explains that she's going to walk viewers through the entirety of her nightly skin regimen. For this particular walkthrough, she uses the products that would normally come in handy for a cleanse after a long day at work. Before diving into the cleansing and makeup removal, she starts with the most important step — pulling back your hair.
Sharing that she doesn't use makeup wipes, Bieber explains that during quarantine, she started using an oil based cleanser first. "It's made the biggest difference in my skin," she notes. Bieber then uses the product to remove all of her makeup, paying special attention to the eye area.
From there, she uses a hydrating cleanser, the Holifrog's Milky Wash. She notes that she likes to use cleansers that don't leave the face feeling dry. With cleaning out of the way, she dries her face, allowing it to remain somewhat damp. She then applies a peptide serum.
Bieber then moves onto the most important part — moisturizing. She explains her preference for a thicker moisturizer at night, saying, "If I'm not getting into bed looking like a glazed doughnut, then I'm not doing the right thing. Find yourself a moisturizer that helps you look like a glazed doughnut."
As she contends with dry skin, Bieber prefers to apply an oil, and then, she uses a product popularized on Instagram, the Starface acne stickers. "They totally help heal a pimple way faster," she says. "And they look cute."
After delving into the cute side of the routine, Bieber wraps it up with eye cream and lip balm. And with that, she's officially ready to hit the snooze button.
Follow along with her routine, below.