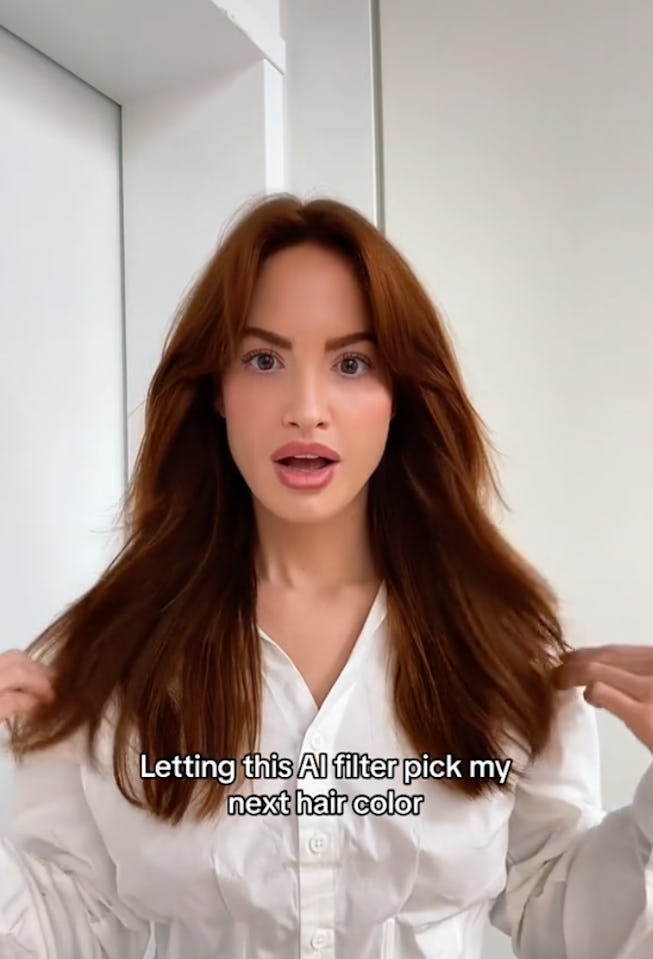 Would You Let AI Choose Your Next Hair Color?
TikTok's latest filter trend is inspiring people to go to the salon.
When it comes to AI technology, there are multiple ongoing conversations about what an Artificial Intelligence-enhanced future will look like. Will AI "steal jobs" from people in the creative field? Will the technology help cure cancer? Could it eventually outsmart human intelligence? The questions usually left to science fiction movies are becoming an increasing reality. And while the answers to those questions remain to be seen, AI already has many applications in the beauty field. Right now on TikTok many people are using an AI filter to help them try out and choose their next hair color.
The "hair dye split" filter is one of the latest filters to blow up on the app, with the rumor that it detects your features and recommends the hair color it deems most suitable for you. "Someone said this filter gives you the best hair color for you," one creator wrote before the filter recommended blue hair. Model Olivia Dunne was "told" by the filter to go from blonde to brunette. "Should I do it?" she captioned her video. Beauty creator Chelsea Thompson even posted a video of her dying her hair the AI-recommended color, taking her trust in computers straight to the salon.
The filter has already been used in over 1.6 million TikTok videos, with some creators "refusing" its recommendations and others taking the filter as a sign to change their hair red or even green. After the filter changed creator Haley Kalil's hair to "cowboy copper", she wrote: "The way I need this hair color immediately". But the filter had recommended a lighter color for her earlier, on a video she posted just a day prior, so take that as a sign that AI-informed "recommendations" should be taken with a grain of salt.
With this AI hair color filter sending people into an indecisive frenzy, the future of AI might include people turning more and more to technology for their beauty decisions. In fact, one creator is already using an AI app to pick her "next hairdo". From a short bob to long waves, it turns out — just like us — AI doesn't seem to be able to make up its mind when it comes to hair changes either.