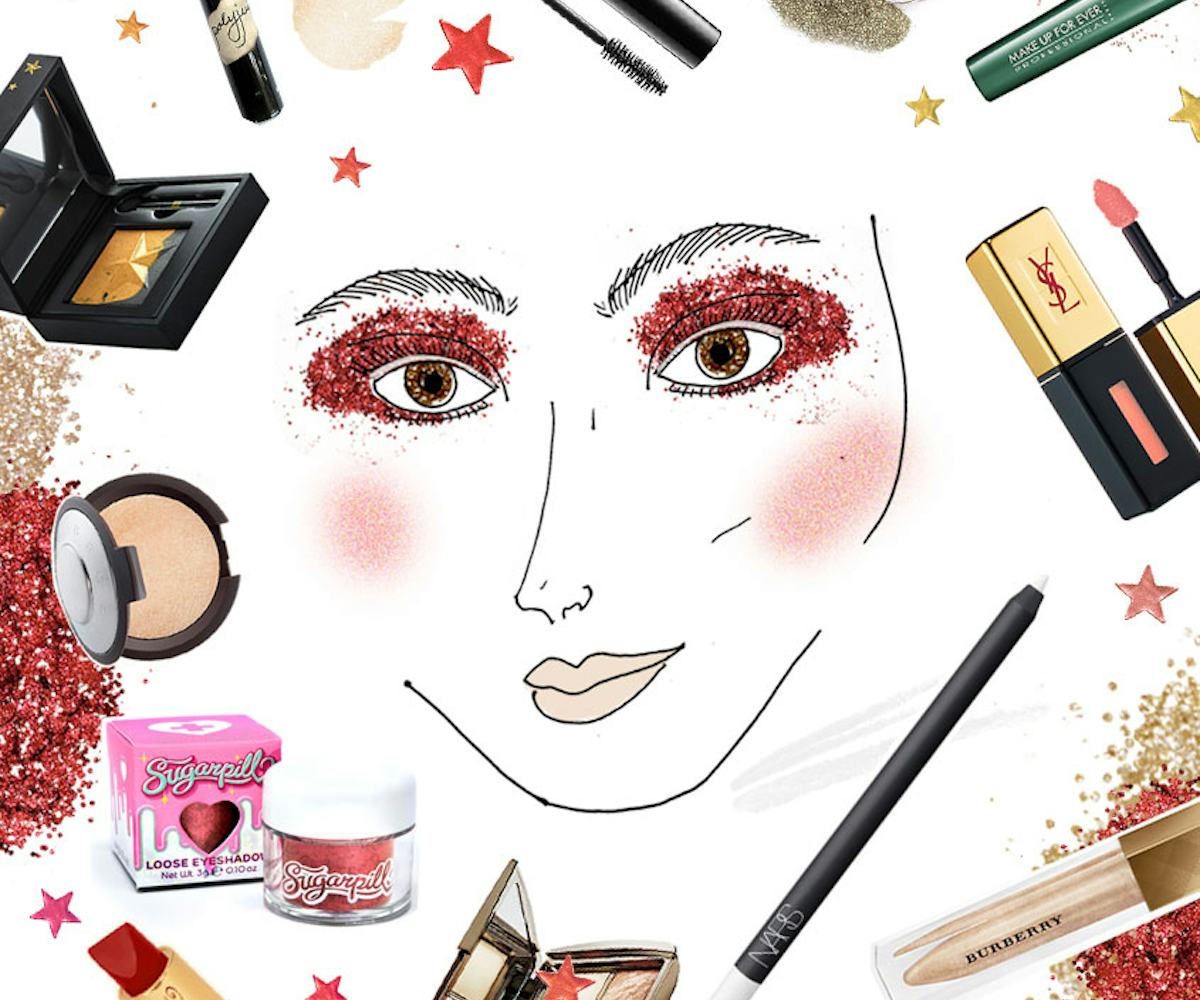 Holiday How-To: 10 Party-Perfect Looks, 3 Products Apiece
everything you need to know
Ever notice how "effortless" or "minimalist" looks seem to require a million products? So have we, and we're over it. This holiday, we believe your makeup, and everything else you do, should be easy as pie—unless you're making cherpumple or cosplaying The Grinch, in which case, good luck. To get you glam for every occasion, we've created 10 innovative looks that are as festive as they are low-key—each look takes only three products to achieve [really!] and can be modified however you like. Read on to discover the faces we'll be rocking this season, and how to make them your own.
Golden Girl
1. Becca, Shimmering Skin Perfector Pressed in Moonstone, $38, available at Sephora.
2. Givenchy, Ondulations D'Or, $58, available at Sephora.
3. Burberry, Kisses Lip Gloss in Festive Gold, $29, available at Burberry.
This look focuses on strobing, a.k.a. contouring for the lazy. Instead of blending the bejesus out of your face, let the light create your lines. Smudge some black shadow into the creases of your eyes for dimension and dust your lids with gold, then run a touch of highlighter over your cheekbones, brow bones, nose bridge, forehead, chin, and cupid's bow. Top lips with a swipe of light-gold gloss for a look that's pure luminescence.
Modern Pinup
1. Rimmel, ScandalEyes Retroglam Mascara in Extra Black, $5.99, available at Ulta.
2. Besame, Lipstick in Red Velvet, $22, available at Besame Cosmetics.
3. Marc Jacobs, Magic Marc'er Precision Pen Waterproof Liquid Eyeliner in Blacquer, available at Sephora.
Classic glam made wearable! A well-balanced red lipstick, winged eyeliner, and tons of volumizing mascara are all you need. And don't worry about perfection—with a non-matte lip that keeps the look fresh instead of dated, feel free to leave the rest of your face bare.
Green Fairy
1. Urban Decay, Moondust Eyeshadow in Zodiac, $21, available at Urban Decay.
2. Make Up For Ever, Smoky Lash in Green #4, $23, available at Sephora.
3. NYX, Glam Lip Gloss Aqua Luxe in Beat Goes On, $6, available at Sephora.
Pass the absinthe. The black and gold tones in this green shadow keep it from looking springy and the hunter green mascara adds an extra pop. Dust the shadow all around the eye, load up on mascara, and finish with a reflective gold lip for a look that's muse-worthy and intoxicating. 
Sophistigoth
1. MAC, Lipstick in Smoked Purple, $17, available at MAC.
2. Benefit Cosmetics, Watt's Up! Highlighter, $30, available at Benefit Cosmetics.
3. Manic Panic, Spider Eyes Mascara, $11.99, available at Manic Panic.
Dark, decadent, and out the door in two minutes. Keep it sexy and simple with a warm blackened-plum lip, a Champagne highlighter to soften the impact, and tons of mascara for the widest of eyes.
Winter Bronze
1. Portland Black Lipstick Company, Lipstick in Coffee, Black, $14, available at Portland Black Lipstick Company.
2. Bobbi Brown, Shimmer Brick in Bronze, $46, available at Sephora.
3. My Pretty Zombie Cosmetics, Eyeshadow in Cookie Pants, $5, available at My Pretty Zombie Cosmetics.
Nothing beachy about this bronze. Multi-dimensional highlighter warms up your cheekbones, while a metallic taupe-brown shadow adds subtle depth to eyes. A dose of cool, dark chocolate on the lips anchors the look. Bonus: Dab a bit of shimmer into the center of your mouth for a fuller pout. 
Nouveau Metallic
1. Illamasqua, Liquid Metal Palette, $48, available at Illamasque.
2. Maybelline, Volum' Express Colossal Chaotic Mascara, $7.99, available at Maybelline.
3. Obsessive Compulsive Cosmetics, Lip Tar/RTW in Black Metal Dahlia, $15, available at OCC Makeup.
Three extreme products, one minimalist look. Dab one [or several] shades of metallic cream shadow in the corners of eyes and top with several coats of mascara. Finish with a swipe of reflective black currant on the lips, and get ready to command attention. 
Grown-Up Glitter
1. Too Faced, Shadow Insurance Glitter Glue, $20, available at Sephora.
2. Tarte, Gifted Amazonian Clay Smart Mascara, $21, available at Tarte.
3. Violet Voss, Glitter in Champagne Bubbly, $9, available at Violet Voss.
Glitter is amazing and you probably don't wear enough of it, so why not start now? Swipe on some glitter-friendly shadow primer for maximum adherence, dab some Champagne sparkles on lids (not too evenly) with a silicone brush or your finger, and finish with tons of black mascara. Pair with a messy bun and off-the-shoulder sweater. Casual snow-fairy status achieved.
Elsa 2.0
1. Dior, 5-Colour Eyeshadow in #156 Femme-Fleur, $62, available at Dior.
2. Lipstick Queen, Lipstick in Let Them Eat Cake, $50, available at Lipstick Queen.
3. CARGO, Blush in Catalina, $26, available at Beauty.com.
Channel the loveable ice princess herself with the cool-toned pinks and violets that aren't the least bit frosty. Dust subtle violet shadows around the eyes, sweep a cool-toned pink blush over cheeks, and coat lips in a warm, sugared-violet pink that's good enough to eat. 
California Christmas
1. Hourglass, Ambient Lighting Edit, $80, available at Sephora.
2. Yves Saint Laurent, Vernis A Levres Glossy Stain in Peche Cerra-Cola #27, $36, available at Sephora.
3. Giorgio Armani, Eyes To Kill Excess Mascara, $32, available at Sephora.
Even though the real Regina George lived in Illinois, her iconic look in the "Jingle Bell Rock" routine was west coast all the way. Highlighter on the lids, healthy, rosy cheeks, and a pinky-coral gloss make you glow with or without the snow.
Red Light
1. Shiro Cosmetics, Lip Gloss in Polyjuice, $2-$8, available at Shiro Cosmetics.
2. Sugarpill, Loose Eyeshadow in Asylum, $13, available at Sugarpill.
3. NARS, Larger Than Life Eyeliner in Santa Monica Blvd, $25, available at NARS.
Not for the faint of heart, this is deconstructed candy-cane couture at its best. Run a stark white pencil along the waterline to get your eyes huge, then dust a bright red shadow with a gold shift over lids. Finally, finish with a swipe of the sheerest, shiniest mint-colored lip gloss, and post up under the mistletoe.