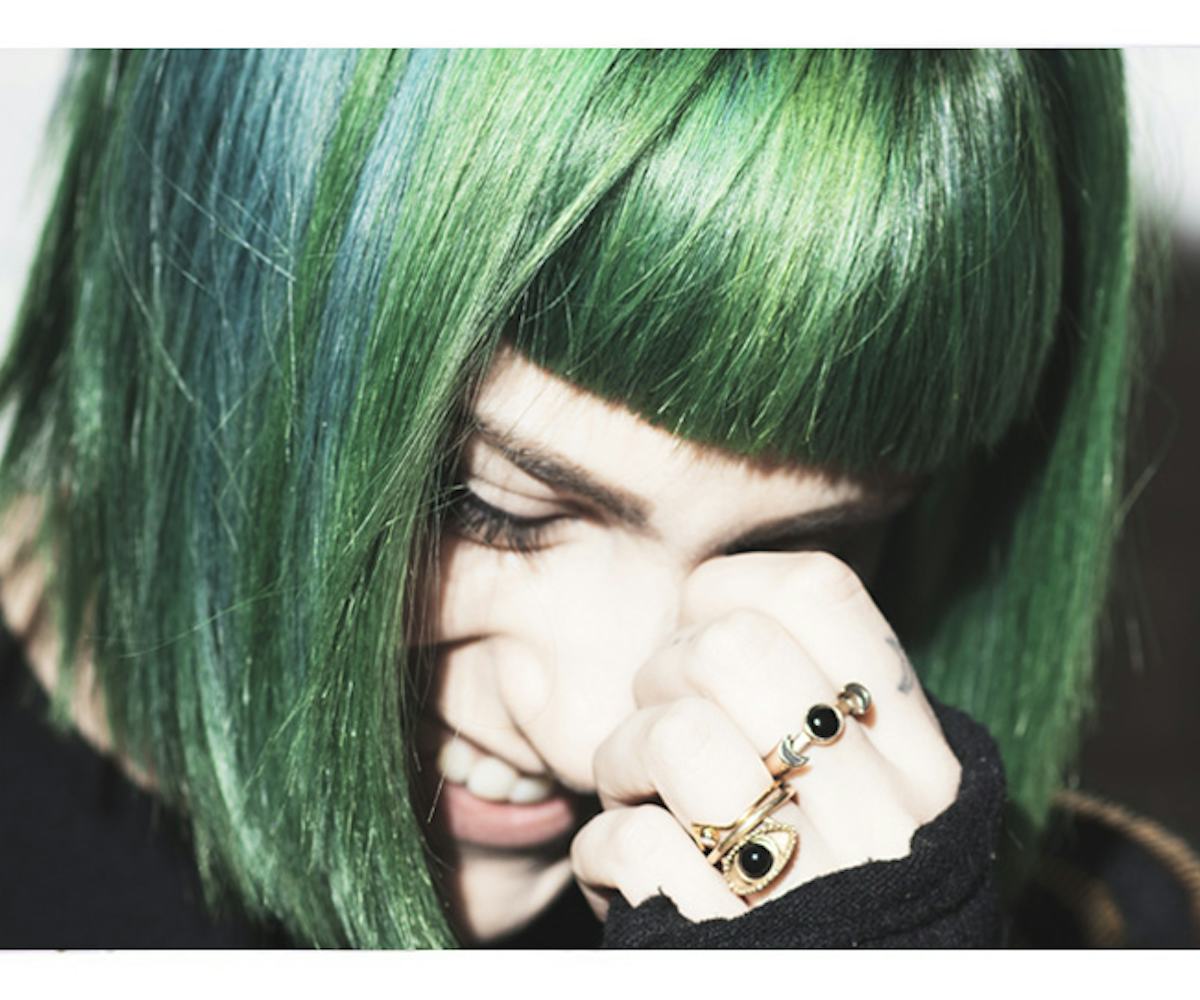 Photos by Ricky Michiels.
How I Fixed My Damaged Hair And Became A Peacock
"no to bleach, yes to green!"
My hair is something that's constantly changing. At this point, I've gone practically every color of the pastel rainbow, ranging from mint, to silver, to pink, so when I was approached to bleach my hair white (like, really white), I of course jumped at the opportunity. My hair has been a billion different colors, but never white. How neat!
First, I was to have a quick consultation to make sure my hair could handle going this light. I arrived at Tribeca's gorgeous, not-yet-open FOURTEENJAY, a new salon dedicated to healthy hair color that's customized to perfectly suit each client. I sat down with the incredible color genius David Adams to talk about my options and get a sneak peek at the digs a few weeks before it opens. 
We decided to test a few strands to make sure that my current color (a faded mix of pastel pink, lavender, and blue) would lift safely and to see if my hair could handle going any lighter. Well, long story short, after a year and a half of bleach and dye abuse to my poor, mousy brown locks, I didn't pass the strand test. Yes, my hair broke off. Luckily, the FOURTEENJAY team truly cares about the integrity of their clients' hair, so I only lost a few strands instead of destroying my entire head.As David explained, "Keratin is the protein that is the core structure of hair, which may be damaged by chemical over-processing. The result is dry, coarse hair that breaks easily. " This is clearly what was going on with my hair, so what was I to do?
David instead planned to repair my hair—to give my bleached ends some of their strength back and to give me a color I could maintain in a healthy way (aka, not having to bleach my roots anymore). I arrived at the salon two weeks later and asked him to dye my hair green, as it was one of the only colors I haven't done yet. Green sounded a bit risky at first because it has the potential to go very, very wrong, but of course, I fully trusted David to turn me the coolest, most beautiful shade of green possible. 
It was quite a long process. 
First, David removed the color I already had using Aveda Full Spectrum, which is a non-bleach based product that can remove artificial hair color, to bring me back to a bare blonde. He then used the Aveda Botanical Protein Treatment and the Aveda Damage Remedy Intensive Masque, which both helped to restore protein and fix any damage already done to my bleached ends and help prep them for new color. Next, David colored my hair using what's called the "gradient color technique," where he layered not one, but four different shades of green throughout my head. This was the time consuming part, but based on how meticulous his color process was, I knew it was going to look killer once it was done.
After the color was washed out, I had another quick protein treatment to give my hair an additional strength boost, and then I was ready for a cut and makeup. The amazing Louis Ferrie trimmed and perfected my blunt bob and baby bangs, and the lovely Fawn Monique used some of Aveda's prettiest spring makeup shades to compliment my new hair color.
So, after it all, eight-and-a-half hours later, I was all done and ready for the unveiling. The result?
The most incredible shade(s) of green.
I'm talking emerald green, forest green, a little bit of teal peeking out from underneath. My hair is literally a piece of art and embodies the feathers of a peacock. My color, cut, and makeup were so on point, I was freaking out.
Before I frolicked back to Brooklyn to show off my new look to literally everyone I knew, David went over some quick tips with me for preventing damage, which were as follows: only use quality shampoos and conditioners, apply conditioner with dry hands only to the ends and mid length, never towel dry with friction (he was very stern about this one, as I am super guilty of a rough towel dry), use protein-based treatments to correct any keratin damage from color or bleach, and always listen to your colorist's advice (and David's advice to me was, "No to bleach, yes to green!").
The overall lesson here—the health of your hair is super important! If whatever you're doing is killing it, stop. It's possible to have really healthy and really cool hair.