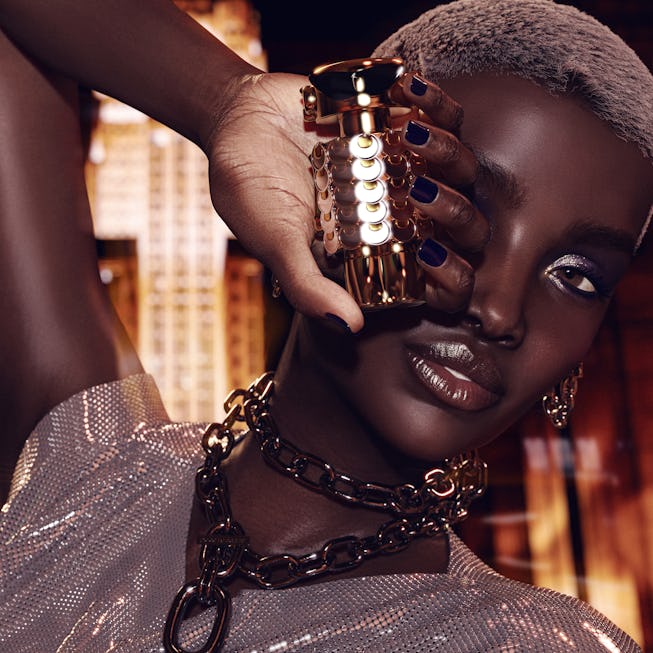 How To Channel Rabanne's Fame Energy This Holiday
The multi-faceted fragrance is a must-have accessory.
If you're not wearing fragrance as an accessory this holiday season, you're missing out. Just as a piece of jewelry or statement bag can elevate a look or set a vibe for the night, a single spritz of the right perfume can take your wardrobe from everyday to night out. It's able to round out all the senses, adding an indulgent detail to sights and sounds.
That's the case with Rabanne's Fame, the perfume that offers a fresh take on femininity. Bold, playful, and complex, it's made with the modern woman in mind. The creamy fragrance manages to do it all, being at once smooth and strong, sweet yet sensual. It exudes luxury with an edge, evoking Rabanne's Parisian spirit in a way that feels completely new. And, in that way, it's the ultimate accessory to take your style to the next level. Here's how.
Make Fragrance the Foundation
What sets Rabanne's Fame apart is that it's not afraid of the spotlight. In fact, it's the opposite: Rather than settle for the usual fragrance notes, the delicious scent opens with ripe, juicy mango to draw in the nose.
The succulent fruitiness is balanced with the heart of pure jasmine, which is smooth, sweet, and musky, while incense imparts an irresistible creaminess, making for an overall unforgettable scent. You can't categorize it among fragrance families, making it the rare perfume that stands apart from the crowd.
Accessorize Strategically
Next, pile on accessories that embrace confidence and modernity the Rabanne way. Think: Chain-link necklaces and chainmail-inspired textures, all anchored by black Chelsea boots that can stomp their way through any party. Not only is it bold, but the emphasis on metal is classic Rabanne — and makes for a well-deserved break from the usual glitter of the holiday season.
Bring Along Your Bottle
Re-up your fragrance throughout the night by keeping the futuristic bottle on hand; the Mini Fame Travel Spray Set makes it simple. The gleaming gold vessel is encased in silver, chainmail-like metal — making for a celebration of shine, not to mention a seriously eye-catching accessory. (After all, a statement scent deserves a statement look of its own.) It's a party in a bottle, capturing the undeniable ethos of Rabanne while still feeling unique to you when you wear it.
Ultimately, it should be no surprise that fragrance and fashion go hand-in-hand. They're both powerful forms of self-expression, and an easy way to energize your holiday look this season. While the Rabanne style — with its futuristic touches and playful textures — can serve as the foundation, it's the spritz of Fame that makes it truly memorable.
Don't Forget the Femininity
Despite the emphasis on metals, Rabanne's fame is all about a multi-faceted femininity. Bring that idea home with a wardrobe that stays true to that — think an artfully draped dress done in silver mesh, a short minidress in oversized sequins, or a classic shoulder bag covered in metallic pieces. The softness is subtle amid all of the bolder textural details, but it's still very much there.
Digital renderings: The Diigitals; Digital models: Shudu & Dagny. VP, Branded Design: KC Connolly/BDG; Art Director: Angela Poccia/BDG; Branded Beauty Director: Irma Elezovic/BDG; Associate Branded Beauty Director: Shyema Azam/BDG; Production: Allie Kolb/BDG