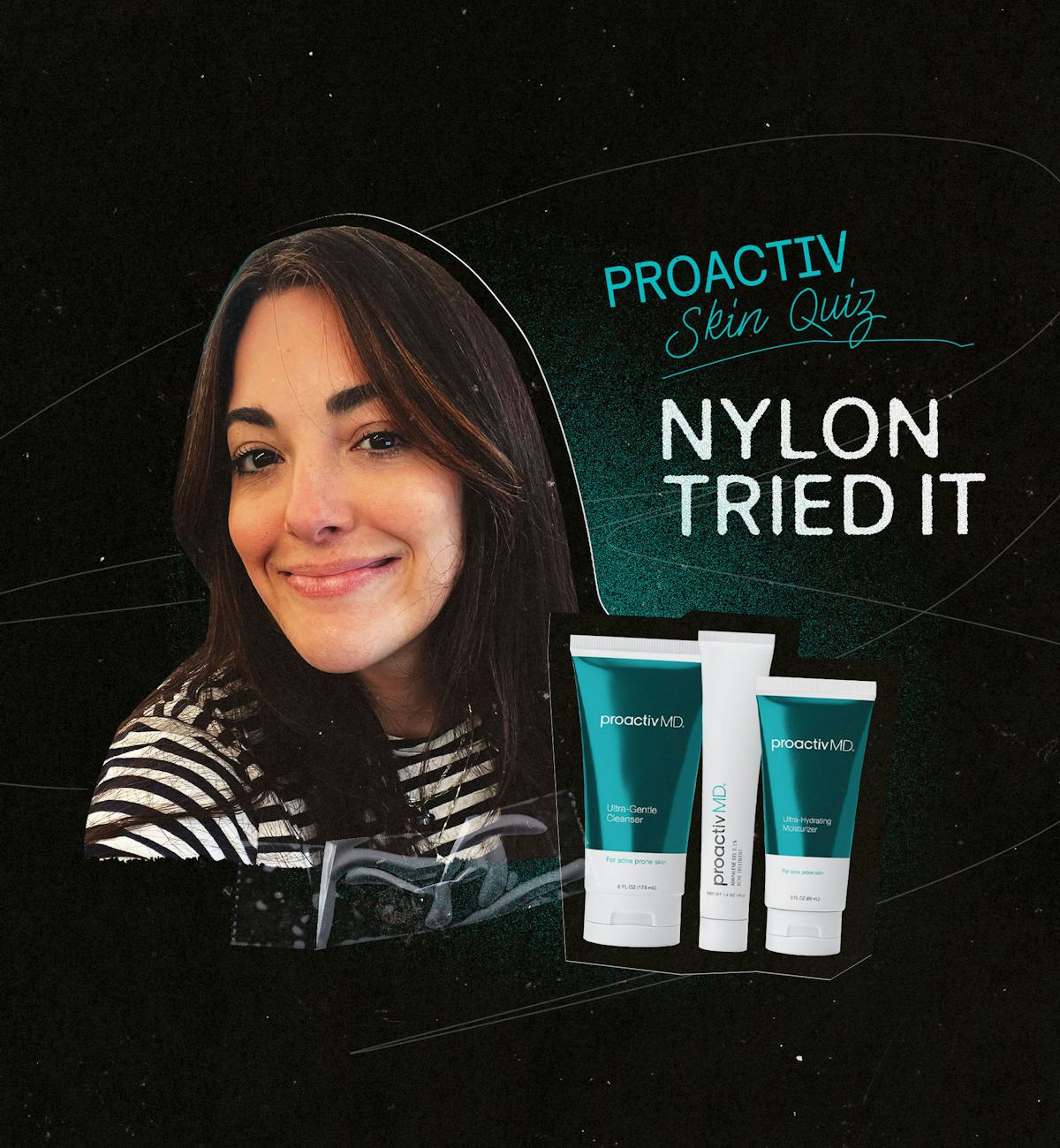 I Tried Proactiv's Skin Quiz To Prep For The Holidays, And My Skin Never Looked Better
One thing you should know about me: I love a good quiz. Whether it's trivia night at a local dive bar or an article that will tell me which superhero I am based on my playlist, sign me up. Here's the irony: I'm fairly bad at making decisions. I'm one of those people who will pour over a restaurant's menu before getting there because the idea of being put on the spot is simply too much. Why am I bringing these things up in an article about skin-care? Good question. I'm getting to where Proactiv comes in.
A perk of working as an editor in the beauty space is I am constantly trying out new products. When it comes to makeup, it's great. But with skin-care, consistency is key, and settling on the best routine for me has been nearly impossible for my commitment issue-riddled mind. Enter Proactiv's online skincare quiz. Yep, a quiz that will actually tell me what's right for my skin and why, and just in time to prep for the holidays.
The dermatologist-developed questionnaire is posed to provide each user with a personalized, long-term solution for clear skin, as well as to suggest a skin-care routine comprised of Proactiv products. As an aforementioned quiz aficionado, I can confidently say this quiz is as straightforward and user-friendly as they come. In less than five minutes, I answered a handful of multiple choice questions about my skin, like, How often do you breakout? What is your top skin concern?, etc.
About My Skin
I've been (knock on wood) lucky to have blemish-free skin since my teenage years, save for a PMS-induced pimple every now and then. However, the perils of living in the city for the past decade and the past few years of wearing masks often results in congestion of blackheads on my nose or a bout of whiteheads along my chin. As we head into the colder months, when my skin tends to dry out, and the next few weeks of endless holidays and events, I want to be able to keep my routine as consistent as possible to keep any flare-ups at bay.
My quiz results suggested I try the ProactivMD 3-Piece System, which consists of three hero products: the Ultra-Gentle Cleanser, which helps remove oil and dead skin cells, the Ultra-Hydrating Moisturizer, to restore the skin's moisture barrier, and the Adapalene Gel 0.1%, a prescription-strength retinoid to help prevent breakouts.
The Pre-Holiday Testing Begins
Once my system arrived, I immediately cleared off my sink and put it to the test. What I loved most about the system was just that: a system. For a week straight, I took the guesswork out of mixing and matching different products and stuck to my new regimen. Every morning, I washed my face with the cleanser, followed by a vitamin C serum, the moisturizer, and topped by SPF. At night, I cleansed once again, moisturized, and dabbed on my eye cream, and a lip mask. What I loved was how easy it was to build on to the core items depending on my skin's needs for the day: a dot of the Adapalene Gel when I noticed the tell-tale sign of an emerging pimple; a facial oil over the Ultra-Hydrating Moisturizer when feeling extra dry.
The Results
After a month of using the products, I'm proud to say that I never once strayed from incorporating the system both day and night — and even happier to say that my skin has never looked better. I am skeptical of most daily cleansers, finding they don't have the strength to remove the most stubborn of eyeliner streaks at the end of the night, and when they do, it leaves my skin feeling raw and stripped. The Proactiv Ultra-Gentle Cleanser was neither — I had no problem removing my daily makeup with a thorough wash, only relying on a balm when rocking a particularly smoky eye.
Similarly, the Ultra-Hydrating Moisturizer was the perfect hydration boost in the morning, without making my face too greasy or unwieldy should I be topping it with foundation. I didn't expect to use the Adapalene Gel as much as I did, but it became the secret weapon of my bathroom cabinet: a "Get Out Of Jail Free" card anytime I felt like I might be getting a pimple (which, for the record, never came to a head, no pun intended).
Ultimately, that's the feeling the system provided in general: I knew no matter what, I had consistency in my cabinet, something easy and effective I could come home to every night — and isn't that what we're looking for in the chaos of the holiday season? Well, that and clear skin — check and check.