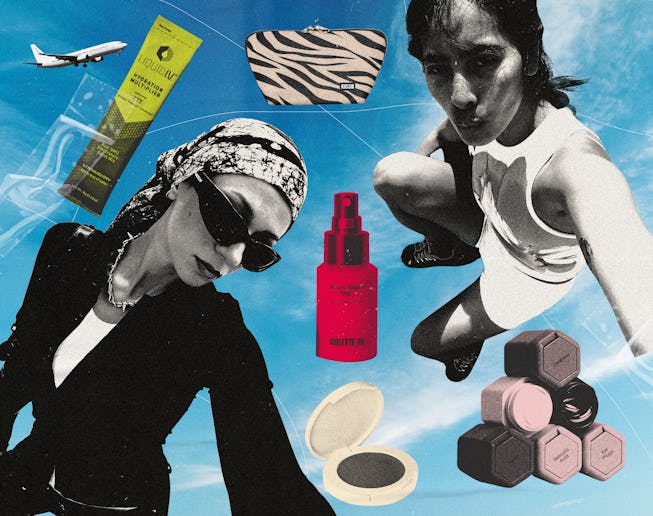 Lais Borges/Nylon
The Best Beauty Packing Tips From Influencers That Travel (A Lot)
From TSA-friendly product recs to leak-proof travel containers, here's how to stay prepared, moisturized, and stress-free on your next trip.
We may receive a portion of sales if you purchase a product through a link in this article.
ƒWhen it comes to mastering the art of packing efficiently for vacation, what's in your beauty bag is oftentimes what really weighs you down—literally. Do you bring that serum that you love but only use once a week? What about both products in your double cleanse? What do you do with your favorite hair leave-in that doesn't come in smaller size? When it comes to travel beauty, it can feel like you have to choose between seriously overpacking and rolling the dice with drying hotel shampoos and tiny lotion bottles or spending time and money finding new products at unfamiliar stores. Not to mention the stringent rules around bringing liquids on the plane in your carry-on, depending on your airline and destination.
Other than pilots and flight attendants who actually work while flying, if there's anyone that travels a lot, it's influencers, models, and makeup artists who are often required to pack up and leave for work with only a few days' notice. Your favorite follows online are no strangers to packing efficiently, catching a plane, keeping moisturized on the go—and having to look good while doing it. So, ahead of our next summer trips, we talked to people who travel (a lot) and asked them for the travel beauty tips that have improved how the show up at their final destination.
From the best TSA-friendly product recommendations to the most reliable travel containers, here's how these influencers relay their hacks to help stay moisturized, hydrated, and stress-free—whether you're a carry-on queen or a certified over-packer.
"When traveling, especially over the summer, you need your skin care regimen to be concise and protective from the elements. I love the Violette FR Boum-Boum Milk because it is a toner, serum, and facial moisturizer all in one. All you have to do is wash your face, spray this on, and you can go. I love mixing it with other products as well, but for the light packer, this is a holy grail product. I also love the Lesse sunscreen and sometimes mix it in my body moisturizer and it gives my body extra protection. I spoke with the owner of the brand and she used a black woman chemist and it shows, because it doesn't leave a cast which is a problem I have as a darker-skinned woman."— Gabrielle Richardson, NYC-based model
"I save any beauty product below 100ml for use only when I am traveling. It's a fun way to give myself a vacation from my everyday beauty products and force myself to try something new! I also like to keep my beauty products very minimal so I'm flexible when it comes to the specific brand. I always travel with Manuka honey (in case my eczema flairs up) which I pack in these really handy and adorable Cadence Capsules. These are the main containers I use because of how leak-proof they are."— Michelle Li, stylist and host of Dress Code
"Packing cubes are so helpful! I always get sample sizes of my favorite skincare if they don't come in travel size. I also do my nighttime hydrating routine day-of travel, so when I'm in the air my skin stays extra moisturized. I make sure to always pack fiber pills and Liquid I.V. so I can get dehydrated and regular as soon as I touch down. I also try to narrow my shoes to three pairs because I try to avoid checking in a bag at all times."— Roseline Angua, NYC-based model
"Unpopular opinion: it's better to overpack than worry about fitting your whole life into a carry-on. I have a large Away suitcase and it fits everything I could possibly need—plus it's lightweight. My packing aesthetic secret weapon is organizing my clothes in repurposed garment & shoe bags—it looks neat and you know where everything is. My beauty travel essential go-tos are hydrating non-comedogenic moisturizers like Danucera Cerabalm and Environ skinessentiA which both come in travel size. Bonus points—the Cerabalm is a magical never-ending tube."— Yasmin Moon, model and co-founder of Mudd Pearl
"ALWAYS opt for multi-use products! Multi-use products save you money, keep your travel bag light, and make your whole routine easier. That's what I tried to do with my Jamie Makeup Blighlighters— they're a blush/highlighter hybrid that can work on your eyelids and lips, too. I love the Thrive Infinity Waterproof Eye Sticks because they can work as shadow, highlight, liner, or whatever you need, depending on the color. Nudestix has an awesome Sunkissed Nudes Mini Set that's a great option for eyes, lips, cheeks, and contour. Light CC creams are my favorite for travel because they hydrate and protect while offering coverage— the It Cosmetics Mini CC+ Cream is perfect. And I always pack my Jamie Makeup Multeye Masks because you can wake up your tired travel eyes with any of your skincare products (and it's my go-to compact mirror).[For travel makeup bags] I love Kusshi, Calpak, Caara, WELLinsulated, and Away's The Cosmetics Bag!"— Jamie Greenberg, makeup artist and Jamie Makeup founder
"The majority of my most essential products—which are my hair products, to be clear—don't come in travel sizes. To make matters worse, many of them aren't packaged in a bottle, so it's a struggle to transfer their jar-based contents into those standard travel-sized bottles. (It's like trying to pack toothpaste back into a tube!) As a solve, I've gotten into the habit of saving and reusing any containers that have a large opening, like the glass jars that face masks or fancy moisturizers come in. I can easily transfer any product into those (I normally use a spoon)."— Imani Randolf, NYC-based model
"I'm a pretty organized person, so I obviously love a list. I have a packing checklist on the built-in iPhone Reminders app and it's honestly the best thing ever. The app stores everything you've previously checked off under "Show Completed", so I can easily create a new packing list for every trip by referencing items I packed on other trips. I also keep a toiletry bag that's always packed and ready to go under my bathroom sink with all of my skincare essentials, so I usually only need to add in my toothbrush and some contact lenses and I'm done. My travel skincare routine consists of a travel-size balm or cream cleanser, SPF, and the Dieux moisturizer and eye cream which are full-sized but TSA-friendly. They are the best so I can't be without them."—Noor Elkhaldi, host of Arab-American Psycho
"It's funny how traveling really forces you to pick your most loved essentials out of your endless supply of beauty products. My tip for a long trip, especially when traveling between countries, would be to buy travel sizes (under 100ml) of the beauty staples. For me it's a gentle cleanser, a makeup-removing balm, a hydrating serum, a nighttime serum, a moisturizer that works for day and night, and most importantly a 50+ SPF. As a bonus, pack a hydrating sheet mask for every flight you plan on taking."—Reva Bhatt, NYC-based stylist and founder of Rooted
"I almost ALWAYS carry on, even when going out of the country. My favorite face wash, isClinical Cleansing Complex, comes in the cutest travel mini—a little goes a long way and can last weeks! A secret storage I love are the pouches from Glossier. They're pink, padded and zip lock—perfect size for throwing in your mini travel products!" —Arianna Margulis, NYC-based artist of @butlikemaybe
"As a beauty lover, I travel with a LOT of products. I always travel with a medium sized checked luggage that contains all my beauty stuff. My biggest tip sounds boujee, but it has changed my life. Full-sized items only. Period. I pack everything just as the original full size and always check a bag, even if the trip is for a weekend.
Each category should be packed individually—it makes it so much easier. My packing routine starts with four large Stoney Clover Lane pouches each custom labeled to read: 'Makeup', 'Glam', 'Skin', and 'Body'. In the 'Makeup' and 'Glam' bags, I will put all the makeup I travel with. The 'Skin' bag contains my dramatic 10-step skincare routine, and the 'Body' pouch has all my body care items, like my shower cap, toothbrush, body lotion and body wash, etc. I then have three other separate bags for my hair tools and brushes, makeup brushes, and camera, lighting, and travel mirror. I'm obsessed with this Riki mirror to travel with, it's the perfect size and the lights are a game changer for horrible hotel lighting." —Emira D'Sprain, NYC-based model and content creator