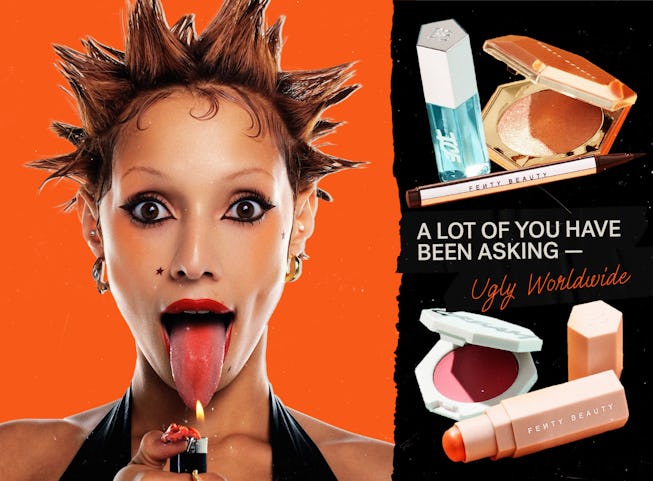 Nylon; Courtesy of Fenty Beauty
Jazzelle Zanaughtti aka @Uglyworldwide Just Wants Their Makeup to Make You Feel Something
The model talks about the art of "ugly" beauty and their new Fenty Beauty collaboration.
Chances are you know Jazzelle Zanaughtti for their Instagram handle @UglyWorldwide. But after being discovered on the platform in 2016, Jazzelle has taken the internet, modeling industry, and now the beauty industry by a storm. Just this July, Jazelle released a collaboration with one of the world's most popular beauty brans, Fenty Beauty by Rihanna. The Fenty Beauty x Jazzelle collaboration comes after years of Jazzelle working with the brand as a both a Savage x Fenty model and Fenty Skin model. The two limited editions kits in the collection captures the "duality and versatility" of Jazzelle's personality with fire and ice themes. "I think it is very important to love both sides of yourself," they say. "Extra icy and extra hot may seem like they're completely at the two ends of the spectrum, but really the spectrum isn't a line. It's a circle and you'll find a lot of similarities as you go around it."
While the launch of the collection marked Jazzelle's entry into the business of makeup, Jazzelle has already been on many mood boards for years. Their experimental and unconventional approach to personal style, hair, and makeup is what has attracted over 700 thousand followers on Instagram and a cult following of fellow "ugly" beauty lovers. While trends like bleached brows, eyebrow slits, and devil horn hair have only recently been trending on #HairTok and #MakeupTok, Jazzelle has been pulling off these looks for years (with ease).
Below, Jazzelle talks with NYLON about going from Fenty model to Fenty Beauty collaborator, being bullied for "ugly" beauty, and treating makeup like a child would approach finger painting.
WHAT'S YOUR EARLIEST BEAUTY MEMORY?
"When I was five or so in Detroit, my dad took me to get my hair braided for the first time. It was definitely my first time experiencing 'beauty is pain', after my little, soft baby head got cornrows. I felt so cute afterward—with a slight headache—but popping with clear beads around at the end. It was the first time I registered feeling beautiful. Then, I didn't really think about beauty much until I was probably a teenager in high school. I was bullied because people didn't like my outfit, hair, or whatever little makeup I was trying to do. That's when I understood other people's concept of beauty. But it wasn't until much later that I really started to understand my own concept of beauty."
WHAT IS YOUR CONCEPT OF BEAUTY NOW?
"Since I do so many things that are very 'anti-beauty', I don't really think of beauty as a physical thing. I was bullied for my entire life, no matter what I did, so I got to a point where I just thought, 'why am I trying to please these people who are going to bully me no matter how hard I try?' So, I started doing whatever I wanted to do."
WHAT ARE YOUR THOUGHTS ON "UGLY" BEAUTY TRENDING NOW?
"I've never been one to take credit for any of these trends. I think I have a lot of different references that swirl around my mind and then it just kind of happens. It's me waking up in the morning and doing what I want, going with the flow, trying to outdo myself and do something I haven't seen before. Makeup is my biggest art form. It's something that I've been doing for over ten years now, so I always try to do something different for myself that I think is cool. Not specifically ugly or beautiful, just to evoke a feeling out of my makeup."
WHAT'S YOUR FAVORITE LOOK RIGHT NOW?
"I love the more childlike way of doing makeup— of not being afraid to use colors and just smear it on. I'm really into finger painting my makeup on right now. I haven't really been using any brushes or powders. I mainly use lipsticks and blush and I do low-maintenance makeup—even if it is big makeup. I'm not about precision. I just slap it on to evoke whatever emotion that I'm trying to go for. Right now, my makeup and the application of it is more grungy, but that's subject to change because it always is with me."
WHAT FENTY BEAUTY PRODUCT CAN YOU NOT LIVE WITHOUT?
"I've been using the Cheeks Out Freestyle Cream Blush in the shade Rose Latte every day. I use it underneath my eyes, on my cheeks, or on my lips. If I'm trying to darken the dark circles under my eyes a bit, it's a nice natural color. I love how universal and real the shade is. It seems like a natural flush. And of course, I'm using a bunch of other products from my collaboration right now."
HOW DID YOU GO FROM FENTY MODEL TO FENTY BEAUTY COLLABORATOR?
"The process started about two years ago now. I got an email or call from my agent saying, 'Hey, Fenty wants to possibly collab with you on a collection'. And I thought, 'That's crazy!' Then, it was a slow burn before they hit me up to ask if I was down to come to the Four Seasons and meet with Rihanna. I was like, 'When and where? I'm on my way'. That moment was extremely surreal— just sitting at this giant boardroom table right next to Rihanna. Having everyone just all ears to my ideas was a really special moment. I definitely left and I cried after that. I've had continuous support from Rihanna over the years and I think our collaboration makes a lot of sense as she's someone who has never really run by the status quo."
IS THERE ANY LOOK YOU HAVEN'T TRIED YET OR WOULD NEVER TRY?
"Never say never. I've definitely made the rounds. I've been experimenting for so long that I've done almost everything. But if someone wants to let me know if I'm missing something that I need to try that I somehow haven't done before, I am all ears and open to it. I've actually been teaching myself prosthetics—which I've done before, but want to get better at."
HOW DO YOU HOPE PEOPLE USE YOUR FENTY BEAUTY KITS?
"I hope to see people experiment with them and see people mix and match throughout both of the collections. I definitely suggest using a couple of products from the one and combining them with the other and seeing how fire and ice can come together. I'm hoping that people will go outside of their comfort zone and just have fun. It's not that serious."