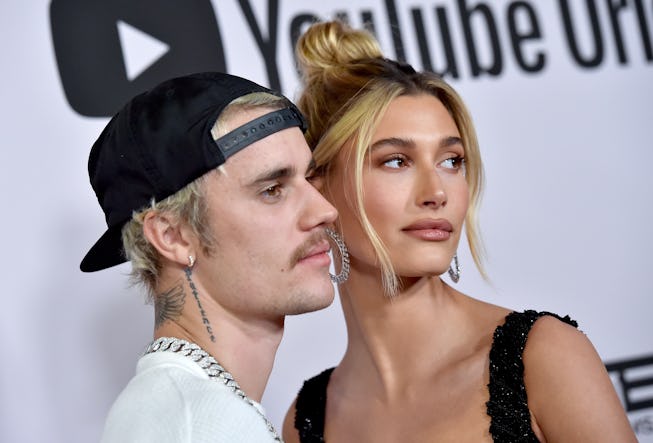 Axelle/Bauer-Griffin/FilmMagic/Getty Images
Justin and Hailey Bieber Added To Their Collection of Matching Tattoos
Got them peaches done by Dr. Woo.
Justin and Hailey Bieber expanded on their list of matching couple tattoos, unveiling new work from celebrity tattoo artist, Dr. Woo. Already sharing a tattoo design with spiritual significance, the newest matching moment for the couple might be a reference to Justin's most recent hit song.
On Monday, March 29, both members of the Bieber fam showed off their new peach tattoos. The work, completed by Dr. Woo, comes after the release of Bieber's single, "Peaches."
While Justin posted his ink to the grid, Hailey kept her post to a Story. For the pop star's photo, he was captured in the middle of his tattoo session. The new ink was added to Justin's neck, and sits near a bird and a scripted version of the word forever.
Hailey's post confirmed her tattoo was done in color, and she held out her arm for followers to get a look. As for the placement of her ink, she chose an inner spot on the arm, near her elbow.
The miniature inked pieces of fruit were completed nearly two years after their last joint tattoo session. Back in November 2019, tattoo artist, Bang Bang (Keith McCurdy), gave the two matching "grace" ink.
See the couple's new matching ink, below.