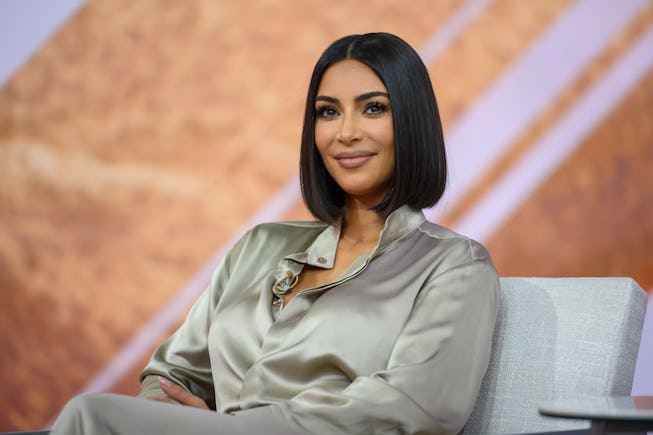 NBC/NBCUniversal/Getty Images
Kim Kardashian's New Bob Is Dividing The Internet On The Term "FAB"
There's a bob, then there's a "f**k ass bob".
Last week, Kim Kardashian dropped a new campaign for the Skims Ultimate Bra. In the video, Kim was featured talking on her phone and trying on the bra, but despite the content's focus on underwear, it was Kim's short, blunt haircut that sent the internet into a frenzy. While we're unsure when exactly the campaign was filmed or how long she even sported the hairstyle, but still the look brought Kim into an internet discussion about the haircut, described as a "f**k ass bob". Often shorted to FAB, it's a meme-ified term for an ultra-short, almost cartoonishly sleek bob that is currently is sparking a debate around the different types of bob haircuts.
Milo, a creator on TikTok and self-identified "FAB historian" says the term may have originated from Kat's hair from Euphoria in a now-viral video. While there seem to be multiple conflicting definitions of what a FAB is, Milo says a defining feature of the look is that it does not include bangs. On social media, multiple people have been debating the term after one person Tweeted "are all bobs considered "f**k ass bobs?" or is there a science to it". "it's gotta be a BOB bob like that bob in BOBBING," Someone replied. "It has to have that bobbianna factor about it. That je ne sais quois that we all know," wrote another.
Considering that Kim is still posting on her Instagram with waist-length hair, it's clear her FAB was just a brief (yet impactful) moment. However, with Kim constantly changing her hair and her sister, Kourtney also recently rocking a bob (that's not a FAB, according to the internet), there's always hope that it may make a reappearance sometime soon.
Until Kim's bob returns (perhaps for another Skims campaign), the definition of a FAB is an ongoing debate. There's even a discussion about where the term originated. "The first known use of fab was actually a vine where a girl was yelling "you talk so much, so much, with this fab," one creator commented on Milos video. For others, the origin story and definition aren't as important as the way a FAB makes them feel. As one person put it: "You kinda just know in ur heart that it's a f**kass bob the second you look at it."