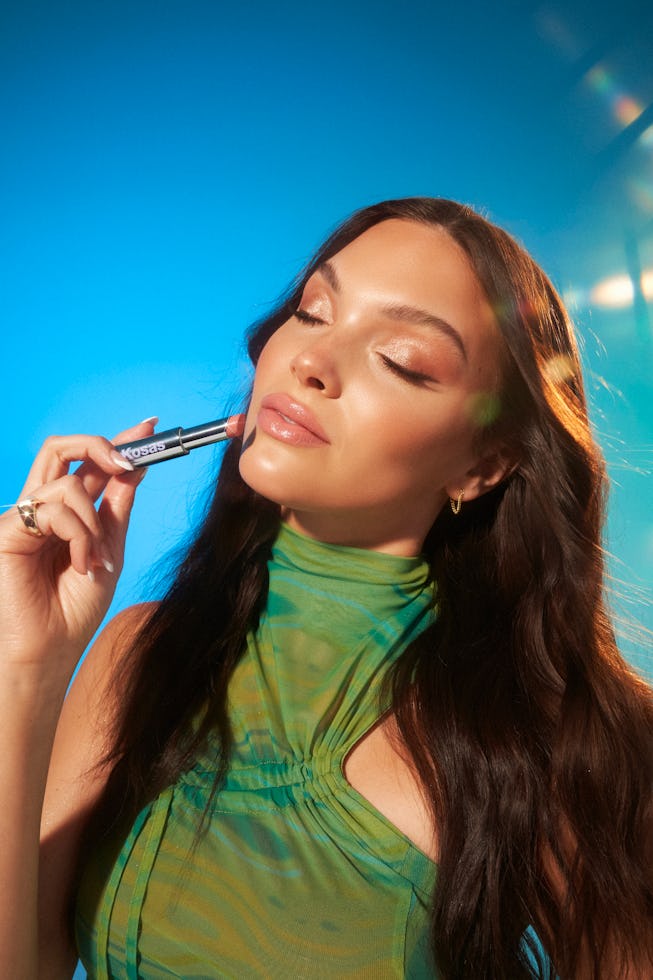 An Honest Review Of Kosas Wet Stick Lip Shine, the Most Comfortable Lip Color Ever
I tried clean skin care brand, Kosas' latest does-it-all lip color — and here are my thoughts.
We may receive a portion of sales if you purchase a product through a link in this article.
Lip balms used to be simple — Lip Smackers, Chapstick, Carmex. Then they got super luxe, and the likes of Dior, Chanel, and La Mer gave basic balms the expensive skin-care treatment. Now, we're in a time of a full on lip care boom. We can't stop asking more and more of our little tubes and tubs. Could your reliable lip balm now also deliver the shine of gloss and the color payoff of lipstick, along with ingredients to soothe dehydrated lips? Apparently so.
Enter, the latest contender in the souped-up lip care space: Kosas Wet Stick Moisturizing Lip Shine. The Wet Stick product promises to be "a clean, balmy lip care stick packed with squalane and ceramides that melts onto lips for a sheer wash of color and a touch of soft, kissable shine," as per the product description. With Y2K-inspired juicy lips still trending and the summer weather persuading me to give up on makeup that requires any kind of precise application, Kosas' latest lip launch feels like it's arrived at just the right moment. I took a few shades out for a spin to see if one (or more) of them would find a permanent spot in my lip color rotation.
Fast Facts
Brand: Kosas
Product: Wet Stick Moisturizing Lip Shine
Price: $24
Shade range: 12 shades, including variations of nude, pink, brown, and berry
Key ingredients: Squalane, ceramides, hyaluronic acid, peptides, and mango butter
Specs? Vegan, cruelty-free, gluten-free
Where can you buy? kosas.com
The Product
Similar Products:
In this time where everyone loves a product that can "do it all", lip care/gloss/color hybrids are officially on the come up. The Kosas Wet Stick ($24) appears to be alined with similar viral lip products, such as the Tarte Maracuja Juicy Lip Plump ($24), Makeup By Mario MoistureGlow Lip Plumping Serum ($24), and the classic Clinique Black Honey Almost Lipstick ($24). The new Tarte and Makeup by Mario lip products both have a similar shade range to Kosas and also similarly have a light-to-deep range of primarily sheer, lip-enhancing shades rather than brights. Clinique Almost Lipstick is the original your-lips-but-better color from the '90s that defies a clear category (hence the name), but has little shade variety and lacks the extra shiny finish.
First Impressions
At first sight of the Wet Sticks shades all together, I thought many of the colors looked somewhat similar in variations of peachy or pinky browns. I imagined that the semi-sheer lip colors would potentially look even more similar on the lips than they did in their tubes. Truthfully, I didn't see a major difference between some of the shades when I was checking them out in the mirror one by one, but it took looking back on photos to see and appreciate the clear differences of the shades.
On first application, I found the Wet Stick to be more pigmented than I expected. I put it on without looking, the same careless way I would a clear or sheer balm, which means I colored outside the lines a bit — and you could definitely tell. I consider that more of a "me" problem, but it's good to remember the lip sticks are color-forward, even though they feel like a lip balm.
Kosas Wet Stick Try On
Shade: Skinny Dip (Cool Baby Pink)
Shade: Island High (Warm Toasty Red)
Shade: Heatwave (Neutral Rosy Beige)
Shade: Hot Beach (Warm Rosy Beige)
Shade: Bikini Blaze (Cool Magenta)
Heatwave, the neutral rosy beige, looks like my lip color with a little extra oomph, which makes it my favorite of the shades. I also particularly liked Bikini Blaze, the cool-toned magenta which is by far the most "different" color of the current collection of shades, which gave me Black Honey vibes with an added fuchsia punch.
Final Verdict
The Kosas Wet Stick is what I call a "purse lipstick" — meaning it lives in your bag and never touches a vanity. A purse lipstick gets no rest. You apply it on the move and hardly ever in a mirror. I've found that the shade Heatwave is a good one to have constantly on my person so I'm prepared at any moment with a "My Natural Lip Color 2.0" to go with any kind of bare or made-up face for a little extra polish. The super moisturizing formula and balmy consistency ensure the color never goes on patchy or leaves my lips feeling thirsty, unlike some classic lipsticks. I love the sleek blue chrome packaging and I'm a sucker for a magnetic cap (so satisfying!), which also means your lipstick won't accidentally get topless in your bag and stain it, or collect purse fuzzies on the bullet. Altogether, it feels very chic and adult to use this as your primary lip care product.
While I would say the finish of the product is more of "hydrated and glowy" rather than what I might think of as "wet and shiny," it's probably made the Wet Stick more of a go-to for me. The sensation of it being on your lips is one that I can only describe as somehow feeling thin. The formula is not sticky, waxy, gloppy or any of those things you have come to expect from many lip care products that form a heavy layer on your lips in order to seal in moisture and yet, it still does the job.
A word of caution from a typically constant lip balm re-applier, keep the color in mind if you're not trying to build it up for a more pigmented pay off and make sure you're not going to hard with it (both for conservation and for potential smudges). I know, the Wet Stick feels really good to put on, but honestly it keeps your lips so well moisturized you don't have to keep topping it up.