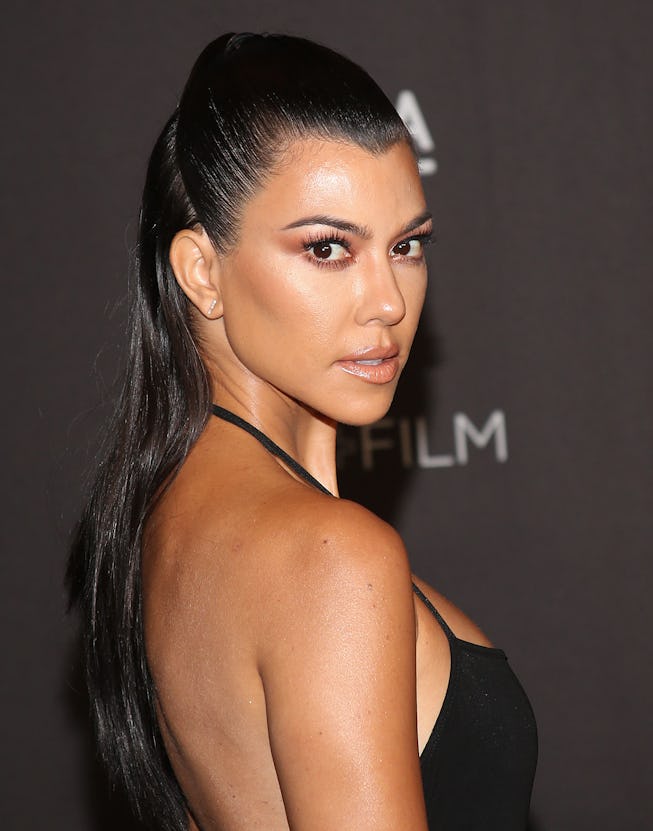 Jesse Grant/Getty Images Entertainment/Getty Images
Kourtney Kardashian Debuts a New Fall Haircut
Travis Barker thinks it's "perfect".
Out of all the Kardashians, Kourtney would be voted least likely to change up her hair. Usually rocking long, straight, and silky raven locks, she made a big change over the weekend. On Saturday, the Poosh founder posted a series of mirror selfies with a wavy, french-girl lob.
The new chin-length 'do is already approved by her boyfriend Travis Barker, who commented on the post. "You're perfect," he wrote. Last month, Kourtney let him trim her hair while in a 10-day lockdown. Now, it appears she was getting ready for a bigger chop.
Kourtney had teased the new style the night before, posting a photo of shears and tagging her hairstylist Peter Savic on her Instagram story. For the big reveal, she showed off the versatility of the new style, switching between a middle part and a voluminous side part look.
With her lob, Kourtney joins a crew of other celebrities who have recently made the cut, including Penélope Cruz and Jennifer Lopez.
While the short look is new for Kourtney, we're guessing it will only be a matter of time before she lets her hairstylist (or Travis) have the scissors again. Especially considering how well she pulls off this chic length.