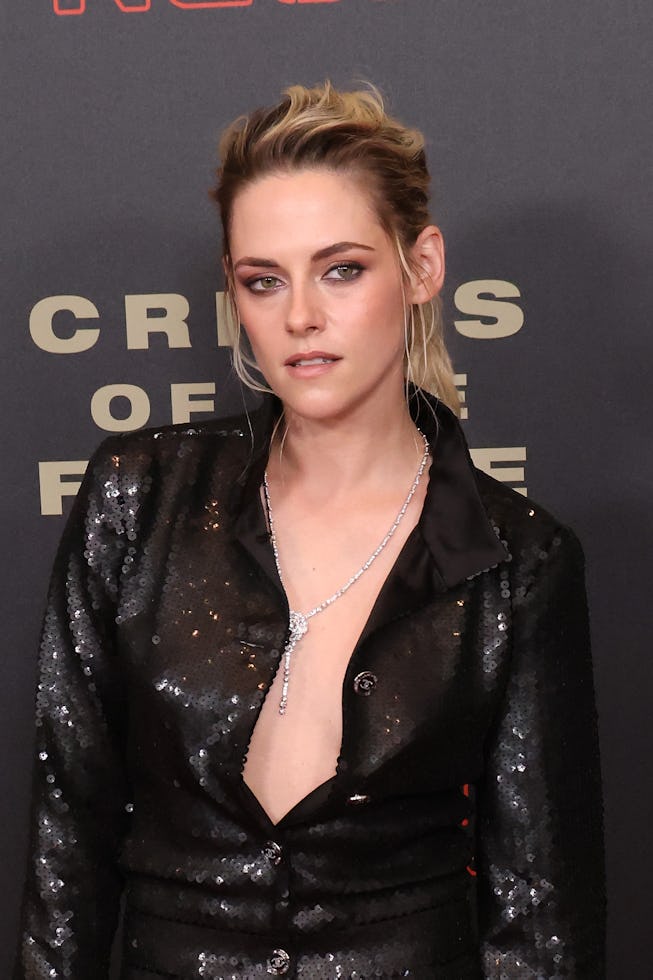 Taylor Hill/FilmMagic/Getty Images
Kristen Stewart's Bedhead "Mixie" Cut Is Her Spring Hair Refresh
Bringing the best of the mullet and pixie cut together.
While actress Kristen Stewart doesn't have social media accounts, that doesn't stop her from creating her own social media flash points, on occasion. Over the past few days, Stewart has stepped out at multiple events in Berlin sporting a short, brunette "mixie" haircut—combining the best of the mullet and pixie styles in one cool-girl style. On Feb. 16, Stewart wore a multi-colored tweed Chanel jacket and pant suit set to this year's Berlin International Film Festival and followed it up at the premiere of She Came to Me with a white, ballerina-skirted gown from Chanel's SS23 couture collection.
Stewart rocked her new mullet hairstyle down to both events, wearing extremely different looks. While wearing the tweed set, she pushed her short bangs into curtain bangs and then swept them back for the premiere event, keeping her hair off her face while she was in her gown. Both styles perfectly channeled the effortless hair look, with the help of her long-time hairstylist Adir Abergel. "Opening night @berlinale with my bright light Kristen Stewart. 💡" wrote Abergel on Instagram.
Tristar Media/WireImage/Getty Images
Stephane Cardinale - Corbis/Corbis Entertainment/Getty Images
Stewart has worked closely with Chanel since it named her as its "new face" for a Western-inspired collection back in 2013. Her two Chanel outfits showed off the Twilight actress's duality, combining her natural edge with ladylike dressing of the French fashion house. However, her fans are decidedly mixed on the new hair. "She's back 😍 I love the brunette look but the haircut is kind of complicated… I know it was for her last film," one person wrote on Abergel's post. "Not feeling the greasy mullet," wrote another person on a photo of the star on Just Jared's Instagram page.
Like the mullet, the "mixie" haircut is often a divisive one. However, Stewart has long proved herself unafraid of shaking things up hair-wise. She had long blonde hair at the start of last year and even shaved off her hair into a bleached buzzcut in 2017. Needless to say, Stewart isn't worried about what fans think of her new mullet pixie cut and we're here for it.