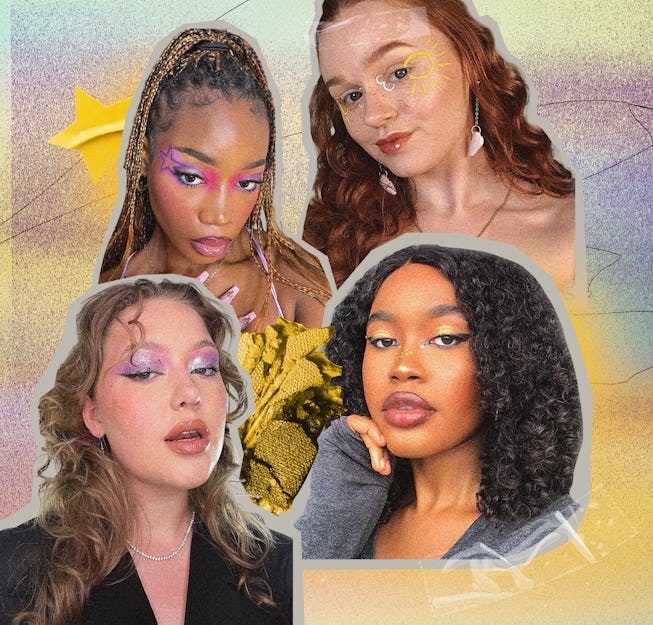 Level Up Your Fall Beauty Game With These 4 Dopamine Makeup Looks
We sure love ourselves a minimal makeup look, but these days, it's all about dopamine beauty, which celebrates the idea of wearing makeup that makes you happy. So naturally, we're all about it. The name, not surprisingly, is inspired by dopamine — a.k.a. the happiness hormone that helps you feel good and is triggered by the brain's reward system. And the reward, in this case, is a really cute look that makes you creative and confident.
Of course, it helps to have a good starting point, which is why we're teaming up with Ulta Beauty to bring you all the inspiration you might need to create a dopamine makeup look for yourself — as well as all of the products to make them happen, of course. Whether you're into a (literally) starry-eyed look or ready to go all-in on cheeky, colorful doodles, Ulta Beauty has everything you need to turn them into reality. The only hard part now? Trying to pick just one look.
Do the Doodle
For an all-eyes-on-you makeup look, you can't go wrong with cheerful illustrations. With fun drawings in bright colors — like the sun and clouds — it both keeps focus on the eyes and offers a little pick-me-up anytime you see your reflection. Since it's a bold look, however, you'll want to keep the rest of your makeup low-key with bright, glowing skin and a neutral lip.
Go for the Glitter
When it comes to glitter, the dopamine motto is: the more, the merrier. And in this look, it goes all the way to the brows in a dreamy holographic shade, anchored with a winged eye. It's proof that drama can, sometimes, be a good thing.
Seeing Stars
Gold stars? Snooze. This look does you one better with stars around the eyes drawn in vibrant shades like pink and purple, tying in the colors on both the lips and cheeks. (For bonus points, add it to your nails, too.) It makes for a joyful look you'll come back to over and over again.
Graphic Goes Glam
Indulge your inner artist with graphic eye makeup — think clean lines, bold colors, and fun shapes. (The rule here? There are no rules.) The rest of the look can lean more neutral, with a wash of bronze and lips in a similarly pared-back tone.