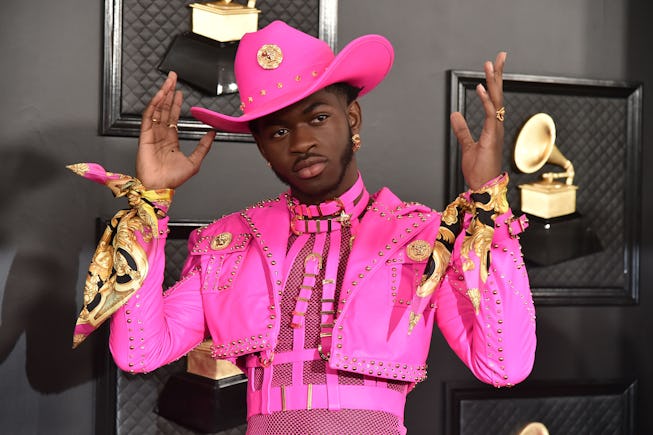 David Crotty/Patrick McMullan/Getty Images
Lil Nas X Celebrated His Birthday With A Diamond-Covered Manicure
He matched the $3,000 per nail manicure to his diamond and opal grill.
It was Lil Nas X's birthday, and he covered his nails in diamonds because he wanted to. Memorializing the special occasion with an Instagram post, the performer gave followers a look at his sparkly birthday manicure, which cost an impressive $3,000 (!) per nail, Popsugar reports.
David Tamargo of Alligator Jesus created both the manicure and the matching diamond-encrusted grill. To create the manicure, Tamargo told Popsugar that he used micro-pave VVS stones, which were customized to fit each of the star's nails.
He coordinated the manicure with a diamond and opal grill that cost a reported $28,000. The designer provided a closer look at the birthday creation in an Instagram photo, and you can see how small diamonds lined an inner opal stone. To top off the birthday look, Lil Nas X accessorized with a pink Gucci bucket hat.
As Tamargo notes on his Instagram, he has worked with Lil Nas X on other projects in the past. He previously provided jewelry for a frozen "Holiday" hot tub photoshoot, and he also provided more diamonds for accompanying "Holiday" campaign imagery. Other celebrities, including Halsey, Justin Bieber, Shawn Mendes, and Bad Bunny have turned to Alligator Jesus for their diamond needs, too.
Get a look at the diamond-covered birthday manicure, below.