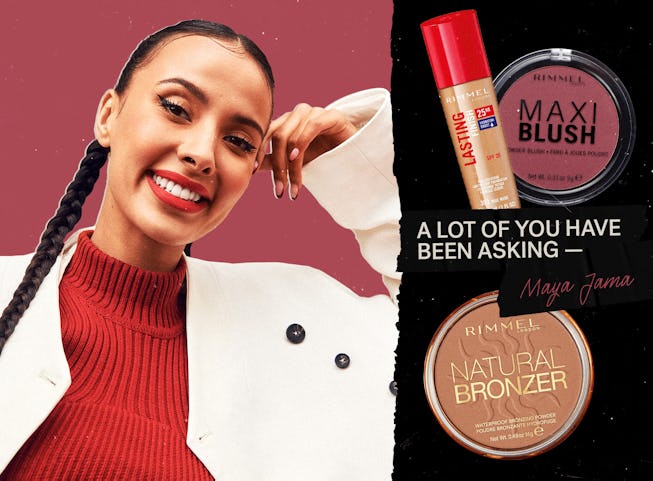 Nylon; Rimmel
Maya Jama's Favorite TV-Ready Foundation Costs Only $8
The TV presenter on figuring out what makeup works best on camera, the beauty hack that "snatches" her face, and becoming the new global brand ambassador for Rimmel.
When TV presenter Maya Jama emerged last season on ITV2's dating series Love Island as the new host, all the show's fans could talk about was her stunning outfits and impeccable makeup. Those that have been following Jama's long-standing presenting career, including her time hosting the BBC Three competition Glow Up: Britain's Next Make-Up Star for the third and fourth seasons, will know that we can always rely on Jama for two things: pulling together a look and bringing her authentic and bubbly personality to every show she's worked on. With a love for all things skincare and makeup, it comes as little surprise to most that today Rimmel UK announced the Love Island host is their new global brand ambassador.
Jama tells NYLON discovering her personal makeup style was a process that started from a curiosity about her mother's beauty routines. After entering the world of TV presenting, she soon learned that heavier on-screen makeup would take some adjusting. Although she previously preferred natural, no-makeup makeup looks, the host of Britain's largest dating show has now embraced her TV glam, and grown to appreciate how her glam can take her from shooting on set to dinner with friends. "I've always loved how makeup makes me feel. For me, it's a form of self-expression," Jama says. "Rimmel encourages people to reinvent the rules and love themselves for who they are, which is so liberating."
Below, Jama talks about figuring out what makeup works best on camera, the beauty hack that "snatches" her face, and becoming the new global brand ambassador for Rimmel.
WHAT'S YOUR FIRST BEAUTY MEMORY?
"My first beauty memory is being a little girl and playing with one of those makeup dolls and a massive palette with like a thousand colors of the brightest shades and wiping it all over the doll's face. I'd show it to my mom like, 'look what I created!' After that, I started using my mom's makeup. She had me super young so she was really experimental with her looks. I'd try on all the products she had and put them on my own face."
WHAT'S YOUR RELATIONSHIP WITH MAKEUP LIKE NOW?
"Because my job is being in front of the camera all day, makeup and work have become hand-in-hand. It's always like, 'make sure to remember your lines and do your job', but also, 'what look are we doing today?' Makeup comes into play every single day. My team and I have been so focused on trying new looks, using new techniques, and being more exploratory this year."
DO YOU HAVE AN OVERALL BEAUTY PHILOSOPHY?
"Not really. But I think more than anything I love glam. Some days I want it to be super natural and look like I'm not wearing anything—even though I have like 10 products on. Other days I think, 'let's do a big eye look and have the makeup be the moment over everything else'. I'm a dabbler, really."
WHAT DO YOU CONSIDER WHEN IT COMES TO SKIN CARE?
"I love skincare because I'm wearing a lot of makeup products all the time and it's nice to balance it out and make sure [my skin] is hydrated after traveling long hours and spending time on set. I'm always trying to get more hydration, hydration, hydration underneath my makeup. I'll throw as much juicy stuff on my skin as I can."
WHAT'S THE RIMMEL PRODUCT THAT YOU CAN'T LIVE WITHOUT?
"The Long Lasting Finish 25hr Foundation is my go-to, mainly because I start my days super early and end them super late. My face gets brushed and bumped when I'm hugging people, but when I wear this, I don't have to worry about it. You don't need to retouch. It's just one application and you're sorted and it still looks good at the end of the day, which is rare."
HOW HAS BEING ON TV IMPACTED YOUR APPROACH TO MAKEUP?
"When I first started TV, about eight years ago, I wanted my makeup to be super minimal and natural. But, then you'd go on TV with the big lights and everything, and it looks like you have nothing on. You have to put more on for TV and just find out what works on camera. You can have a look on camera that looks amazing but then in real life it doesn't, or the other way round. So I think I've just found the balance between TV makeup and 'face-to-face' makeup. We've found looks where I can go from set to dinner and I don't look crazy."
IS THERE A BEAUTY HACK THAT'S CHANGED YOUR LIFE?
"A makeup artist once told me to apply all products starting higher up on my face— like when it comes to blushes and bronzers, instead of putting it directly on my cheek. Since then, I've been putting my makeup on above my cheek and it just lifts everything. Even with eyeshadows, lifting your placement up a bit will give you a nice natural snatch."