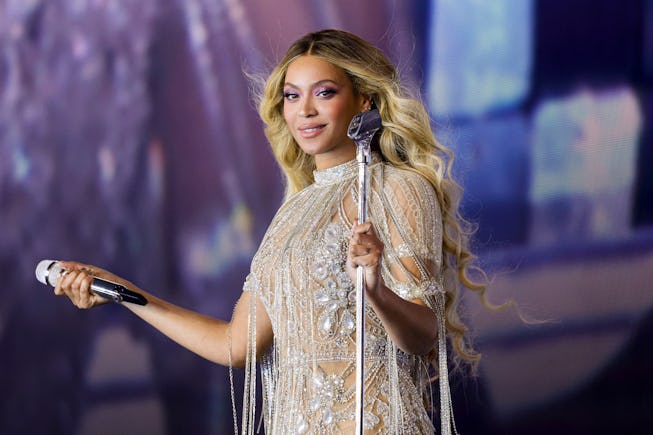 Kevin Mazur/WireImage/Getty Images
A New Beyoncé Fragrance Is Coming This November
Only Queen Bey can get fans so excited about a perfume no one has yet to see or smell.
Since first making a splash into the perfume industry in 2010 —with the release of her first fragrance, Heat— Beyoncé has brought us a number of temperature-related scent drips, including such variations as Heat Rush, Midnight Heat, and Shimmering Heat. But on July 19, it has been announced that the megastar is releasing a brand new fragrance altogether, which there is already a waitlist for on beyonce.com. Shipping is set to start in November of this year.
The release around Beyoncé's upcoming Eau De Parfum (the only name that's been released so far) has been somewhat mysterious. On the website, we can see the bottle shape, but only as an outlined shadow, although the new launch is touted as being "encased in art" and "crafted and designed by Beyoncé". For her Beehive (who no doubt don't need much info to be sold on the new launch) the fragrance is currently listed for at $160 for a 50ml bottle.
While we wait for a name and bottle reveal, what we do know is the new fragrance was created in France, was designed by Beyoncé herself, and that there will be some kind of "special gift with purchase" (while quantities last). The scent profile has also been revealed. The top notes include clementine, golden honeyheart, rose absolute, and jasmine sambac and the base is Namibian myrrh and golden amber.
Fans are already proving themselves willing to spend $160 on the mystery perfume before knowing exactly what it is, with the preorder selling out in 20 minutes. "Excited for Beyoncé's new perfume despite the right choice being a re-release of HEAT," Tweeted one fan. Considering that Heat was the most successful and lucrative celebrity perfume of all time, generating $400 million in sales in just 2010 to 2013, you may want to sign up for the waitlist and keep refreshing the pre-order page.
All sales are exclusive to her website, and currently only available in the US and Canada.