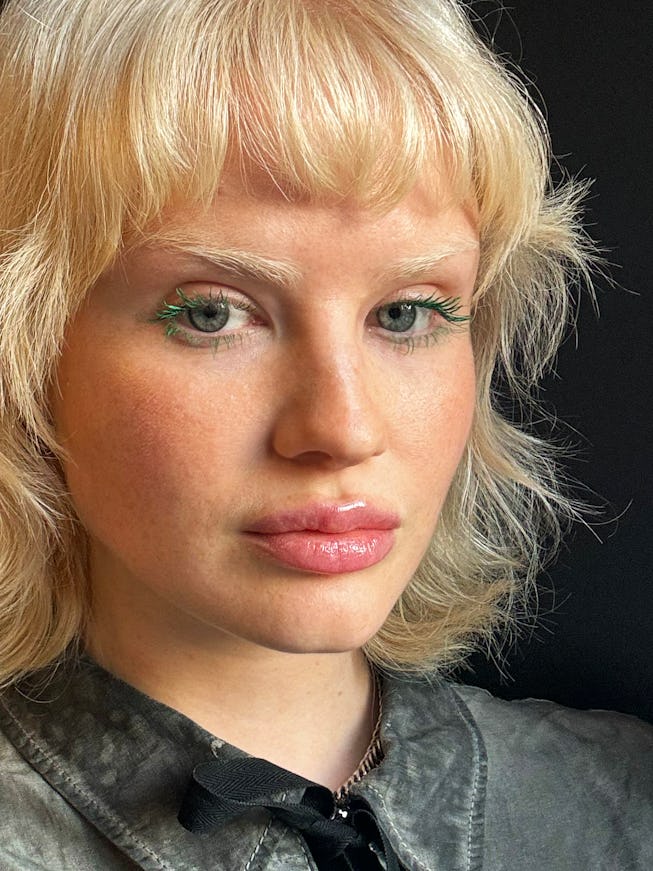 Colored Mascara Is Easier To Wear Than You Think
NYLON editors evaluate what colored mascaras really look like IRL.
We may receive a portion of sales if you purchase a product through a link in this article.
Colored mascara is like the kitten heel of the beauty trend cycle. You won't hear about it for a season or two, and then all of a sudden it's back and it's everywhere — and you're absolutely delighted to see it.
This fall, a fresh crop of new colored mascaras have hit the shelves, reinvigorating the trend, but the look is versatile enough to wear all year long. So now is the time to give up and hesitancy toward colorful mascara — it's actually the easiest way to experiment color on your eyes.
"Mascara is a daily staple in most people's makeup bags and is the easiest step when it comes to eye makeup," says Donni Davy, Half Magic co-founder and Euphoria makeup artist. "You don't have to have precision eyeliner skills or any blending ability whatsoever. You just coat those lashes and go."
The results can vary on a wide spectrum between subtle and striking. It's all in how you apply. Two normal coats replacing your everyday black or brown mascara can give your beauty routine a simple shake up or you can go all in, building up the color in layers to stand out against bare lids or matching with a similar shade of eyeliner. "Either way, using a colored mascara adds an unexpected casual pop of color," says Davy.
As for what color to choose, general color theory explains how mascara shades ranging between purple to burgundy are best for accentuating blue and green eyes while teal and blue mascaras make the warm tones in amber and brown eyes really glow. But don't let the color wheel stop you if you're ready for some major makeup drama — it's all in how you wear it.
Read on to see how five of the coolest new colored mascaras look on our NYLON editors.
Half Magic Eyelectric Extreme Lengthening Mascara
Half Magic's new formula changes the game on colored mascara. Because it's a tubing mascara, it gives you extreme length without clumping, even as you build up the color with multiple coats. The Eyelectric Extreme Lengthening Mascara comes in two shades, Teal Widdit (seen here on Kelly) and Violet Act, a glowing purple. The shades are also pearlescent for an almost dewy lash look to make your eyes look even brighter.
Hermès Trait d'Hermès Revitalizing Care Mascara
Hermès' new mascara is incredibly luxe, from the brushed metallic packaging to the super skinny grabs-every-lash brush. It builds clump-free length and keeps your lashes feeling soft, not spiky. With the chic, but more mute color range, this mascara is more for a coy flash of color rather than a bold party look— but seeing who is close enough to notice the color is part of the fun. I loved the way the plummy burgundy shade looked with blue eyes.
af94 Push To Start Mascara
Coming in at $10, af94's colored mascara is the most low stakes way to dip into the trend. You can grab all three shades (there's also a blue!) for about the same as one of the other options and see what you like. The volume-building formula is ideal for intensifying the color pay off as you apply multiple coats — which you'll need, as the red and pink tones are harder to see on dark lashes.
Tood Toodscara Buildable Volumizing Mascara
Tood Beauty's Toodscara in Green Aura definitely gave us the most "wow" reaction of the testing period. The vibrant green is a look all on on its own — and it only took Laura 30 seconds to apply. The rubber bristle brush glides over lashes an gets at even your tiniest lash hairs for maximum impact. There's also a bright blue shade, if green isn't your thing.
Addiction Tokyo Mascara Color Nuance
Addiction Toyko Mascara Color Nuance gave the lightest color payoff of the bunch—but that's what nuance is, right? Beginners to colored mascara will love the range of almost-black-but-not shades as an easy entry point. I tried (from left) Pine Tree and Dazed Violet, which were nearly imperceptible in a photo and subtle in person. However, the teeniest hit of hunter green and eggplant eyeliner on my lids, gave them the boost needed to make a cute appearance.