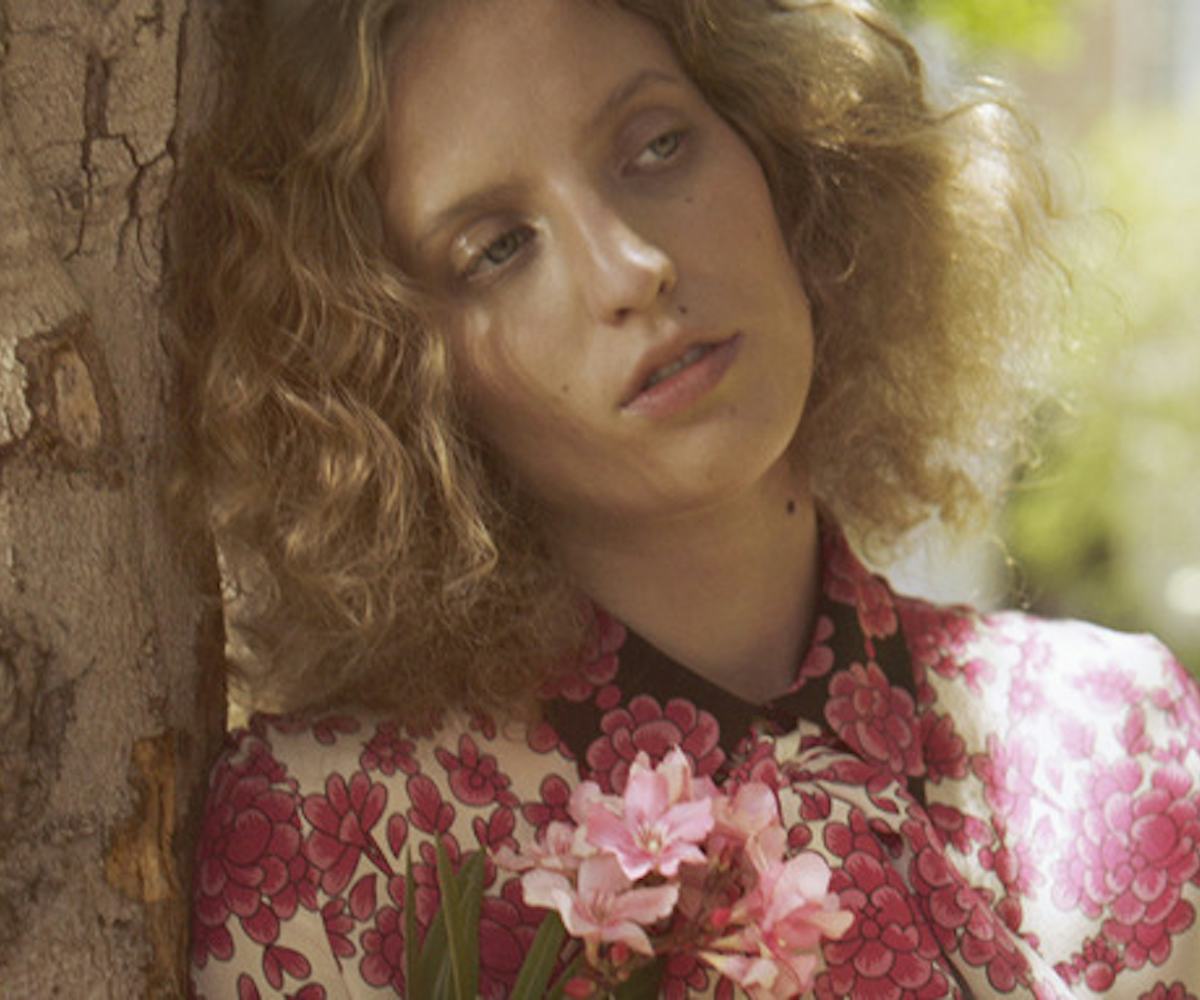 Here's What Advice Petra Collins Offers To "Blooming" Artists
She also revealed her favorite way to wear Gucci's new fragrance
The following feature appears in the October 2017 issue of NYLON.
We chat with the queen of haze, artist Petra Collins, about modeling for Gucci Bloom and fighting the patriarchy, one spritz at a time. Here's what she had to say.
How did you first meet Gucci Creative Director Alessandro Michele?
Before I walked for the Gucci fall '16 show, we met in his studio, which was like a playhouse of color and texture and fabric. I'm getting giddy talking about it because I was literally touching everything. It was so beautiful. We connected right away, because we have such similar aesthetics that it's just cosmic. I've ended up having this long history with Gucci where I've been in campaigns, I've shot campaigns, and now I'm one of the faces of this fragrance.
Can you describe the experience of shooting the campaign?
I got to really immerse myself in another one of [Michele's] worlds. Every time we're shooting we're just playing. It's fun. I get to fully inhabit an environment, and the mix of city and garden in this shoot was right up my alley. The concept was basically having a secret garden in the city. The video really communicates that.
Why do you think Michele chose you, Dakota Johnson, and Hari Nef to be the faces of Gucci Bloom?
Alessandro really respects strong, independent women who are carving their own paths and creating something new, and we all do that in the fields we work in.
Were you friends with any of them beforehand?
I was friends with Hari, and I'm friends with Dakota now, but I didn't know her before. We have a really funny group text because we were all in a pond for hours shooting the last part [of the video]. The group text is titled, like, "Pond Scum" or something. [Laughs]
How do you interpret Michele's vision for the scent?
Perfume is almost always trying to sell sex, or the idea that you can become something better, or different than yourself. Bloom is about the individual. It's a fragrance for women, but it's almost neutral. The packaging is so simple, and the scent doesn't mask anything or change you into someone else. Hari, Dakota, and I were all wearing it last night, and it smelled different on each of us. The florals are so natural that it really morphs around each person, you don't feel like you're cloaking yourself with a generic scent.
What is your favorite way to wear it?
I love spraying a lot and then running through it so it goes all over me. [Laughs]
Are there any smells that bring back particularly strong memories for you?
Lily of the valley. I had it in my backyard and any time I smell it I think of being young. Bloom smells so much like a garden that it's very childlike to me. Like when you're a kid in the summer, and it's the day after a rainfall and everything is wet and has a musky smell.
What advice do you have for young artists out there who may be struggling?
I feel like people hate hearing this, but it's the most important: You need to actually never give up. It's what separates people who become successful from people who don't. When I started, it's not like I was taking the photos I'm taking now, or that I had developed my aesthetic. It's just that I kept pursuing it. I kept taking photos. There are times that my cameras broke, my film turned out bad, my photos turned out bad. But I continued because I really loved it. You really have to push through and not let anyone get you down.
Gucci Bloom Eau de Parfum, $94 for 1.6 fl. oz., available at Sephora.