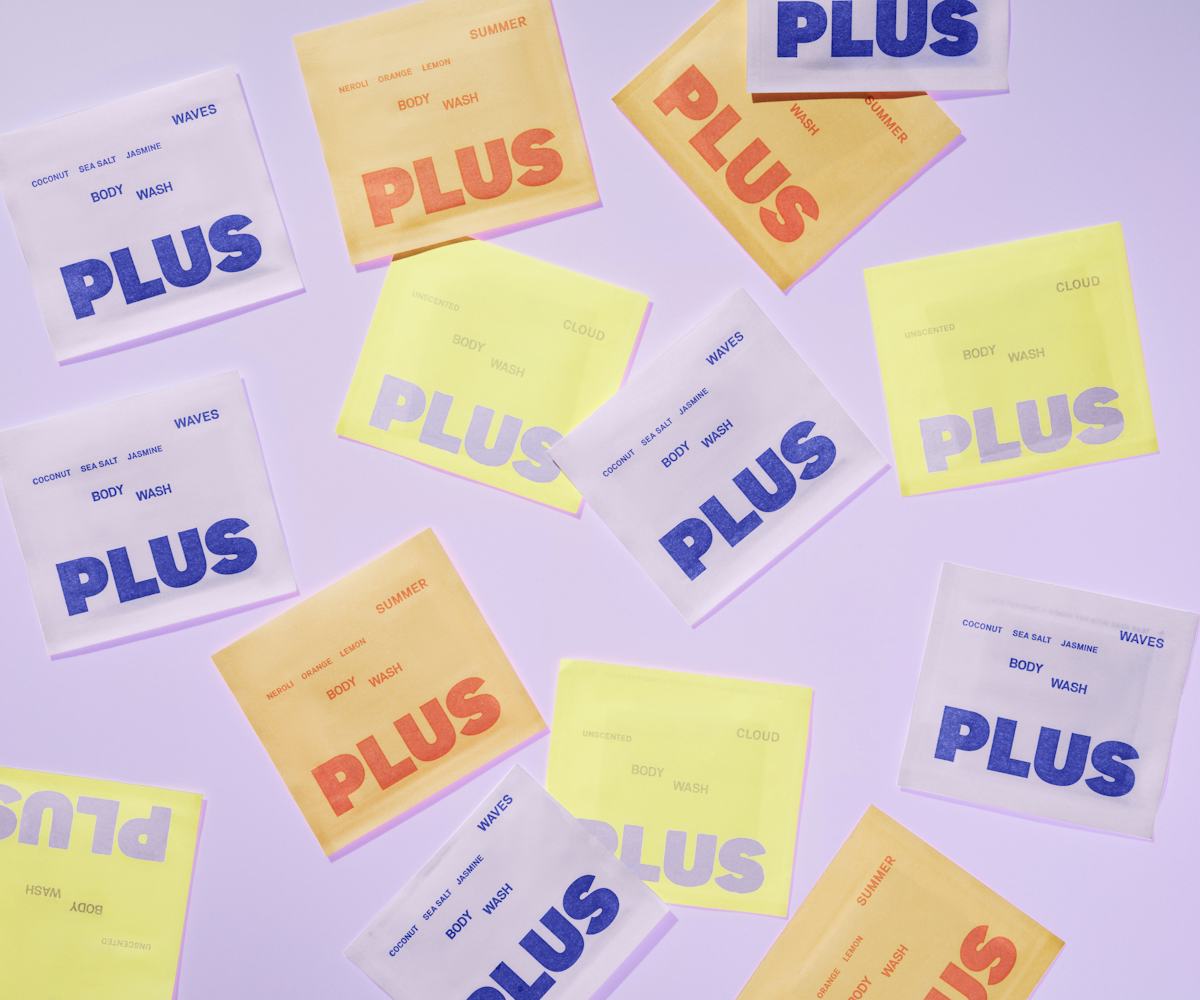 Meet The Brand Launching Cleanser That Doesn't Come In A Bottle
Showering will never be the same.
When it comes to traditional body wash, there hasn't been much in the way of product innovation. Our showers and tubs are often lined with products, and many come in plastic bottles. Plus, a newly launched personal care brand from some of the masterminds behind Starface, wants to change all that, and has launched with the debut of a game-changing cleanser.
Officially arriving online on Tuesday, Plus, created by Starface's Julie Schott and Brian Bordainick, a with co-founder and CEO Cathryn Woodruff, revealed its first product offering. Plus Body Wash, a just-add-water, no-bottle cleanser, comes in 16 single-serve shower sheets, and retails for $16.50.
Available in two scented variations as well as a non-scented option, the body wash is basically an entire shower gel in a small package. All you have to do is add water and then lather. From there, the wash goes to work. Inside each package is a formula featuring aloe leaf, shea butter, sweet almond oil, and more.
Created using wood pulp from responsibly managed FSC forests, Plus dissolves in water, and will safely go down the drain as you shower. The product is free of parabens and sulfates, and the creators set out to challenge the norm of body wash products housed in non-recyclable packaging.
Schott told NYLON that the brand felt a responsibility in helping to lower the number of plastic beauty products that end up in landfills. Unlike skincare products and some beauty products that require specific packaging for ingredient activation, body wash doesn't require the same restrictions, making for an easily adaptable product.
When it comes to swapping out your current shower gel for a no-bottle version, Woodruff did predict that a change in showering behavior might be required. "It takes a little getting used to," Woodruff said, explaining that it's a different cleansing experience.
Despite the differences between Plus and your traditional cleansing brand, the product does present consumers with a unique opportunity to put sustainable living into practice. An overuse of plastic in the beauty industry is an ongoing issue, and Plus is one of many beauty brands taking steps to change that.