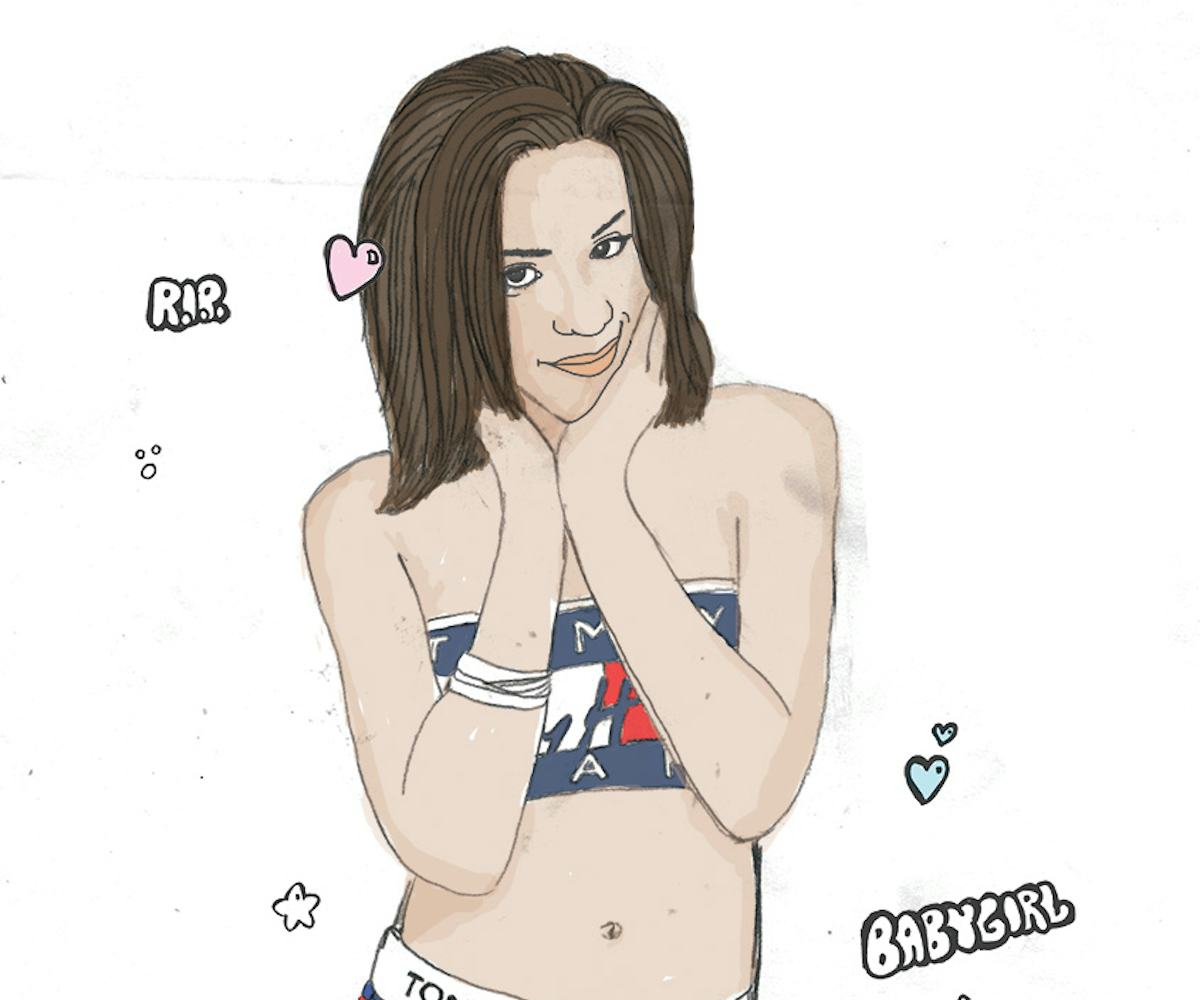 Illustration by Kelly Shami
private icon: an homage to aaliyah
an homage to the one and only aaliyah
When you do it impeccably the first time around, you go down in history forever. The late but never forgotten Aaliyah paved a permanent path for women when it came to music, character, style, and beauty. Whether you grew up watching her music videos after school on television or discovered her in this day and age from all the attention she still deservingly receives, her cool and collected vibe was always effortless, especially when it came to denim. From 1996 to 1997, she was cast in a Tommy Hilfiger campaign alongside the likes of baby faces Mark Ronson, Kate Hudson, Nicole Richie, and her longtime friend Kidada Jones. This patriotic jean-statement is still an iconic denim moment of the last century thanks to the logo overload combined with Aaliyah's glowing skin, sharp brows, and glossy lips.
A natural beauty, she had that "no-makeup makeup" look every girl wants. You can see it in videos like "4 Page Letter," or everyone's favorite song to drive their yacht to: "Rock the Boat." But Aaliyah was not shy about donning a badass dark makeup look, as seen in the music video for "Try Again," or, my personal favorite, when she was dripping in jewels in Queen of the Damned. Her power to own every look possible is something I will always admire. And it seems that new, emerging talent admire it as well, because every now and then someone is "pulling an Aaliyah"—which is completely OK in my book, because we will always be missing her.
Click through the gallery to see how to get Aaliyah's classic beauty look.
Maybelline, superstay better skin foundation, $11.99, available at Ulta.
Urban Decay, eyeshadow in dive bar, $18, available at Urban Decay.
Maybelline, new york eye studio lasting drama waterproof gel pencil in lustrous sapphire, $8, available at Maybelline.
Christian Louboutin, nail colour in lady twist, $50, available at Neiman Marcus.
Tommy Hilfiger, tommy girl eau de toilette, $57, available at Macy's.
Clinique, just browsing brush-on styling mousse, $16, available at Nordstrom.
Rimmel London, lasting finish skin perfecting primer, $7, available at Ulta.   
O.P.I., nail lacquer in i stop for red, $9.50, available at Ulta.
Maybelline, baby lips moisturizing lip gloss in taupe with me, $4.49, available at Drugstore.com
NYX, high definition blush in crimson, $6.50, available at NYX.
Essence, lip liner in femme fatale, $1.49, available at Ulta.