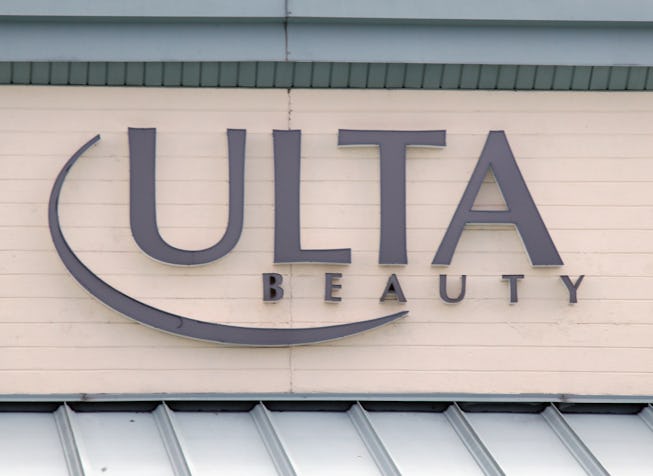 Bruce Bennett/Getty Images News/Getty Images
What You Need To Know About How COVID-19 Is Impacting Sephora And Ulta
Everything you need to know about shopping beauty IRL right now.
Editor's Note: This story has been updated from its original version to reflect that Ulta has started offering curbside pick-up at select stores.
After announcing it was closing its doors due to the COVID-19 pandemic, Ulta announced the introduction of curbside pickup at more than 350 of its locations. As Allure pointed out, locations now offering the service span 38 states, and the service is available daily from 11 a.m. to 6 p.m.
A complete listing of stores offering the service is now online, and in a statement from Ulta CEO, Mary Dillon, she explained that pickup was only available in stores where it was "deemed safe to do so." She went on to address the possibility that the service could expand, saying, "To do this right, we have and will continue to implement robust health and safety protocols with our local store associates to ensure all orders are handled following CDC guidelines, limiting contact between our guests and teams."
For any curbside pickup returns, customers will have to wait until the store reopens or they can mail products to Ulta's return center.
News of the pickup service comes after Ulta stores nationwide closed their doors on March 19 in response to COVID-19. At the time, the closures had resulted in the temporary shuttering of the retailer's buy online, pickup in store program.
Confirming the closures in a statement from Ulta CEO, Mary Dillon, the company wrote in an online update that after ongoing monitoring of the situation, it had made the decision to close. "We understand the impact this will have on our guests and we want you to know how much we appreciate your flexibility and understanding. We also understand the impact this will have on our associates, who are at the heart of our company. To care for them during this unprecedented time, we will continue to pay our store and salon associates, as well as provide benefits for those who are currently enrolled," Dillon wrote.
Previously, Sephora had announced that it temporary close all retail stores due to coronavirus, effective immediately through April 3. In a statement made on its website's community blog, and later shared to social media, the company also announced a mandatory work-from-home policy for its corporate employees. During this time, all employees will continue to receive their base for scheduled shifts during the duration of the closures, as well as health and wellness benefits for employees currently enrolled.
In an earlier statement released on March 11, Sephora announced the suspension of in-store services including makeup applications done by store employees, skin care services, and classes, along with other operational changes, as reported by Allure. These changes have since been overridden by temporary closures, but the company will still be postponing Sephohira, an annual beauty gathering, as previously announced.
Ulta also announced new measures due to coronavirus, with a report shared to its site, updated on March 15, noting that some in-store services might be unavailable, as well as announcing reduced in-store hours. The company also implemented "increased sanitization measures, noting that those that wish to use a tester will now be required to ask an associate for assistance. Prior to Ulta's decision to close, which had previously included the temporary closure of certain locations in San Francisco and Pennsylvania — where local government has called for the closing of non-essential shops — customers on social media had urged the company to close all stores.
"My go-to beauty tip is CLOSING STORES AND STAYING HOME TO REDUCE COMMUNITY TRANSMISSION OF COVID-19," one customer shared on an Ulta Instagram post. "Please close your stores. I work for you and I'm already sick and terrified for my coworkers. The fact that the deep cleanings you're requiring as part of your "corona prevention" include your sales clerks deep cleaning bathrooms, including toilets, with only vinyl gloves is despicable. We are in the midst of a pandemic, act like it," shared another. The comments were just two out of hundreds urging the beauty retail giant to close all of its still operating stores on an Instagram post, made on March 16.
This story is developing.