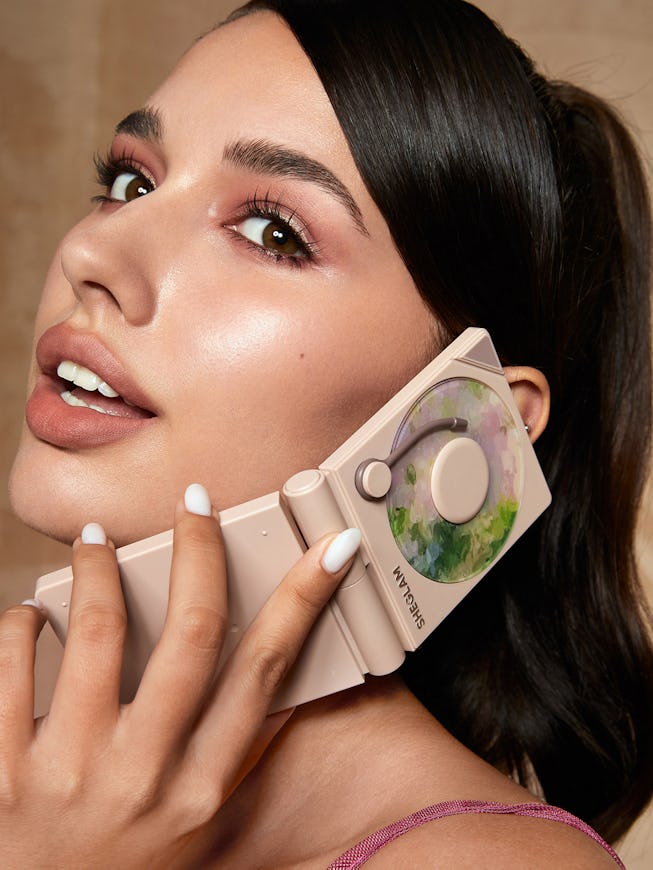 Courtesy of SHEGLAM
SHEGLAM's New Eyeshadow Palettes Are Inviting You To Channel Your Early 2000s Vibes
Written by Lauren Hubbard
Retro beauty has never been hotter, and while the last few years were all about the raw shades and matte finishes of the past, this season the look is a total Millennial revival. Think: softer, neutral shades and on-trend pinks mixed with Y2K glitzy glitter and bold technicolor touches that will have you looking poppin' from office hours to getting tipsy in the club.
Whether you're looking to channel early 2000s pop star, embracing the rom-com core moment, or bringing some neon brightness, the early aughts aesthetic is all about the eyes. To really make the most of the style, SHEGLAM just debuted a new series of eyeshadow palettes with the Y2K era in mind—the Vinyl Pop Color Palettes. Available in three oh-so-millenium colorways, they come with a mix of eight shades with matte, metallic, and cream options that you need to pull off the 2000s look of your dreams, all in irresistibly cute CD player inspired packaging that we can't get over.
If your style is soft and sweet, Rose Sonata brings the rom-com core realness. Packed with rose-tones shades from the palest blushing beige to dusty pinks and even a deep mauve-y aubergine, it's perfect for achieving that so fetch vibe that will quickly because your everyday go-to. Turn to the creamy chocolate brown shade for pristine cat eye flicks then up the wattage for date night with the two foil metallic shades: one rosy, the other champagne.
The Sunkissed Reverie palette merges beach babe bronze with rocker cool that's ideal for nights out. It features matte, warm-toned browns, plus a moody, warm merlot, and a creamy black that's perfect for those smudgy millenium-grunge eyeliner looks. Of course, the look would not be complete without the option for some bling. Enter: an ultra-glitzy metallic gold shadow as well as a beige shimmer to add that coveted frosty touch (try adding a swipe below your eyebrow for some glam.)
Neon pink may have taken over this summer, but Y2K style was all about embracing the rainbow—think fun, music festival style. From your candy-colored transparent gadgets to your velour tracksuit, everything in your 2000s life had to be boldly colored. And you couldn't really call yourself a millennium makeup maven if your eyeshadow didn't match your sparkly butterfly clips, which is why the Color Me Crazy palette brings you loads of options with matte shadows in buttercup yellow, baby blue, soft pink, and vivid orange. Of course, you can take things up yet another notch with glittering shades of navy blue, turquoise and pink champagne, plus a creamy cherry red for a little extra oomph.
You may have moved on from the era of your skip-proof portable CD player, but these sweet palettes are proof that a it can still be an everyday essential—at least when it's one of these endlessly chic ones, packed with the opportunity for some nostalgic beauty fun. Trust us, the early 2000s have never looked better.