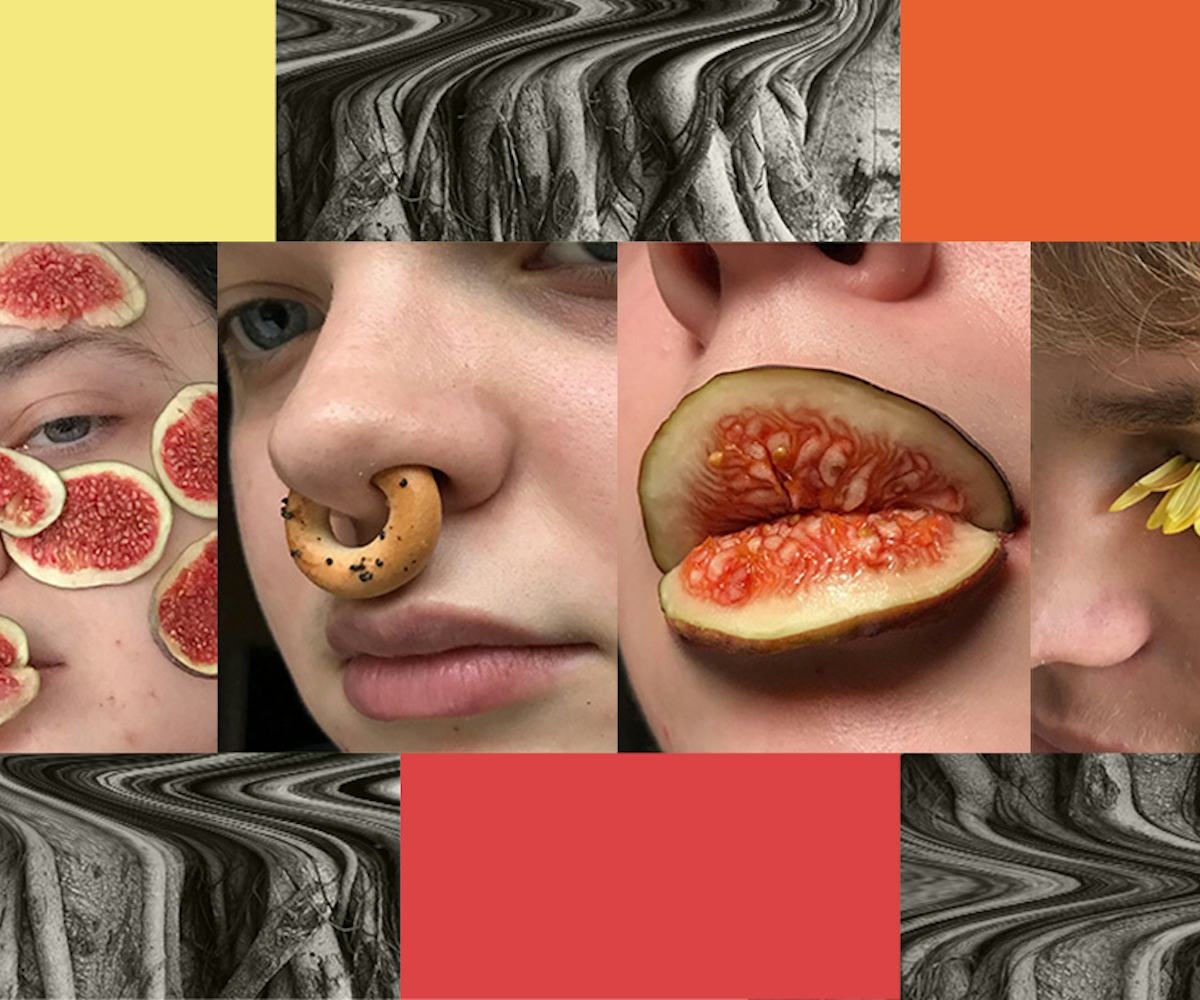 Photos from instagram.com/thundergirl_xtal
Meet The Artist Using Vegetables And Plants To Create Surreal Beauty Looks
Thundergirl_xtal is behind some of the boldest beauty on Instagram
Scroll through Thundergirl_xtal's Instagram, and you'll see a collection of over-the-top beauty looks that go far beyond the imagination. Take, for example, faces and hands completely covered in a variety of leaves, petals, and plants. Or, an eye — its lashes covered in green plant buds. Or, even a mushroom placed on an ear as if it were a piece of jewelry.
Run out of Moscow, the viral Instagram account explores niche beauty looks created using natural materials. Be it plants, vegetables, flowers, or fruits, the woman behind the account, known solely as Katya, has applied everything from dragonfruit slices to turnips and slices of lettuce to transform herself into works of art.
Originally, Katya had her sights set on becoming a fashion designer, but she quickly turned to beauty after discovering her passion for it. "When I was 13, it all begun — I had sewn complex theatrical dresses with custom elements and accessories," she tells me. "Around this time, I also started to explore the world of makeup and beauty, by complementing my looks with fake eyelashes and fingernails. I really enjoyed my time trying on wigs and various clothing styles. There were no gender borders — only my role and its expression and look."
As for how she started using unconventional materials from nature, it all stems from her upbringing. Raised in the Russian countryside, she grew up surrounded by plants and lots of animals — an ultimate inspiration for her. Today, the 24-year-old sources natural materials based on how they look. "Materials usually catch my eye in a shop, in my parents' garden, during the walks, or while cooking dinner," she says. "Recently, my family and friends started bringing me very special souvenirs from their travels — plants and all sorts of natural things including stones, sticks, and cones. These are the most valuable gifts to me."
Katya began her creations by looking to fine art references, but now takes much of her creative aesthetic from performances and dance. "I love the history of art and stories of distinct artists," she says. "My inspiration has come from works of Isa Genzken, Pipilotti Rist, Donald Judd, and many others." At the moment, however, her favorite piece of work is Michele Rizzo's "HIGHER xtn," a techno rave dance piece performance. "Beauty and inspiration," she says. "It's all there in this performance. I adore it."
But going back to the materials Katya has used, she doesn't consider any of them to be too outlandish. As a makeup artist-designer-farmer who grows some of the natural objects from scratch, she sees her process as organic. "Luffa takes a lot of effort to grow," says Katya of her most recent project in progress. "I observed its growth starting with the seed in May, and now it's grown and is ready to be used for my projects. Growing a material can be a very time-consuming, but also a fascinating, process."
Given the unusual nature of some of the materials, there have been some strong reactions to her projects. "The realization that my pieces may provoke feelings and emotions is relatively new to me," says Katya. "I always knew that some of them are controversial by nature, but now I understand they may bring someone joy and inspiration, but also sadness or even fear. The most influential reaction comes from the people who are most dear to me: Two of my friends express disgust or even fear when seeing holes." Katya is referring to pieces which include vegetables and plants full of holes, which she then arranges over her face like a mask. Fear in response to those specific pieces of work isn't uncommon: Trypophobia is known as fear or disgust of closely-packed holes.
To make her work all the more personal, Katya usually uses herself, or those closest to her — like her dad, whose hand she once covered in cacti, creating a surreal sort of glove— to model the looks. "It's very simple — my ideas always come suddenly, and I implement them immediately," she says. "I have myself, and I don't depend on anyone — I do not need to arrange a meeting, assemble a team, and participate in some complex production process."
There's irony in that too, though. Katya usually doesn't wear makeup or adorn her face in everyday life. "Beauty is naturalness," she explains. "Even if it's not natural for a person to use press-on nails, at the if same time, if he or she feels it's organic, then it's beautiful. To me, beauty is not about aesthetics, but about feelings."