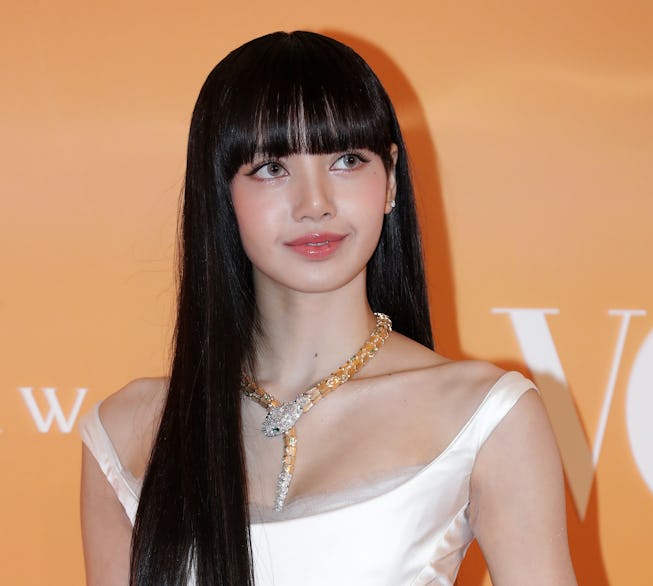 Han Myung-Gu/WireImage/Getty Images
TikTok's "Glue Bangs" Trend Will Give You K-Pop Idol Hair
TikTokers believe Blackpink's Lisa's bangs stay in place using this viral beauty hack.
After Blackpink first performed at Coachella back in 2019, fans were baffled at how Lisa's iconinc straight-across bangs stayed in the same position despite strong festival winds (and classic K-Pop dance moves). Since then, Lisa had revealed that she uses lots of strong hold hairspray to keep her bangs in place. TikTok beauty creators, however, think there may be another secret to immovable bangs— eyelash glue.
TikToker Emily Elizabeth posted a video using eyelash glue to secure the tips of her bangs to her forehead. First, she applies glue to the desired spot on her forehead and then lets hairs of her bangs dry in place resting at the desired spot on the top of her eyebrows. She then used a hairdryer to test the method, leaving the sides of her bangs free from glue to frame her face. "Honestly, I'm impressed," she says in the video. "I think this definitely works better for people who have thinner bangs or less hair in their bangs than I do."
Another creator tested out the glue bangs trend on a windy day in Seattle, saying they "stayed pretty well considering" after taking a nap from a long day out in the elements. Others have used the trick to keep full bangs in place for a night out. "It works so well I love this so much," @fresabeauty wrote after testing out the viral method. Others have expressed their frustration. "I tried it and it took 2 days to get the glue to go away. Also I live by the sea and the wind was too much it didn't even work," one person commented on a viral TikTok video.
While the hack might be new on TikTok, people are convinced it's what K-Pop idols have been doing for years. It's also a red-carpet hack used by makeup artists. So whether you're on stage dancing like Lisa or just walking through your neighborhood on a windy day, it seems none of us have to put up with our bangs moving when we don't want them to (for as long as we have eyelash glue at hand).