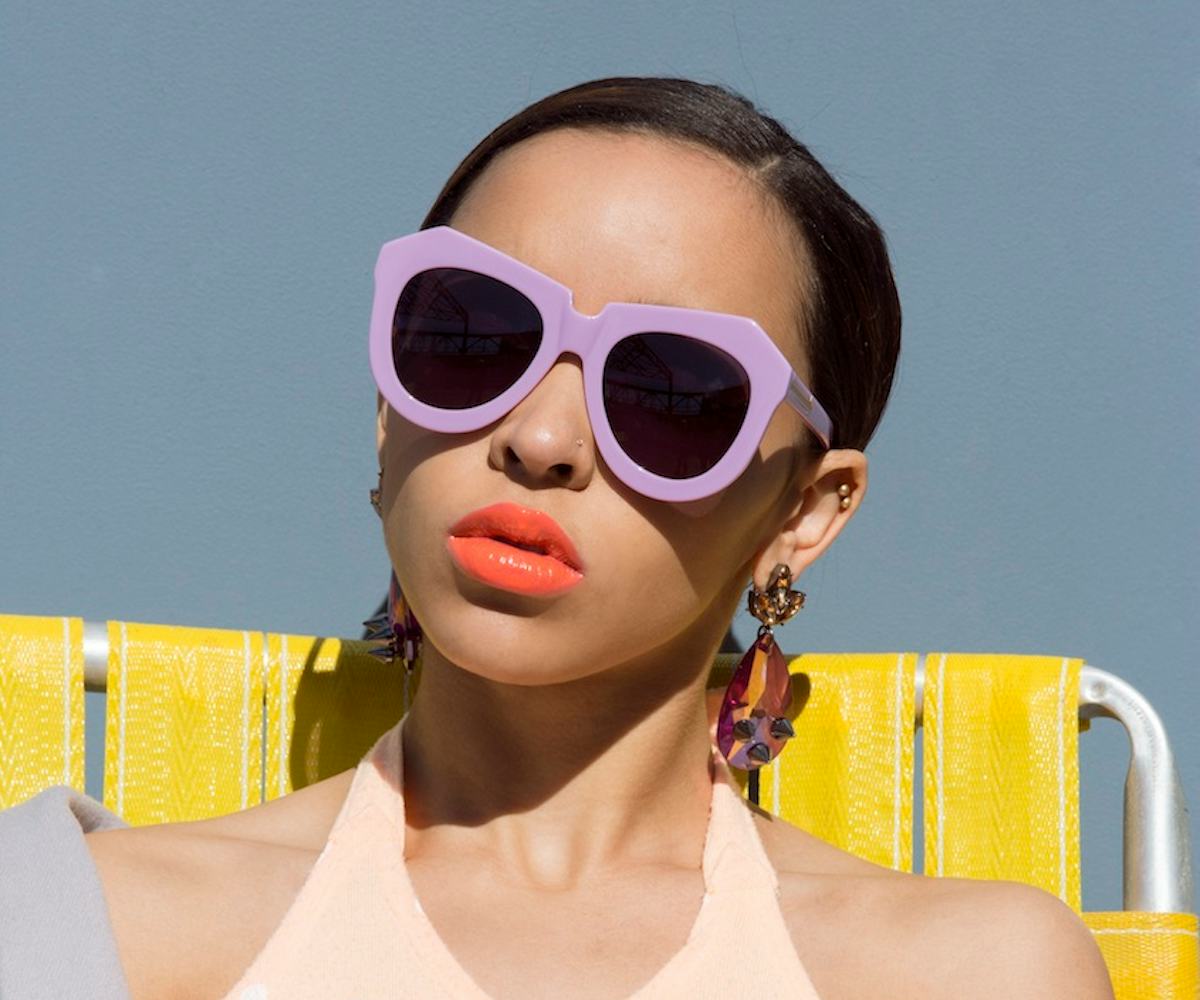 all photos by colin leaman; styled by rachael wang
hot lips
tinashe models summer's brightest beauty trend.
Music seems to follow Tinashe wherever she goes. As soon as we're situated on the lawn at The Americana mall in Glendale, California, not far from where she grew up, Barry White's unmistakable baritone—you're the first, the last, my everything—booms from the speakers of the massive dancing water fountain before us. Mist hits her face, but the alt-R&B singer born Tinashe Jorgenson Kachingwe doesn't seem to mind. With her honey-kissed curls tucked into a tight topknot and six-pack abs hidden under a navy pullover printed with astrological signs, she's savoring every second of this pause in her demanding recording schedule. "The hours have been insane, but it feels cool, like I'm paying my dues," she says.
The 21-year-old behind "2 On" has a lot more where that hit came from. Her debut album, Aquarius— the title suggests "a new age of art, music, and culture," she says—is slated for a summer release, but as of this particularly sublime moment in the sun, it remains unfinished, despite the fact that she's recorded upwards of 100 songs with help from Dev Hynes, ScHoolboy Q, Chance the Rapper, Juicy J, and Mike WiLL Made It. While the credits list might be long, the project's origins were 100 percent DIY, with Tinashe writing, producing, and recording the glitch- rich and slinky demos for a pair of bedroom mixtapes, which helped her ink a deal with RCA.
Fans of her deeply personal early work will find lots to love on Aquarius: Take, for instance, "One Night," a glossy aphrodisiac of a jam she penned with Future about spending the night with your boo— while his fiancée, Ciara, was in the next room. Or "Pretend," a track featuring labelmate A$AP Rocky, in which the pair role-play a couple trying to ignore the fact that their relationship is doomed. "Being genuine is important," she says.
"It's more relatable than singing about being wealthy. That's not my life." Still, it's not her first time in the spotlight, having opened for Justin Bieber in her teens as part of the pop girl group The Stunners. "After that stadium tour, I'm not afraid to perform in front of any audience," she says. The experience also taught her to be choosy when it came time to sign with a major label: "I wasn't going to go with someone who didn't understand who I was. RCA respects that I have an opinion. Maybe it makes their jobs a little bit harder, but it's a good thing in the end."
Even though she carries herself like a seasoned star, Tinashe still gets caught off guard by her rising fame. Case in point: the first time she heard one of her songs blasting out of someone else's car stereo.
"I was like, 'Yo, that's my song!'" she recounts. "I rolled down the windows and looked like such a geek. I was like, 'That's my song, for real!' Good times."
obsessive compulsive cosmetics lip tar matte in femme, $18, sephora.com. sunglasses by wildfox sun, earrings by mawi, coat by lisa perry. hair: travis speck at sally hershberger. makeup: katie mellinger at joe management using chanel. manicurist: jackie s
chanel rouge allure velvet luminous matte lip colour in la diva, all clothing by calvin $35, chanel.com. klein, hat by dkny, all sunglasses by thierry jewelry by chanel, shoes lasry, earrings by by adidas originals, dannijo, bathing suit stylist's own glo
m.a.c cosmetics pro longwear lipcreme in good to go, $18, maccosmetics. com. sunglasses by karen walker, earrings by mawi, bodysuit by wildfox.
make up for ever rouge artist intense in #15, $20, sephora.com, sunglasses by agent provocateur by linda farrow gallery, earrings by shourouk,sweater by derek lam.