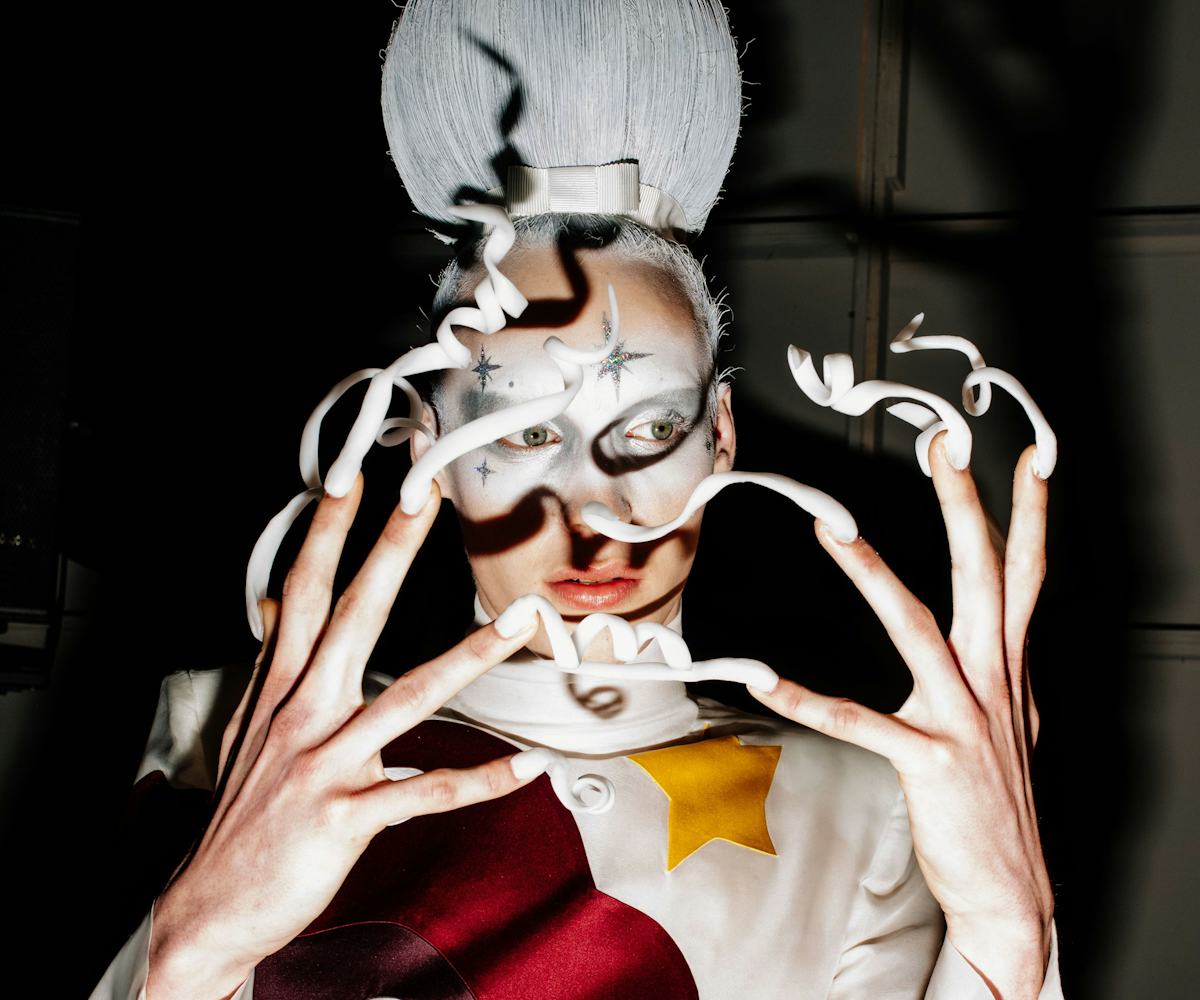 Tooth Nails & Sharpened Claws: How Nail Art Went Grotesque
"I like transforming the expected into something stranger, something from a dream or even a nightmare."
After Diana Kleymenova, a nail artist in Moscow, Russia, had her wisdom tooth removed, she felt the surprising urge to recreate that tooth as a design for her nails. From there, her obsession with tooth-like manicures was born. Dental-themed nail art and sharpened claws have now become the artist's signature designs. "To me, claws seem more natural than our nails," she told NYLON. "It's like we were supposed to be born with claws, which is why I love the shape."
Kleymenova is just one of the global nail artists who are making the world of polished nail art more grotesque and surreal. Other sectors of the beauty space have already shown their darker sides. From the rise of unsettling beauty accounts like @MakeupBrutalism to faux botched lip filler walking down the Barragán runway and Doja Cat's bruised Balenciaga makeup last year, we've seen "ugly" fashion trends turn into even uglier beauty trends. Nails, it seems, are one of the last frontiers when it comes to the beauty trend cycle taking a grosser turn. For Kleymenova, tooth-nails are just the beginning.
Diana Kleymenova
Diana Kleymenova
"I like things that people usually avoid," says Kleymenova. "I am inspired by natural textures, insects, mushrooms, animals, and details of the human body." Aside from using the polishes and tools you would expect to find in a manicure kit, Kleymenova also uses snakeskin, insects, tree bark, dry plants, and animal bones in her designs. For her teeth nail art, she constructs the shapes out of poly gel and gel polishes. For the claw designs, she adds soil and dust into that mix.
Kleymenova is finding a growing audience for her peculiar manicures. "People's boundaries of beauty are expanding and more artists are finding their audience among those who want far from a basic mani," she says. Juan Alvear, a New York nail artist, compares today's growing grotesque nail art trend to the city, itself. "There's an allure to the uncomfortable and strange because it stands out," he says. "I think New York is the perfect example of that. It's not for everyone, but it's special."
While studying painting and sculpture at Cooper Union, Alvear began incorporating nail polish into his artwork. Soon enough, his studio became a destination for friends who wanted their nails painted, and he began creating small sculptures to adorn nails with. "I like transforming the expected into something stranger, something from a dream or even a nightmare," he says. "I like it when I make something and I can't tell if I love it or hate it. Or when things don't quite make sense. There's something cool about when the familiar becomes unfamiliar."
Alvear is currently working on his spin on an aquarium nail design. "Stay tuned," he laughs. His previous nail art experiments have included barbed wire nails, duck-shaped nail art with steel spikes, and otherworldly sculptural designs — leading him to work with celebrities like Julia Fox, Coi Leray, Charli XCX, and Rico Nasty. Even Ice Spice's colorful duck nails in her "Deli" music video were Alvear's designs. There's no denying that the artist has an affinity for the divisive shape. "The duck shape is a little surreal and has a fever dreams vibe," he says.
Courtesy of Juan Alvear,
Courtesy of Juan Alvear
For Alvear, the appeal of spiked and studded duck nails is in the subversion of the standard. "I like the idea of a nail growing into a shape that it wouldn't logically grow into," he says. In many ways, the grotesque nail art trend itself follows this formula. After years of being told our nails need to be clean, well-kept, long, and perfectly painted, artists like Kleymenova and Alvear are here to tell you that can also look shocking and unexpected — perhaps even taking the shape of yellowing teeth.