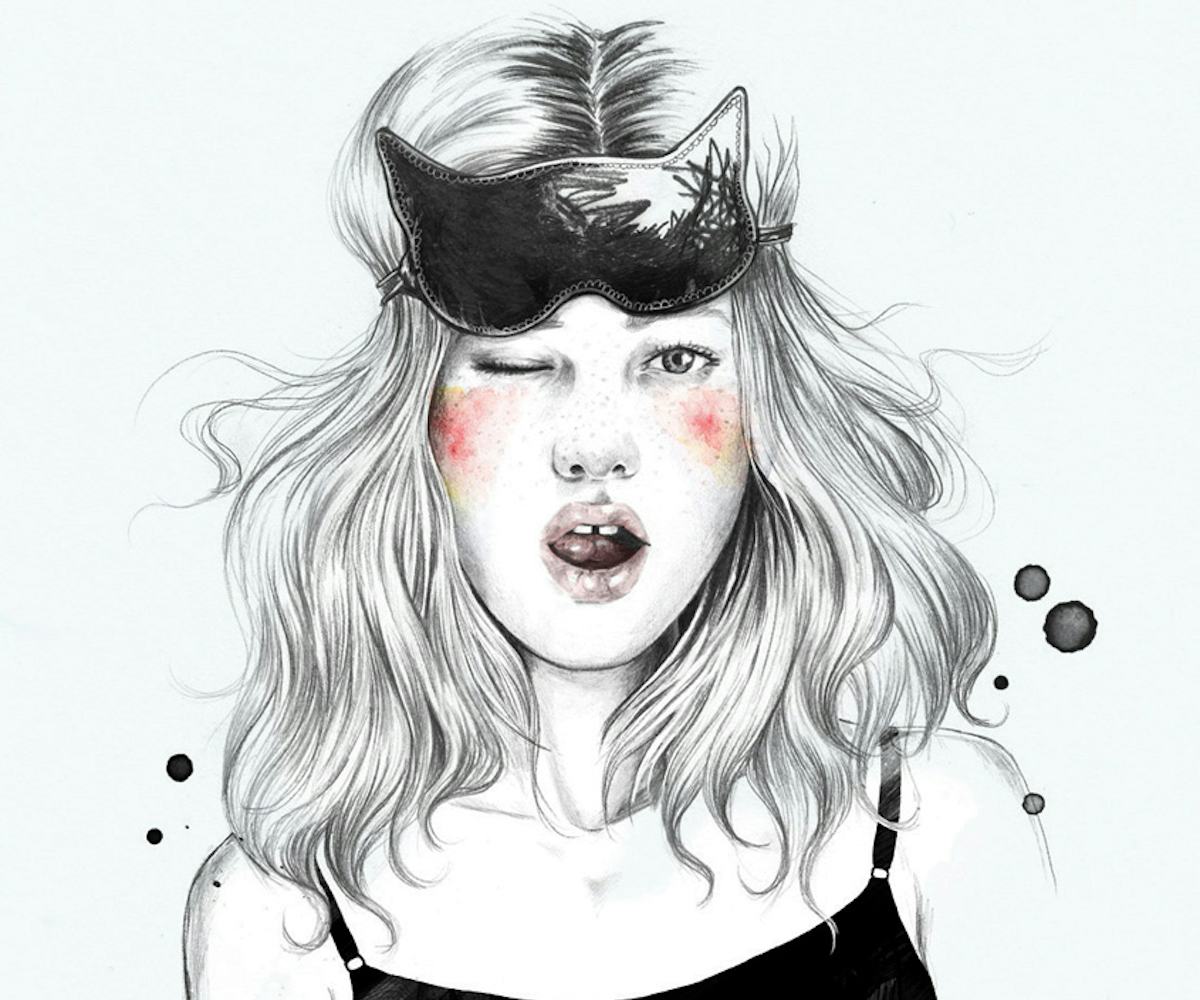 illustration by esra røise
take yourself on a beauty date for v-day
Waiting by the phone for your crush to ask you out on Valentine's Day is so 1950. We think the way to celebrate the holiday is, in the spot-on words of Donna Meagle, to "Treat Yo' Self."
Even if you do have a date (congratulations, by the way), you should pencil in at least 30 minutes of P.Y.T private time. The extra dose of self-care will not only give mad love to your skin, hair, nails, and senses, but make you look—and more importantly, feel—good in a way that no one else can. And if a hot stranger on your jam-packed commute home just so happens to notice your relaxed aura and how amazing your smell? Well then, that's just the cherry on the damn-I'm-good cake.
Here are a few ways for you to "do you" this Valentine's Day, no matter what your MO:
If: Your Significant Other Is Out Of Town
Try: A Lip Conditioning Treatment for a Soft Pout
If dueling schedules are delaying your Valentine lovefest, prime your chapped lips (thanks, winter) for your next meetup with ultra-hydrating tools. Bite Beauty 5-Night Fix for Lips contains a pocket-sized Lip Fix Exfoliator (a tacky formula that smoothes lips) and Agave Lip Mask (a vanilla-spiked balm that nourishes with olive fruit). Unlike typical sugar lip scrubs, this treatment doesn't require the messy rinsing of granule-covered lips. If you're going out, follow up with a bit of color. Try Lipstick Queen Look of Love, a volume of three looks-good-on-anyone, universal lip colors, which to gives your a lips a natural, Shakespearean "young in love" flush.
If: You want a post-orgasm complexion that reads, "just laid" (even after chilling at home, solo)
Try: A glow-inducing, DIY facial
Is it just us, or does everyone run into their crushes and frenemies post-facial (messy hair, no makeup)? Kill the awkward commute by becoming your own at-home aesthetician. Start by double cleansing: Lift away dirt and makeup with essential oil-rich Jurlique Nourishing Cleansing Oil, then buff away complexion-dulling dead skin cells with Suki Exfoliate Foaming Cleanser. Make a tea with Fig + Yarrow Winter Herbal Steam, cover your head with your best Stevie Nicks scarf and breathe in eucalyptus, juniper berry, elder flower, ginger root, and a bevy of other complexion and sinus-clearing herbs. (Or turn on Dr. Gross Steamer Solutions for a more spa-like steam.) Then apply a soothing mask (like Nude Purify Mask for congested types, Airelle Skincare Hydrating Manuka Mask for dry skin types or Eminence Organics Strawberry Rhubarb Masque for those in the middle) and just chill for ten minutes. Follow with a refreshing microfine spritz of moisturizing toner (like Aubrey Organics Sparkling Glacier Complexion Mist) and a dose of collagen-boosting retinol and antioxidants, like Sunday Riley Luna or a soothing hydrator, like Farmaesthetics Nutrient Dense Fine Facial Oil. Finish with a shea butter lip balm like Dr. Alkaitis Love Your Lips. The bright results may find you ditching your standing facial appointment altogether.
If: Your Body is Overworked
Try: Soaking the Pain Away
Set up your own staycay soak: It'll relieve body aches, exfoliate, moisturize, and warm your overworked soul. To set the mood, pour yourself a drink, light a room-filling fragrance (like a light and fresh C.O Bigelow Neroli Candle or the refreshingly earthy-without-being-musky Blackbird Incense), dump a whole bag of epsom salts (like Calgon Lavender and Honey-infused version) into the tub, and fill the tub with warm water. (The magnesium sulfate can help loosen tense muscles.) Top the water with a some yummy-smelling oil, like the famously heaven-scented Aveda Shampure Composition Oil (which can also be used on the scalp) or cult- favorite REN Moroccan Rose Otto Bath Oil. Use a homemade sugar scrub to cleanse and exfoliate the skin, or try a more gentle version, like Rituals Ayurveda Purifying Body Scrub, which is made with mineral-rich multani clay. Your skin will need extra hydration after soaking in warm water, so once out of the tub, take extra time to massage an oil or cream into your skin. For those who dig floral scents, jouer body butter captures the true—not perfumey—fragrances of gardenia, jasmine, and honeysuckle; for those wishing to conjure a more tropical locale, NARS Monoï Body Glow II oil brings a French Polynesia vibe to your bathroom.
If: Your Power Comes From Giselle-Worthy Hair
Try: A Restorative Treatment from Your Crown Chakra
Winter's low temps (not to mention incessant beanie wearing) can trigger dry, static-y hair. When washing your hair, eschew the typical rush job and take time to massage your scalp. Use a gentle shampoo like Oribe Shampoo for Beautiful Color, then restore bounce and shine with a mask like Davines Nounou Hair Mask, which helps mend brittle strands after a 10-minute soak. While the mask sets, massage your skin with a calming oil like Dermalogica Stress Relief Treatment Oil. Once your hair is dry, smooth flyaways and frizzy bits with a lightweight oil, like MarulaOil Rare Oil Treatment Light, which includes hydrating oleic acids and antioxidant-packed cold-pressed marula oil.
If: You Want to Take It Easy and Still Get Polished Results
Try: A next-wave mani/pedi
If you ask us, the best mani/pedi is one that you give yourself while binge-watching Netflix. Start by massaging a hydrating lotion like Desert Essence Perfect Pistachio Foot Repair Cream or Acure Moroccan Argan Oil into your feet, ankles, hands, and forearms. Replicate a high-gloss, long-lasting gel nail treatment with an at-home LED Lamp. (A spin with the SensatioNail Gel Starter Kit takes about 25 minutes of time—perfect for watching an episode of The Mindy Project.) Or get a jump on spring's washed-out color trend with one of Deborah Lippmann new shades, like the dusty mauve Like Dreamers Do, which was shown at Spring/Summer 2015 Badgley Mischka, Theory and Donna Karan shows. After polishing, protect your paint job—and nourish cuticles—by applying a touch of cuticle oil.