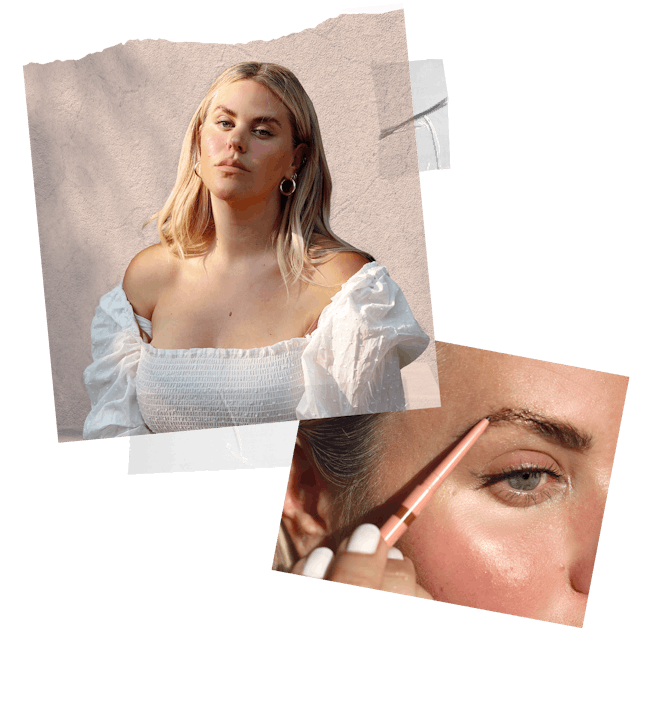 Why Doing My Brows Is Now An Essential Part Of My Self-Care Routine
Alex Michael May started her journey as a blogger with a mission in mind: to cultivate a safe space for creativity while curating content that allows her to be the big sister she wishes she had as she started her creative journey in Los Angeles. The Nebraska-native shares this in a two-minute video on her YouTube channel. Her tagline on both her Instagram and TikTok pages reminds her community she is their "virtual BFF." With 138,000 followers on Instagram and 117,000 followers on TikTok, May has stayed true to her commitment and continues to encourage and uplift her growing community.
"These days, it's all about my brows. I feel like I've finally got them to a place where I feel so good about the way they look."
In addition to creating body-positive content, she's all about learning to love and embrace your natural beauty. For May, 2020 was a part of that shift. "I feel like I completely changed my makeup routine during the pandemic," she tells Bustle. "These days, it's all about my brows. I feel like I've finally got them to a place where I feel so good about the way they look." That's why May cares for her brows as part of her self-care routine, which she shares below in partnership with European Wax Center.
These days the creative powerhouse is all about keeping her makeup simple. "I basically live in a no-makeup makeup look," she shares. "It's basically brows, minimal face makeup (some tinted moisturizer or foundation, creme blush, and a dab of highlighter) and mascara. Honestly, I've never felt more beautiful or glowing in my skin."
Like her skin-care routine, May has a tried-and-true regimen for her full brows. "I've been using the European Wax Center Groom Line," she tells Bustle. "I use the Brow Building Serum along with my skin-care routine each morning and night to build thicker, fuller brows and have seen great results." She also attributes minimal plucking and conditioning to why her brows are thriving.
When it's time to apply makeup, May has a few brow tips. "When I'm doing my makeup, I use the Brow Liner and Shaper to make thin, hairlike strokes to mimic my natural brow hair [and] fill in sparse areas, [then I] finish with the Clear Brow Gel. I love to really get my brows nice and fluffy by brushing them up." Once her brows are set, May enjoys crafting eye looks that play on current makeup trends. "I love a soft brown powder line just at the outer 1/3 of my eye [to create] the softest cat-eye. It looks like an extension of your natural lashes and just opens up the eye so much. It keeps all the attention on your natural features—especially [the] brows—and it's my fave look right now."
Shop Alex's Faves