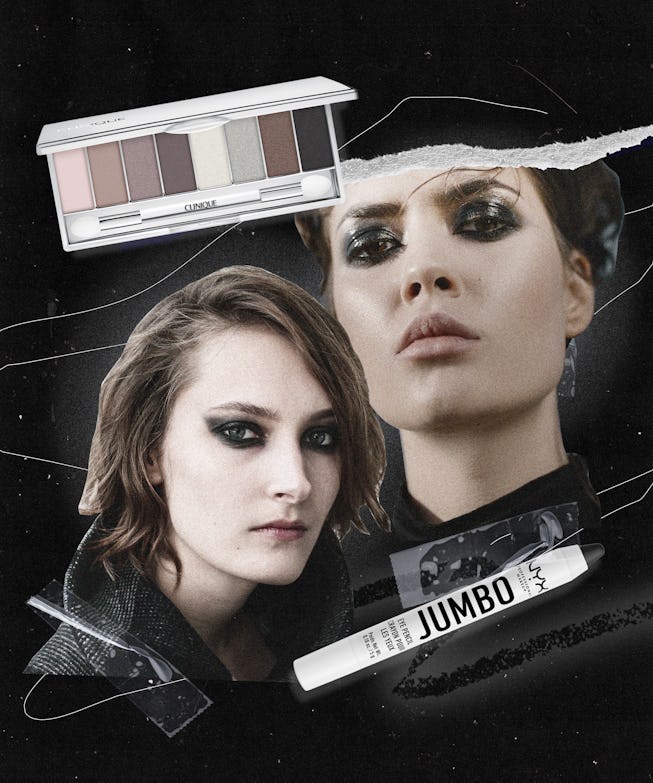 ​​Your Ultimate Guide To Mastering The Grunge Makeup Trend
Featuring smudgy eyeliner and '90s-esque lips.
Written by Marissa Olivia
Enter the grunge look: lived-in makeup that's equal parts dramatic and effortless. Featuring smudgy eyeliner, matte skin, and '90s-esque lips, it perfectly captures the essence of an angsty teen — but you know, in a glamorous way. (See: not in the way that makes you look sleep-deprived.) Uncomplicated, authentic, and laissez-faire chic, here are seven grunge-getting products to work into your makeup rotation right now, courtesy of Ulta Beauty
Smoky Shadow
Smoked-out eye shadow is a key component to the grunge makeup look as it imparts an edgy look that lends itself well to the overall vibe. This highly versatile eye shadow palette from Clinique includes various different gray tones (choose the best color based on your skin tone), as well as a black and cool-toned brown that you can incorporate into the look as well if you'd like. At the very least, you should sweep a matte gray shade all over your lids followed by a slightly darker hue on the outer corners for added depth.
Black Kohl Eyeliner
Score the "artfully messy" eyeliner vibe with a kohl pencil, like this under-$15 gem. Simply run it along your upper and lower lashes, ensuring you get into the waterline to achieve a sultry, been-out-all-night-dancing feel. Additionally, you can take a small brush (try Morphe's Smudging & Blending Brush) and smoke it out, buffing the brush into the liner in short, sweeping motions to make it all imprecise and melty. Run whatever's left on the brush over your lower lash line.
Brown-Toned Lipstick
Brown lips scream '90s grunge girl, and this lip kit has everything you need to achieve it, including a matte lip liner and a creamy, pigmented liquid lipstick. Trace the borders of your lips with the liner, then fill in your mouth completely to give the liquid lip color something to adhere to. Finish off with a slick of lipstick and you're officially a '90s baby.
Velvety Matte Skin
Grunge makeup doesn't always need to be moody. Sometimes it means skin so natural looking it gives off a devil-may-care vibe. With a wet makeup sponge, tap this foundation only where you need some coverage, then blend well. The formula's fresh matte finish delivers skin that looks innocent, youthful, and up to no good.
Brushed-Up Brows
When it comes to your brows, opt to keep them sleek and brushed up in place to help balance out the subtly disheveled feel of the rest of the look. This clear gel effortlessly brushes up brows to make them look clean, polished, and subtly defined. And it all takes a matter of seconds.
Inky Black Lashes
Grunge makeup wouldn't be complete without a few generous coats of ultra-black mascara to add depth and drama to the finished look. Too Faced's best-selling Better Than Sex Mascara is as dark as it gets — and it delivers unbeatable volume and length to boot. Just two coats will make it look like you're wearing falsies.