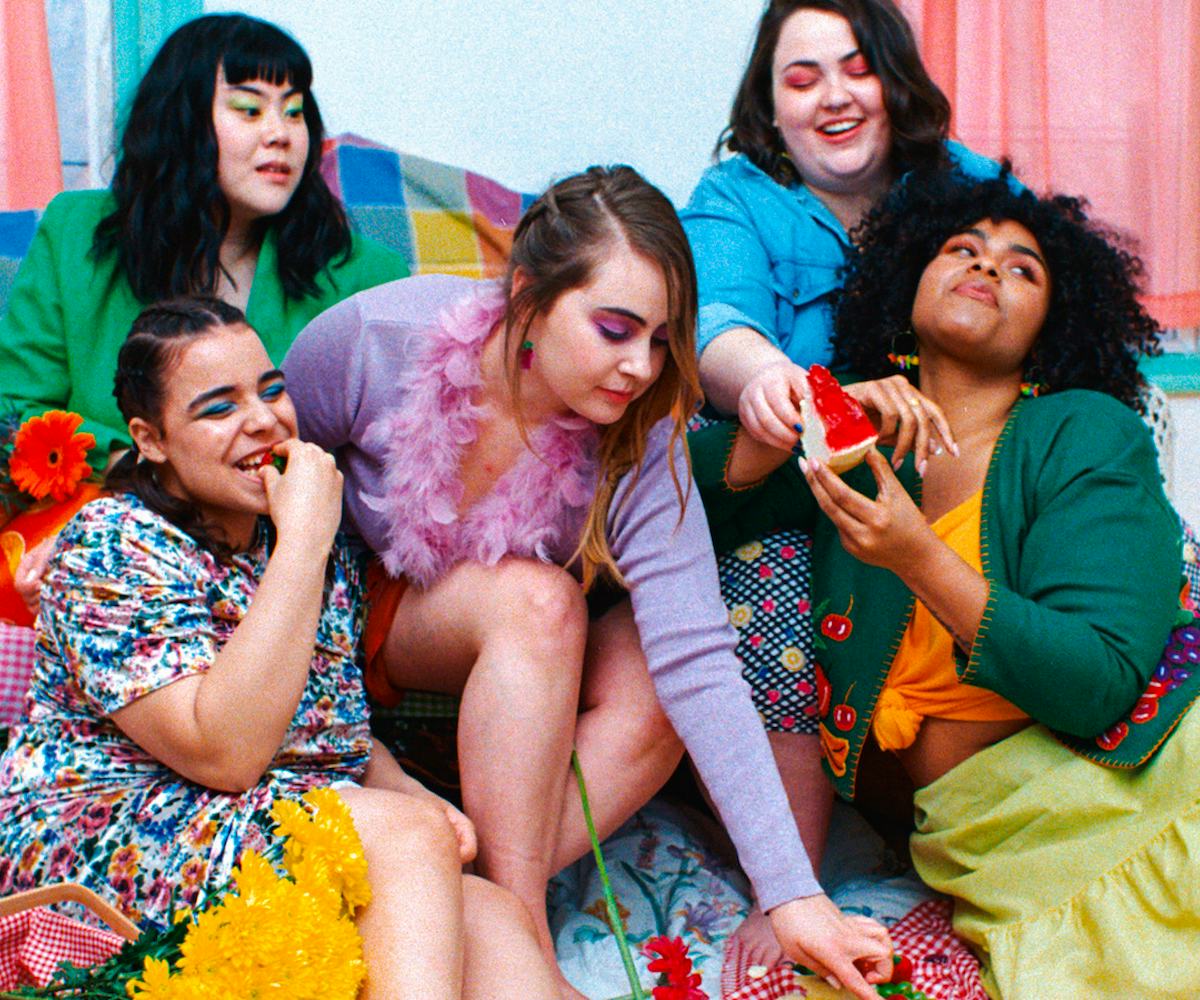 Photo by Franey Miller
Meet Berriez, The Vintage Shop Catering To Plus-Size Customers
"Like fruit, humans come in all shapes, colors, and sizes"
The way we shop for vintage has undeniably changed over the years. While many of us still enjoy IRL thrift store hunts, bidding on eBay, or scouring Etsy for various one-of-a-kind items, we've now entered a new digital age of vintage: Instagram DM. Some of our favorite vintage shops have chosen to move their wares entirely to IG—or at least offer a shoppable account to supplement a standalone website or Etsy page. But, even though new, entirely IG-based shops are popping up left and right, it's still a market that's very much lacking in terms of size inclusivity.
But that's starting to change, thanks in no small part to the colorful, orange- and watermelon-dotted world of Berriez, a Brooklyn-based shop that wants to tackle the problem of size diversity in vintage clothing.
Run and curated by Emma Zack, the concept for the shop was born out of her own experience shopping for vintage. "I frequently scrolled through online vintage shops and Instagrams and would never find my size, unless something was labeled as 'oversized,'" she says. "I noticed a large gap in the vintage community—both online and in brick-and-mortar vintage shops. There were no curated vintage clothing shops that sold exclusively to people larger than a size 8. I also wasn't seeing any models with diverse body shapes. I felt discouraged; I love to shop vintage, too." A ("constantly fluctuating") size 14, Zack knew others were out there that felt the same way she did, and so, along with the help of many supportive friends, she launched Berriez.
The name, and the colorful pieces—particularly the various fruity prints Zack seeks out—all fall under one common theme. Zack explains: "If you think about it, like fruit, humans come in all shapes, colors, and sizes. I think the name Berriez suits what I try to do. Oh, and I love a good pun." Zack just wants to make everyone—from the models that showcase the clothes to her customers—feel good. "I want the entire experience—whether you're modeling, buying, or just looking at our Instagram—to be fun, welcoming, and empowering," Zack tells me. "I want everyone to feel included."
Zack scores the pieces she sells by hunting through thrift stores and flea markets, on her travels, in her best friend's closet, and even in her own. She seeks out pieces destined to be conversation starters—not ones intended to hide its wearer in any way.
Zack has discovered what silhouettes work for a diverse range of body types—such as cinched-waist dresses, high-waisted trousers, form-fitting silhouettes that show off the body, and bottoms with elastic waists that can fit a range of body types—and she intentionally veers away from anything subtle or subdued. She says, "Too often, curvy people are told what not to wear: Don't wear bold prints, don't wear bright colors, etc. because it won't be 'flattering'—i.e., slimming. But, my thoughts are, If you like a shirt that's bright turquoise with bananas on it, then wear it!"
What kind of vintage gold does Berriez have in store for this season? Zack has curated an offering of all the quirky, summery goodness imaginable: slime green two-piece sets, covered in embroidered strawberries and pineapples; floral, '80s-inspired ruched dresses; tons of poppy, retro separates; and a fair share of '50s gingham. You'll find a slew of sweet accessories, too, from crocheted knit fruit-covered handbags to grape- and pineapple-beaded earrings.
Inclusivity and, uh, general adorableness aside, the sustainability factor of vintage cannot be overemphasized. "All of the clothing has already been made at some point in time, so there's much less of an environmental impact," says Zack. "And, throughout this process, I've learned that I have a much better chance of finding something that fits me if I walk into a thrift store than if I go into a chain store in SoHo [in Manhattan]. People who have visited my shop in person have said to me, 'I've never found more things in one place that have fit before.' It's more economical, it's more sustainable."
Zack points out that, when so many clothes already exist, there really is no need to purchase new. If you're not sure you want to commit and purchase anything, Berriez also lends clothing to shoppers for events and photo shoots to help eliminate the need to buy. We're sold.
You can shop all of Berriez's pieces on ShopBerriez.com or via DM on its Instagram. Zack also runs a studio out of the basement of her Brooklyn apartment, where local customers can visit IRL. Check out the latest lookbook, below.
Photographer: Franey MillerStylist: Emma ZackMakeup: Natalie MuleskyHair: Sidnee OmphroyProduction Assistant: Emily KofskyModels: Han Na Shin, Kendra Austin, Kimberly Margaux, Caitlin Conway, Jordan Hall