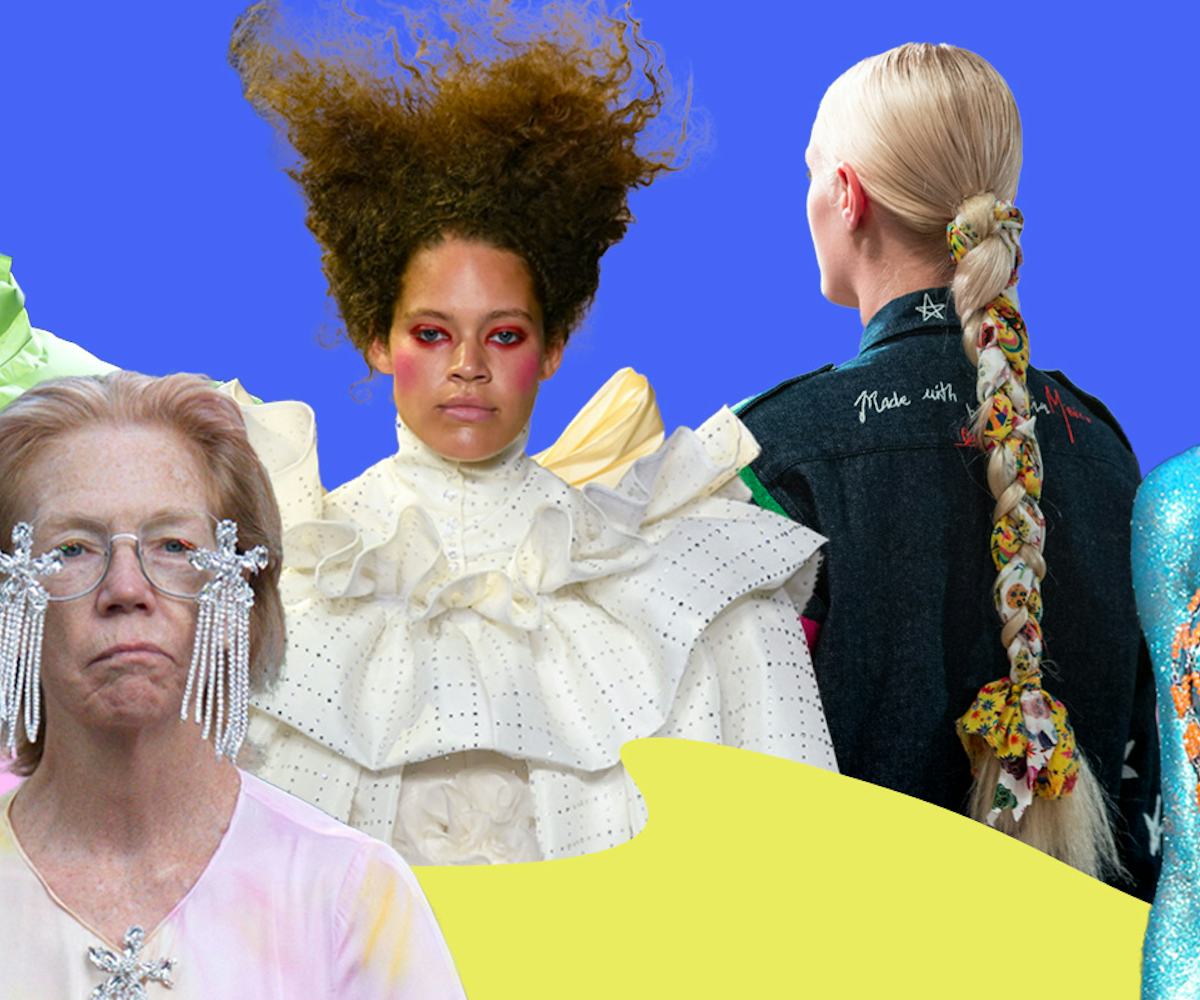 The Best Beauty Looks At Fashion Week Were Completely Over-The-Top
But some were surprisingly wearable
The runway is one of the few places where you can do the most and get away with it. And, that's what makes it fun. What would fashion week be without the avant-garde, the dramatic, and the over-the-top? Probably a little bit like every show on TV aside from Euphoria. Well, luckily for us, designers brought good fashion and great beauty looks to the Spring/Summer 2020 season.
See the best of the bunch, ahead.
The Glittery Teal Green Goddess At Gypsy Sport
Ebonee Davis as a glitter-covered redhead was not something I knew I needed in my life. But now that it's happened, I'm grateful. The model was a standout at Gypsy Sport, an ethereal, model version of X-Men's Mystique in a much better outfit.
Pastel Eyeshadow At Alice + Olivia
All of the models at Alice + Olivia rocked pastel washes of yellow, purple, and blue on their eyes, and it was stunning, to say the least. It was dreamy. It looked good on everyone. And it's the look you'll definitely see everywhere come spring.
Ombré Liner At Chromat
Chromat is known for putting on one of the best runway shows of the season, so it's no surprise that the makeup this year was particularly good. Even more, this was the 10-year anniversary of the brand, so they brought back classic silhouettes and shapes to celebrate. Some of the best moments were the ombré graphic liner and the yellow-and-blue shadow, which are easy to recreate on your own.
The Braids At Pyer Moss
Aside from creating a culture-shifting show, the Pyer Moss beauty looks were really good. And by good, I mean, "bringing the hair looks to my braider as inspo" good. The hair jewelry—created by Johnny Nelson Jewelry—depicted Black women in music throughout history, and paired perfectly with the thick plaited braids one model sported; the bead-decorated Fulani braids are worthy of a separate post.
The Drippy Glasses And Appliqués Collina Strada
Collina Strada used the runway to make a statement about climate change and sustainability—as well as make the case for hanging long strips of jewels from your face. There were hanging jewels on glasses that made me feel all the things and natural-ingredient appliqués like cucumbers and flowers that made me both hungry and enthralled. Luckily for me, and everyone else in attendance, there was fruit on hand if one was in need of a snack.
The Hairbows At Sandy Liang
Hairbows were definitely a microtrend this season, and Sandy Liang did it best. The mini bows were ridiculously adorable, and felt playful without being silly. They also worked on everyone, and looked good tied up in a wide variety of hair types.
The Eyeshadow At Anna Sui
The eyes at Anna Sui felt very Euphoria IRL, with thin white liner in a fun shape (à la Jules' cloud liner) and bejeweled pastel eyes. It was aspirational but not impossible, and is high on my list of things to try for myself.
The Neon Liner And Colored Contacts At VFiles
VFiles sent models down the runway with one white-blue eye and one normal eye, which, while a little frightening, was very cool. The neon liner was also of note and was created somewhat by accident. Lead makeup artist Romero Jennings said they just "kept going" when deciding how thick and long to make the electric orange wing until it ended up dangerously close to the model's hairline. Well, it looks good.
The Outlined Lip And Gravity-Defying Hair At Christopher John Rogers
Watching hairstylists create the caught-in-a-wind-tunnel hair look backstage at Christopher John Rogers was, in a word, thrilling. Would it fall? I wondered as I watched them blow-dry, tease, and hairspray hair into submission. Well, it didn't, and it was wonderful. The goal was over-the-top and it was duly achieved, pairing perfectly with the eye-catching clothes. Honorable mention to the outlined black lip with nothing inside—it felt graphic in a good way if not at all wearable.
Johnathan Cohen—Full Stop
If you want to know what everyone will be trying out come spring, look no further than Jonathan Cohen's show. There were painterly eyes in vibrant hues and braids twined with scarves. It's the kind of look that can be achieved by a beauty beginner but still look ridiculously chic, so go ahead and give it a try.
Everything At Marc Jacobs
Mother Pat McGrath turned out 60 (yes, 60) different looks for Marc Jacobs S/S 2020 runway, and it was packed with every beauty trend imaginable. There were appliques and draping, and avant-garde throwback looks, too. There was also a baby-hair-on-a-white-woman moment that felt particularly concerning, but 59 out of 60 looks have my seal of approval.